<![CDATA[
These two after-hours, extremely popular events, usually sell out pretty quick.
Party Time
Carolyn Reese, owner of Road to California, started this fun, evening activity as a way for guests to unwind after a long day of classes, shopping, and quilt admiring.
Party Time is a two hour extravaganza including games, food, and over a hundred prizes to give out, donated by vendors at the show. For the past 10 years, the event has also hosted an unlimited chocolate fountain for the attendees. Guests sit at round tables with seating for 10. At Road 2016, when everyone arrived, they received a playing card. The first game was for everyone at each table to combine their cards to make the best poker hand. Everyone at the winning table received a prize. [caption id="attachment_4116" align="aligncenter" width="580"]
Photo by Brian Roberts Photography[/caption] Throughout the night, new games were introduced and played either individually (like
What's in your purse?
) or as a table group (
Pass the fat quarters right and left)
 or as the entire room (
Last Quilter Standing)
In between the games, the MC tells a joke or two to liven up the room – as if it isn't already lively enough!! [caption id="attachment_4118" align="aligncenter" width="720"]
Photo by Brian Roberts Photography[/caption] Charlotte Freeman has been attending Party Time for 21 years. In 2016, she brought face masks for everyone who sat her table.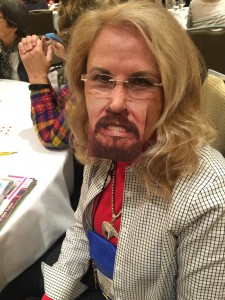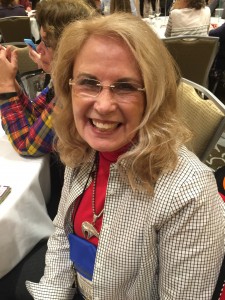 These four friends meet up at Road every year. All quilters, they come from Utah, Colorado and California. At Party Time, they wore pink crowns.  They all agreed, "Road is so fun!!"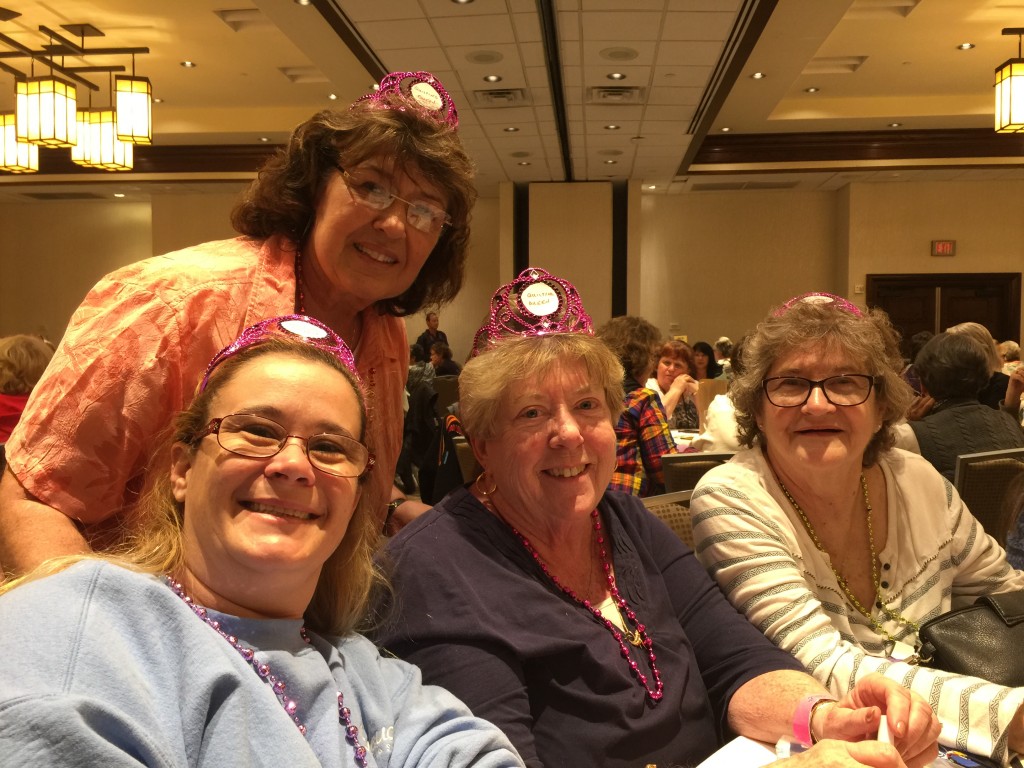 Roundabout
Held on Friday night, Roundabout is a great way to learn from Road's expert faculty and vendors, especially if you weren't able to get in to one or all of their classes. [caption id="attachment_4120" align="aligncenter" width="687"]
Photo by Brian Roberts Photography[/caption] Run by Carolyn Reese's quilt guild, the
Night Owls Quilt Guild,
guests rotate every 10 minutes between over 20 stations.  Teachers share information about products and techniques. A few of the centers also give hands-on demonstrations. [caption id="attachment_4121" align="aligncenter" width="615"]
Photo by Brian Roberts Photography[/caption] At the end of the night, items featured at each of the stations are available for purchase. It's a great way to get some shopping done without the crowds on the show floor. If you are looking for a fun way to meet new friends or unwind with your favorite quilt friends,
Party Time 
and 
Roundabout 
might just be what you are looking for!! ]]>