<![CDATA[
The City of Ontario, California is the location for Road to California. This city really likes quilts and quilting because from December 6, 2012 through January 27, 2013, it's Ontario Museum of History and Art will be sponsoring a quilt exhibit, Quilt Stories From the Inland Empire.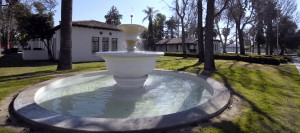 Just going to the museum is a real treat. This historic location is a public-private museum operated by the City of Ontario with support from the non-profit Museum of History and Art, Ontario Association. The museum is known for the outstanding exhibits it promotes, including this upcoming quilt themed event.    
Visitors to the Quilt Stories From the Inland Empire will be treated to personal expressions, stories, traditional techniques and contemporary themes when they come to view the quilts on exhibit. Not only are the artists representative of the Inland Empire, but so are stories of their quilts. Quilts will range in size, color and shape
along with embellishment, appliqué, style and theme. The quilts feature broad themes including the geography and history of the inland area as well as personal stories and traditional geometric and star patterns.  This multi-layered exhibit is guest curated by artist and quilter Theresa Polley-Shellcroft. Polley-Shellcroft has a long history with the museum; she led quilt works in previous years and the "Fan Faire" workshop in 2005. She teaches Art History and Art Education for Victor Valley College, Brandman University and University of Phoenix. Her artwork, quilts and paintings have been exhibited across the country at New York City SoHo and Chelsea galleries'; The American Folk Art Museum, NYC; The Historical Society of Washington, DC; the National Museum of African History, Ohio; and the Anacostia Museum of African American Culture, Smithsonian Institution Washington, DC.
The museum will be hosting a couple of special events in conjunction with the exhibit. An Artist Reception is planned for Friday, December 7, from 5:00 to 7:30 p.m. Visitors can meet and chat with the artists whose work was accepted for the display. A Quilt Workshop is scheduled for Saturday, January 12th from 1:00 to 3:00 p.m.. Attendees will receive instruction on quilt patterns and techniques from the guest curator, Theresa Polley-Shellcroft. And on Wednesday, January 23, a Tour and Tea will be presented. Reservations are required for each of these additional free events and can be arranged by contacting the museum.
We love all things quilting so a special exhibit devoted to our favorite pastime is certainly worth checking out.  
]]>