<![CDATA[
Note: This is first in a series detailing Road to California's recent sponsored cruise, Quilting Through the Panama Canal, that took place April 15-29, 2014.  Guest writer, Stevii Graves, shares her personal account of Cruising with Road to California with Carolyn Reese, talented quilt teachers, and a fun group of Road quilters.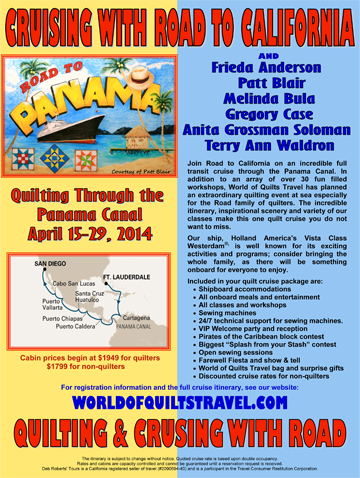 Road to California sponsored its first quilt cruise in April. Eighty quilters and quilt spouses rushed aboard Holland America's Westerdam in Ft. Lauderdale. First stop…. The Lido Deck for some food! Always the food! 
On board were several Road workers: Cathy Norell, Sharon Chaffino, Barbara McDowell, and Carol Marchant. Naturally, Mrs. Road, Carolyn Reese, was there to try to keep us all under control. 
The first two days on board were spent at sea. At sea days meant classes! Lots of classes! Gregory Case taught photography classes as only he can do. Frieda Anderson taught fused applique and machine quilting. Melinda Bula also taught fused classes. Anita Grossman Solomon taught her innovative piecing techniques. And Patt Blair taught fabric painting with inks as well as machine quilting. Every night was "free-sew" in the two sewing machine classrooms. 
[caption id="attachment_1861" align="aligncenter" width="480"]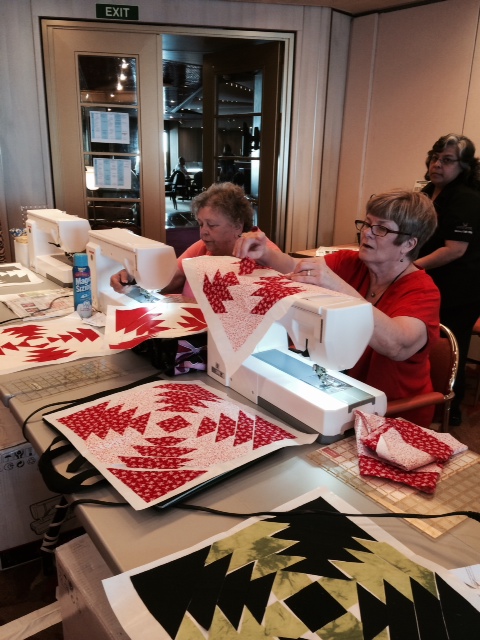 Carolyn and Carol Marchant sewing pineapples in Anita Grossman Solomon's class.[/caption]
Carolyn, Cathy and I took two days of painting with Patt Blair. We had success with both projects and no one except yours truly managed to get ink on their clothing! 
Our first Port of Call was Cartagena, Columbia. Cartagena is a beautiful Spanish colonial city. Many of the quilters took shore excursions around the city or out in the countryside. 
The following morning we were up bright and early for the highlight of the cruise: going through the Panama Canal. (Truth be known, Carolyn was bright, I was just up). Carolyn had requested a room in the back of the ship which was the perfect place to watch the locks close behind the ship and to watch the progress of a container cargo ship that was coming behind us. It took us all day to travel the 48 mile canal, going through three sets of locks and Gatun Lake. That was long enough for three meals and two ice cream snack times! 
[caption id="attachment_1862" align="aligncenter" width="356"]
View of closed lock from Carolyn's veranda.[/caption]
We all laughed a lot, but the funniest thing we heard was a guy walking to the dining room who said, "Ok, we have now fasted for two hours. Time for another meal."
The funniest sight was Gregory Case's plate the night he ordered a steak and three scoops of plain mashed potatoes. The plate arrived with one scoop of potatoes and three steaks! 
Next up… Costa Rica and Mexico!
Have you ever cruised before? What is your favorite thing to eat on board?
]]>
Tags: Cartagena, Columbia, Cruising with Road to California, Holland America, Panama Canal, World of Quilts Travel and Textile Tours