<![CDATA[
Leora Raiken is a familiar face with Road to California patrons. Owner of African Folklore Embroidery, Leora has hosted vendor booths and has taught at past Road shows.
For 2015, Leora and African Folklore Embroidery will again be sponsoring the African Folklore Embroidery Fiber Art and Quilt Challenge, offering cash prizes totaling $500.
[caption id="attachment_2195" align="aligncenter" width="325"]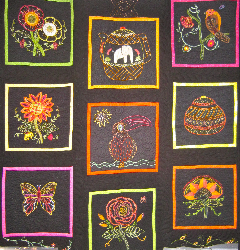 Roberta Peterson, Washington[/caption]
This is the fifth year of the challenge. As a teacher, for Leora, the most rewarding part is seeing the completed work of her students and customers that have purchased an African Folklore Embroidery kit or attended a class.  She especially loves seeing how each person interprets the designs.  One of Leora's students completed six designs and made it into a fabric book which Leora reports as "stunning." Other people have made the kits into quilts, table runners, jackets and pillows. One woman made "the most beautiful purse" and another woman, a tea cozy.
[caption id="attachment_2196" align="aligncenter" width="437"]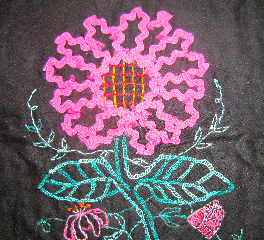 Meagan Luck[/caption]
In order to participate in this year's challenge, one or more of the current African Folklore Embroidery kit designs on their website must be included in the entry. Completed entries can be incorporated or made into quilts, wearable art, wall hangings, pillows, or they can be mailed in "as is." They do not have to be "made" into anything to be entered. Judging emphasizes the creative use of African Folklore Embroidery kits with regard to fabrics, visual impact, workmanship and uniqueness. Multiple entries can be entered as well as entries from previous challenges so long as the entry is a kit design currently offered on the African Folklore Embroidery website: www.aflembroidery.com
[caption id="attachment_2197" align="aligncenter" width="458"]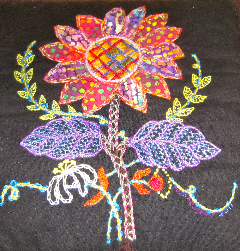 Mona Doshay[/caption]
There will also be a separate children's category. Leora firmly believes that if we can get the next generation to love stitching and handwork, they will remember this skill forever.
Deadline for submissions is December 15th 2014. A full list of the entry rules can be found on the web site. Completed entries need to be mailed with the official entry form to 7258 Pondera Circle, West Hills, CA 91307. Any questions can be emailed to info@aflembroidery.com. Many of the completed entries from the 2015 and previous challenges will be incorporated into Leora's new book, Fibers, Fabric and Fun with African Folklore Embroidery, which will be available for pre-ordering at Road to California 2015 20th Anniversary Show.
[caption id="attachment_2198" align="aligncenter" width="556"]
Catherine Redford, Illinois[/caption]
Leora hopes that this exhibit will show how easy it is to do African Folklore Embroidery and that it will inspire others to create their own hand work using African Folklore Embroidery kits and threads.
]]>
Tags: Quilt Challenge