<![CDATA[
Cheryl L. See received $1,500 from sponsor, Primitive Gatherings, for Starlette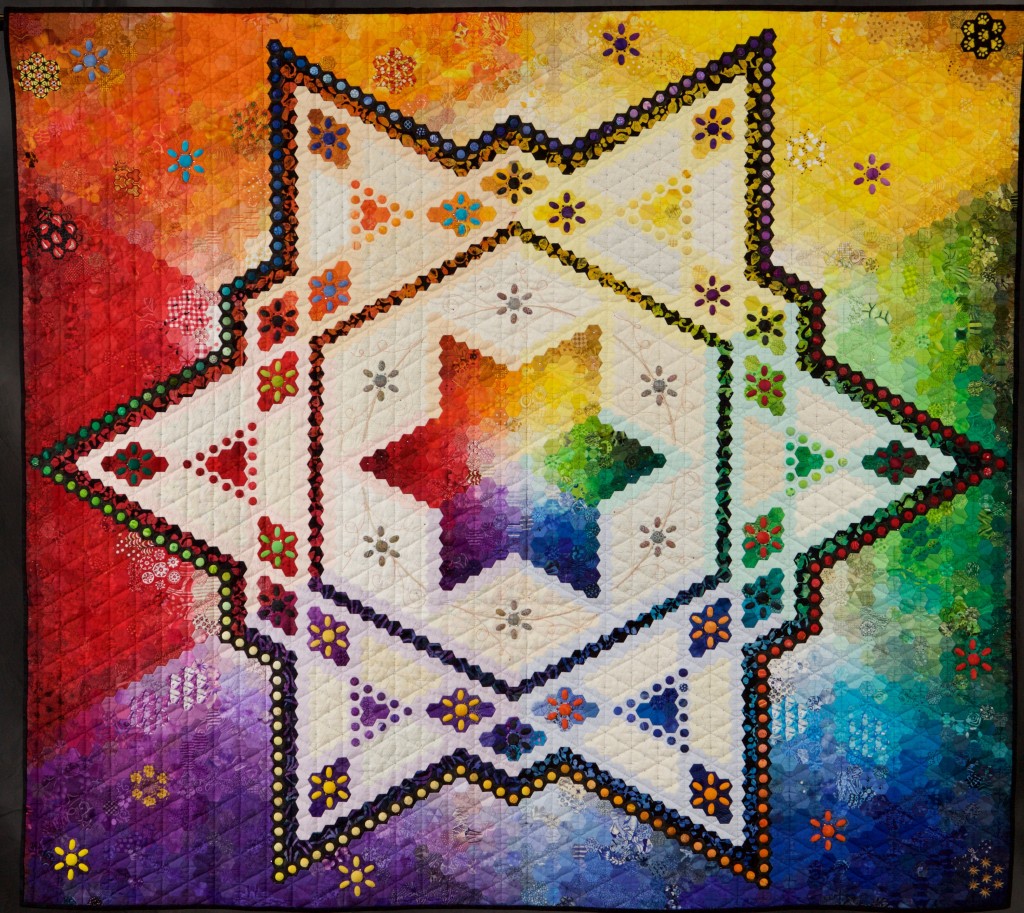 Cheryl See has had a needle in her hand since she was 3 or 4 years of age. However, she didn't start quilting until the early 1990's.  Her foray into quilting was inspired by all the small scraps of bright colored fabric that were too small to make anything else except to use in a quilt.
Starlette
was inspired by her big sister,
Star Struck
, which is in the
National Quilt Museum
.  Cheryl wanted to make a smaller version to use when she gave lectures and taught.
Starlette 
is 
entirely made by hand using English Paper Piecing, applique, trapunto, embroidery and hot fix Swarovski crystals. It is reversible with the back having woven appliqued bias strips in a triangular pattern.
Starlette
includes 4,582 hexagons, 335 circles and 192 ovals. It took Cheryl 9 months to complete Starlette. Cheryl recalled, "It took only 9 months, but I put in a lot of hours in those 9 months." During that time, she was writing her book,
Star Struck & Starlette
, and wanted some great step-by-step photos.  She found it very helpful to be working on a quilt while she was writing because it helped her to find just the right words to describe to others how to do each step.  Cheryl believes, "We continue to learn as we teach others along the way." Cheryl was happily surprised to win the
Best Use of Color Award
as she usually competes in the Hand Quilting or Innovative categories. Cheryl used her prize money to buy more fabric to make more quilts. "It's funny how the next quilt doesn't ever seem to use up much of my stash!" remarked Cheryl. What is next for Cheryl? "I love all handwork and I love innovative quilts or the unexpected.  With my next quilts, I hope to surprise and inspire more quilters to see hand quilting as more than just traditional.  I want to keep hand quilting alive and continue to teach new quilters how to quilt by hand." Another one of Cheryl's future plans is that she will be teaching  four classes at Road 2016: on Thursday,
4015R    English Paper Piecing Technique
, on Friday, 
5013R    Innovative Hand Quilting
, on Saturday, 
6012R    Hexie Daisy
and on Sunday,
 7012R    Innovative Hand Quilting.  
To learn more about Cheryl, please visit her
website
.]]>