<![CDATA[
Did you see what Marcus Brothers Textiles was up to in their booth in the Market Place at Road 2015?
[caption id="attachment_3240" align="aligncenter" width="718"]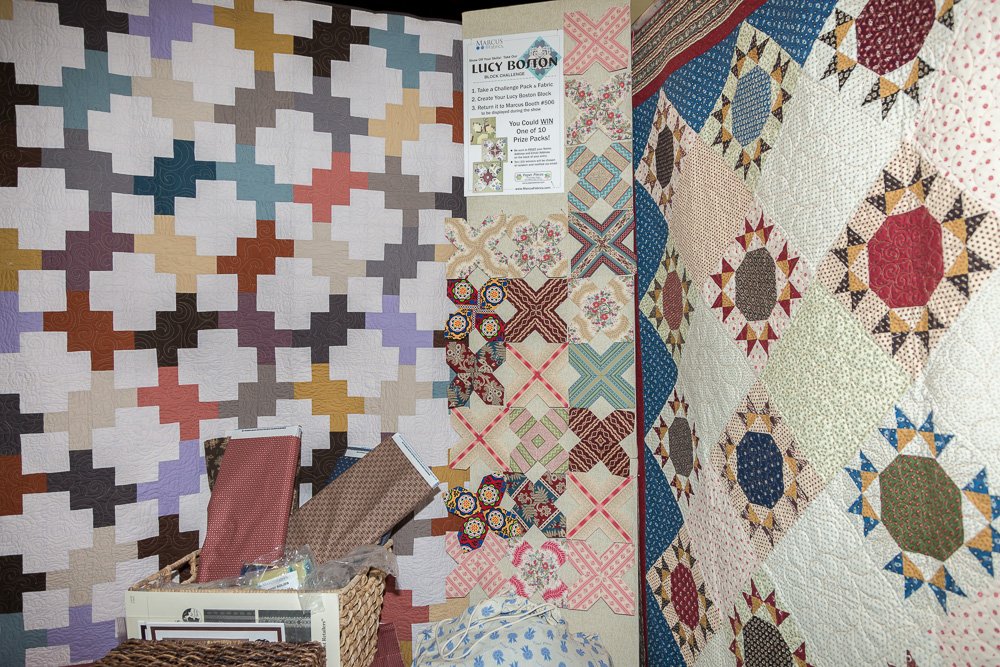 Photo by Gregory Case Photography[/caption]
They were all about Lucy Boston Blocks – the latest trend in English paper piecing inspired by a quilt made in the 1950's by Lucy Boston. Not only was Marcus Brothers Textiles demonstrating how to carefully fussy-cut striped fabrics & place them to create unique kaleidoscopic effects, they were also giving away kits for Road guests to try their hand at the design.
[caption id="attachment_3243" align="aligncenter" width="711"]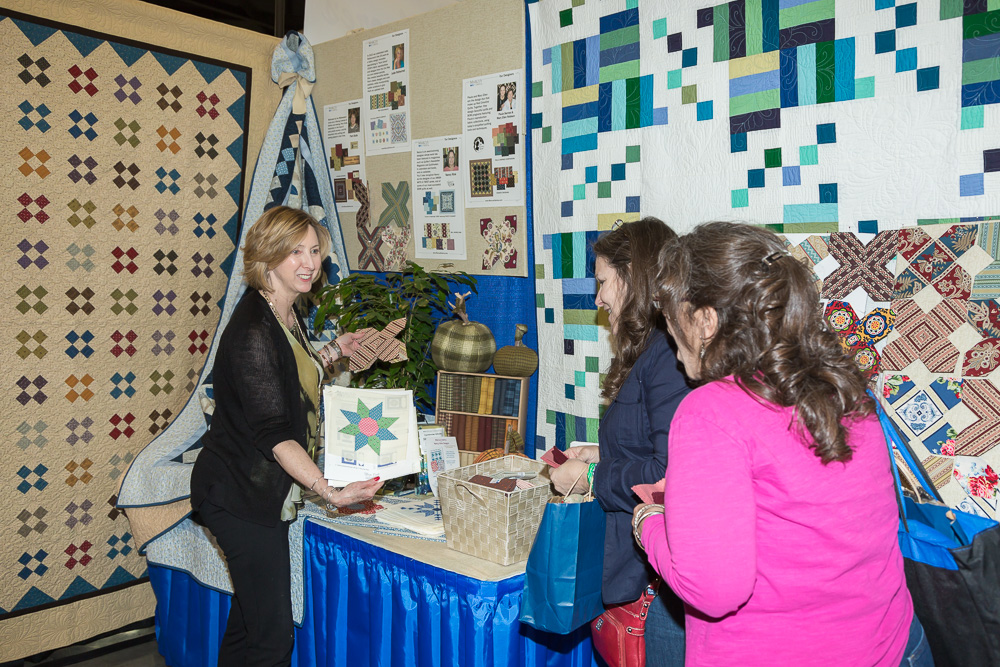 Photo by Gregory Case Photography[/caption]
As an incentive to have the guests return their newly made Lucy Boston blocks, Marcus Brothers gave each person a fat quarter and the chance to win one of ten prize baskets. In addition, all blocks returned were considered to be made in to a quilt that Vicki Bellino of Bloom Creek, was putting together. That quilt is being donated to an auction being held this July, by Quilters Dream Batting. All proceeds from the auction go to benefit Amyotrophic Lateral Sclerosis or ALS (Lou Gehrig's Disease).   
Pati Violick, Director of Advertising and Marketing for Marcus Brothers Textiles, pointed out that they were more concerned with the Road guests getting to try their hand at something new than how the blocks turned out. "Winners of the prize packages were chosen randomly, not based on the beauty of their squares," remarked Pati.
[caption id="attachment_3241" align="aligncenter" width="649"]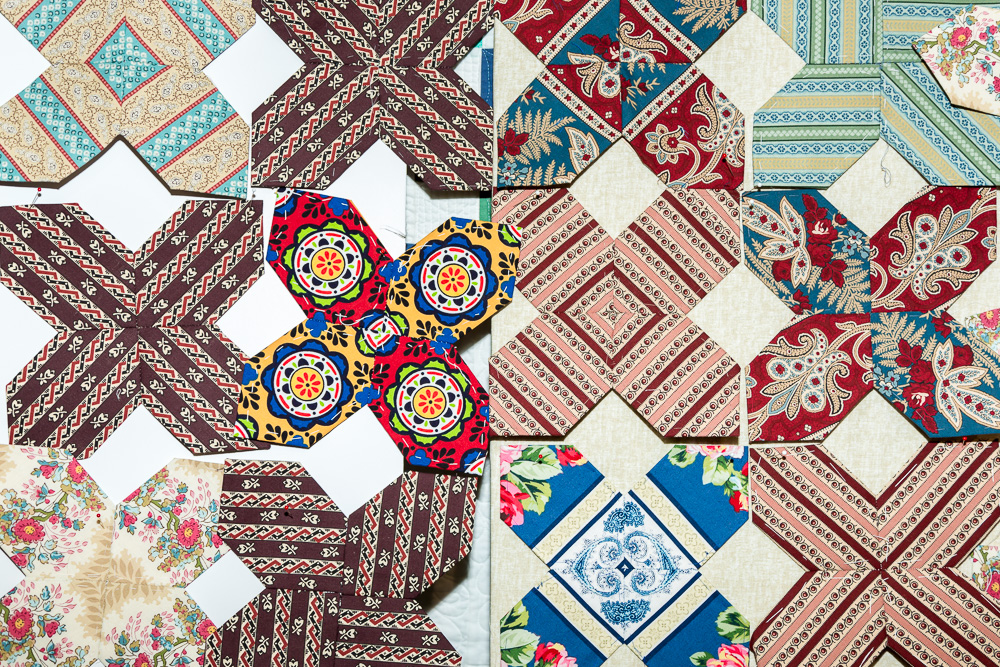 Photo by Gregory Case Photography[/caption]
How was the response? Pati reported that over 120 blocks were returned – enough to make not only a quilt, but a lap quilt as well for the auction. Makers were given a label to sign their name and put on the back of their squares. Many of makers also dedicated their blocks to someone they knew who are suffering from and/or have passed away from ALS.
Two of the participants in the Lucy Boston Block activity were Donna Nordstrom of Rancho Cucamonga, CA and Joanne Larmore of Glendale, Utah. Friends for over 24 years, they having been meeting up at Road for a "girl's week" for the past 17 years.  After stopping by the Marcus Brothers Textiles booth and getting the fabric and pattern for the Lucy Boston block, they ran around the vendor floor getting the needles and thread needed for the English paper piecing technique and cut out their fabric at one of the booths selling rotary cutters!!!
[caption id="attachment_3242" align="aligncenter" width="692"]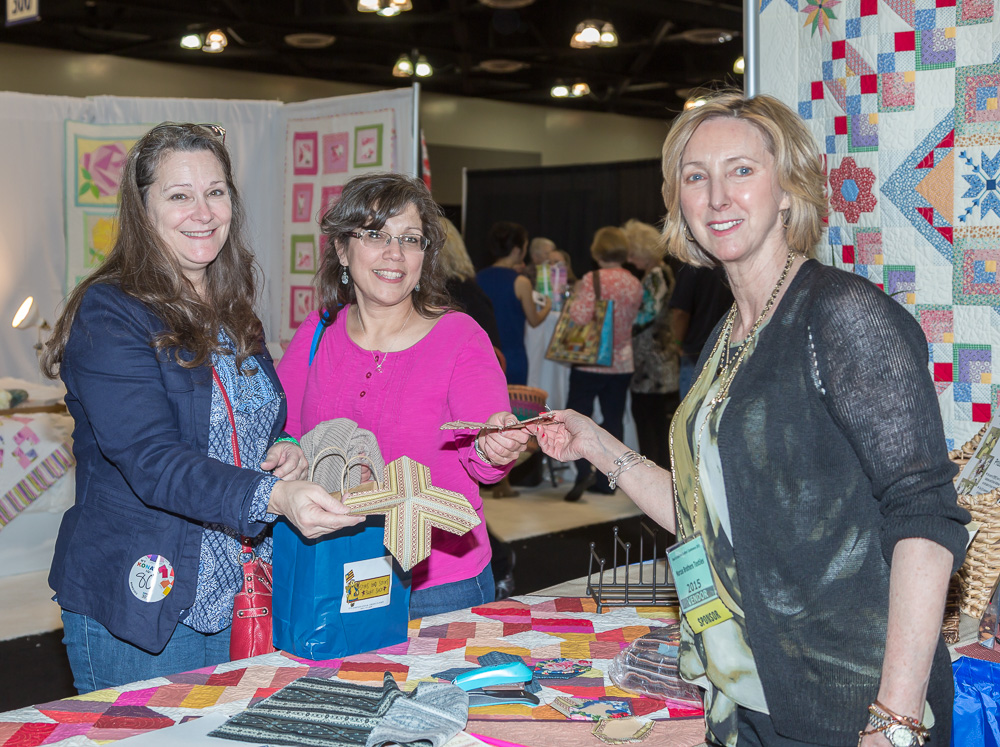 Photo by Gregory Case Photography[/caption]
"Then the fun began," recalled Donna. "Joanne and I found a quiet spot to sit down at the Convention Center and began our blocks.  After running around all morning, what better way to relax with your best friend than to piece a block for charity and visit."
When their blocks were completed, they headed down the elevator to return their squares. Who should get on the elevator with them, but Carolyn Reese, owner of Road to California!! Donna said that Carolyn "was so friendly and we were happy to get to meet her and let her know how much we loved attending every year!"
[caption id="attachment_3244" align="aligncenter" width="631"]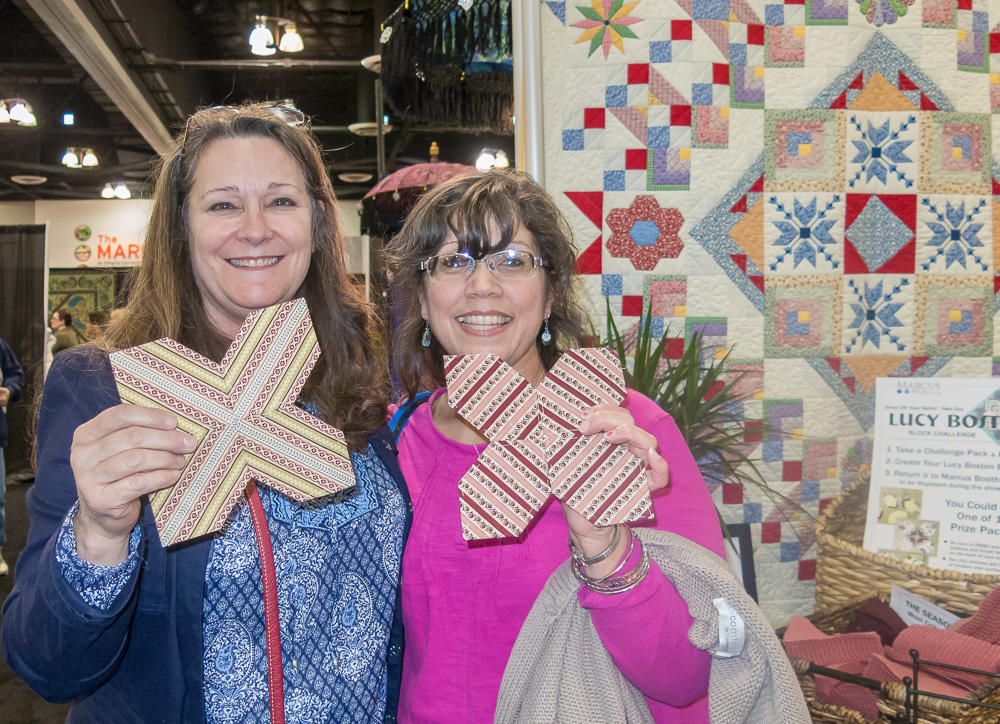 Photo by Gregory Case Photography[/caption]
A couple weeks later, after the show, both Joanne and Donna were ecstatic to receive a "big box" in the mail from Marcus Brothers Textiles as two of the ten winners chosen from the challenge.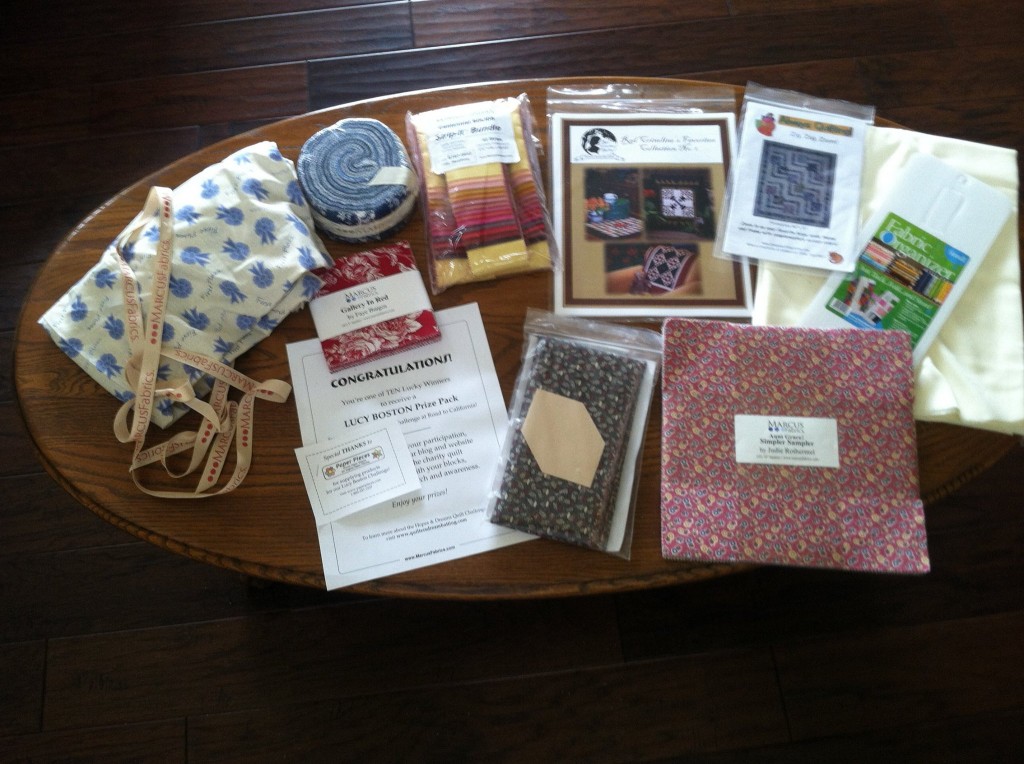 Donna said she and Joanne "really enjoyed the whole experience and hopes that there are more challenges like this in future shows."
Thank you Marcus Brothers Textiles for being in Road's 2015 Marketplace, sharing and encouraging Lucy Boston Blocks English paper piecing. And especially thank you for caring about a cure for ALS.    
]]>
Tags: ALS, ALS Auction, Bloom Creek, Charity Quilt, English Paper Piecing, Lucy Boston Blocks, Marcus Brothers Textiles, Quilters Dream Batting, Road to California