<![CDATA[
Sandra Leichner, from Albany, Oregon, won $10,000 for her Road to California 2015 Best of Show Quilt, sponsored by Gammill Quilting Systems. Sandra started and finished her quilt in 2014.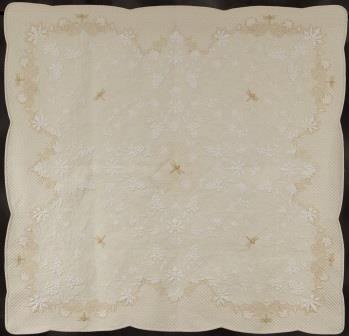 How did you get started in quilting? When my children were toddlers, I could no longer balance my painting and their instantaneous needs. I had learned to do handwork, sewing and embroidery at a very young age and after seeing a quilting magazine on my mother's sewing table, I realized I could focus my art and sewing skills into one creative outlet.
What inspired your winning design, Vivaldi by Moonlight?  I wanted to make a different style of wholecloth and at the same time, challenge my skills to the fullest and beyond. I am known for my handwork skills and my machine quilting skills were inevitably overlooked because the viewer focus was always on my handwork.
I knew I did not want feathers etc. I wanted to create a totally original design in my artistic style using only machine quilting to create the overall design. Although it is a wholecloth, I have used a subtle monochromatic thread color palette to create added depth and incorporate more visual dimension to the intricate twining quilting design.
I had originally made this for my bed but the quilt became too fancy to allow my neurotic kitty Milo, who lives on my bed, to sink his claws into. So I decided to enter it and see what would happen.
It took you a year to complete the quilt. What did you learn along the way?  This was an extremely difficult quilt to create using a domestic sewing machine. The quilt took six months to quilt and two months just to cut the trapunto. The hand embroidered dragonflies took one month alone to complete.
I used a jacquard fabric for the wholecloth and I will never do that again. It intensified the difficulty level by several percentage points. With a sewing machine, I do not have a large frame to keep the quilt sandwich taut and the tension always perfect so my fabric choices can make or break the experience. This almost broke me and more than once.
What was your reaction when you won Best of Show? Absolute dumfounded open mouthed shock—seriously. I had to read the email over and over a few times to see if I was misreading the news before I would let myself get too excited. Then I started running down the stairs and through the house to tell my husband. When I reached him, I paused and then said, "I better go check that one more time to be sure" and ran back upstairs to my computer to re-read the email again. Then I went crazy –bouncing around the house with supreme happiness crazy. 
I have been competing for ten-plus years and have many prizes but this one meant a lot to me. This quilt was a totally different technique focus and direction and I was thrilled that the judges got it. As with all my quilts, the closer you get the more detail you see.
What are you going to do with the prize money? College always sucks the coffers dry and this fall I will have two children in college so the money will definitely come in handy.
What are you going to do next with your quilting? I will go back to my "day job" of applique and designing applique patterns as well as continuing to teach applique and my embroidery techniques internationally.
The diversion of a wholecloth was fun and I am off on a new challenge to keep my quilting process continually interesting and prevent it from becoming formulaic and monotonous.
 I will continue to step out of my comfort zone because if I don't fail from time to time, then I am not discovering and learning something new that may lead to a prize like this one or the pleasure the process brings in making a quilt.
Congratulations Sandra on your stunning Best of Show quilt!!
]]>