<![CDATA[Pagen Lewis will be teaching 1201R  Square Tuffet  on Monday and Tuesday
Experiencing trying times in life sometimes end up being a great motivator in trying new things. That's exactly what happened with Pagen Lewis. Pagen's mom and sister had always sewed, but according to Pagen, she "just didn't get it." About 17 years ago, when Pagen found herself going through a rough patch and had some extra time on her hands, her sister suggested that Pagen should take a quilting class. At first, Pagen "laughed" at the idea. After a lot of her sister's pushing, Pagen finally agreed to take that class and fell, "hook, line, (and) sunk."  About six months after that, Pagen purchased her first long arm and started quilting for charity and customers. When Pagen learned that her job that she had for 18 years in the computer industry was being moved overseas, she had six months to figure out what she was going to do next for work. As a single mother with 3 young children, she began researching how to start a business and what quilt shops were in her area. Guess what? There weren't any!!  Within that six months, Pagen opened Quilter's Cocoon in Riverside, California and started running her own business. That was 15 years ago and Quilter's Cocoon is still going strong.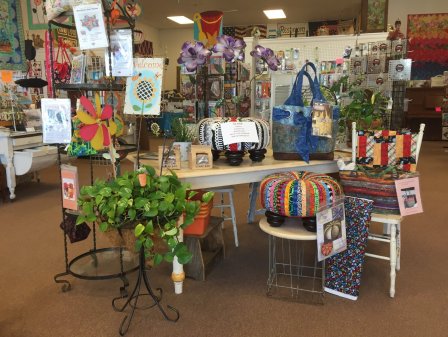 How did Pagen get involved in making tuffets? She saw a round tuffet on-line made with Kaffe Fassett prints. She searched everywhere to purchase one. She didn't end up finding one but she did find a place to take a class that also offered certification to teach.  That was in July, 2015. Pagen actually made two tuffets before she even went to the class for training. Pagen has taught hundreds of students how to make both round and square tuffets. She started teaching  her round tuffet classes in August, 2015. She wrote the pattern and had the fusible interfacing printed for the square tuffet and began teaching that class in June, 2016. What can you do with a tuffet? Pagen says they are perfect for "special gifts."  She says that many tuffets have been taken over by students' family pets and that grandchildren like using them to play favorite board games.
Pagen's favorite tuffet was one she made out of red Kaffe Fassett Colletive fabrics. Once, she made a patriotic one for her father and on the bottom, put photos of him from the Korean War and his and her mother's wedding photo. While there is some sewing machine work involved, Pagen's tuffet class is part of Road 2017's non-quilting classes that include several beadwork classes. Pagen and Quilter's Cocoon will also have a vendor booth at Road 2017. ]]>
Tags: Pagen Lewis, Quilter's Cocoon, Quilting, Tuffet