Road to California offers a variety of in-person classes. There are half-day classes, full day classes, and two-day classes all taught by experts in the quilting field. Have you taken a class at Road before? Many newbies to Road are curious about what to expect when attending a quilt class and want their questions answered before they register. Last year, Road's Social Media Consultant, Caryn Payzant, a novice quilter, signed up for her first ever Road quilting class so she could learn firsthand what it's like to take a quilting class at Road. "I had no idea what I was getting in to and figured other quilters have the same apprehensions. Taking a class helped me to better understand the process while I was in the class and for future classes I might take." Here are some tips and insights that Caryn offers from her experience:
So Many Classes—How do I pick? Just like any other learning experience, you want to choose a quilt class either based on what you want to learn or what you want to improve on. Also, the day and time you are available helps narrow down your choices. While you might also want to choose based on a particular teacher, don't worry if you haven't heard of them before because all of Road's teachers are experienced in their area of expertise. In other words, you can't go wrong with whatever teacher is facilitating the class.
For me, day and time was most important. My social media work for Road begins on Wednesday, so I knew whatever class I chose, it had to be on either Monday or Tuesday. Also, being a new quilter, I knew I needed a class geared towards beginners. Kate Flynn Nichols's  54-40 or Fly quilt class met all my requirements.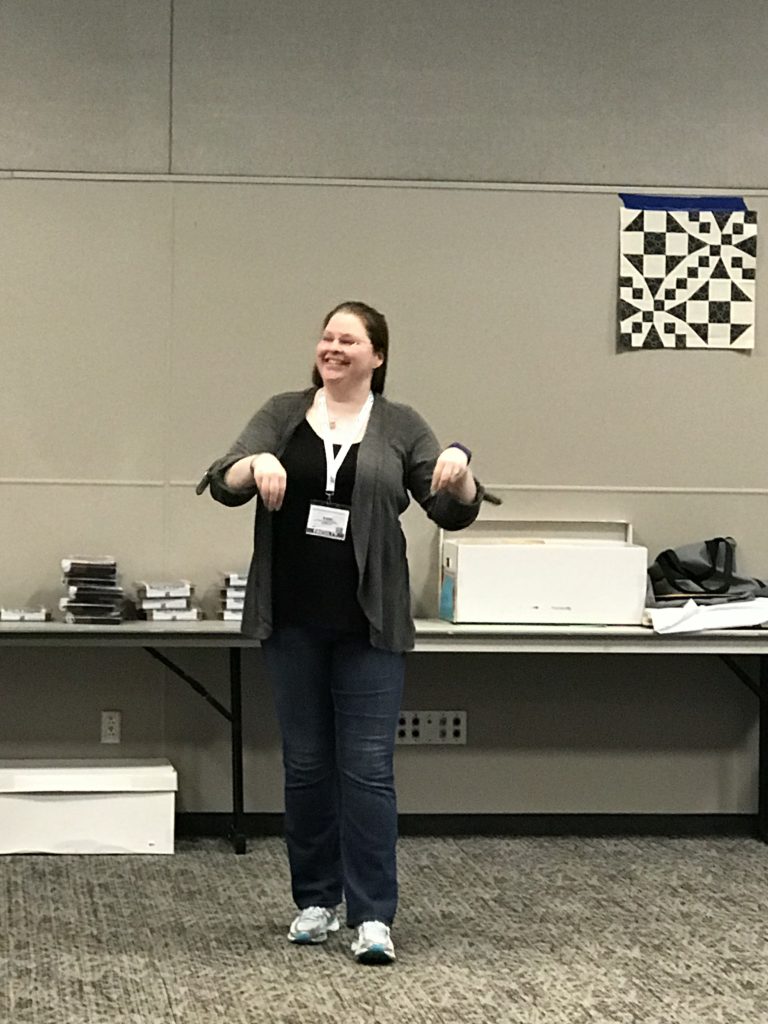 Cindy was from Escondido, California. She has been quilting since 1989 and has been attending Road since the beginning. She takes 5-6 classes every year!!! She signed up for 54-40 of Fly so she could just sit and sew on a calm day. She always looks for new tips when she takes a class. Kate's piecing tip for using leaders and tails when chain sewing was valuable to Cindy.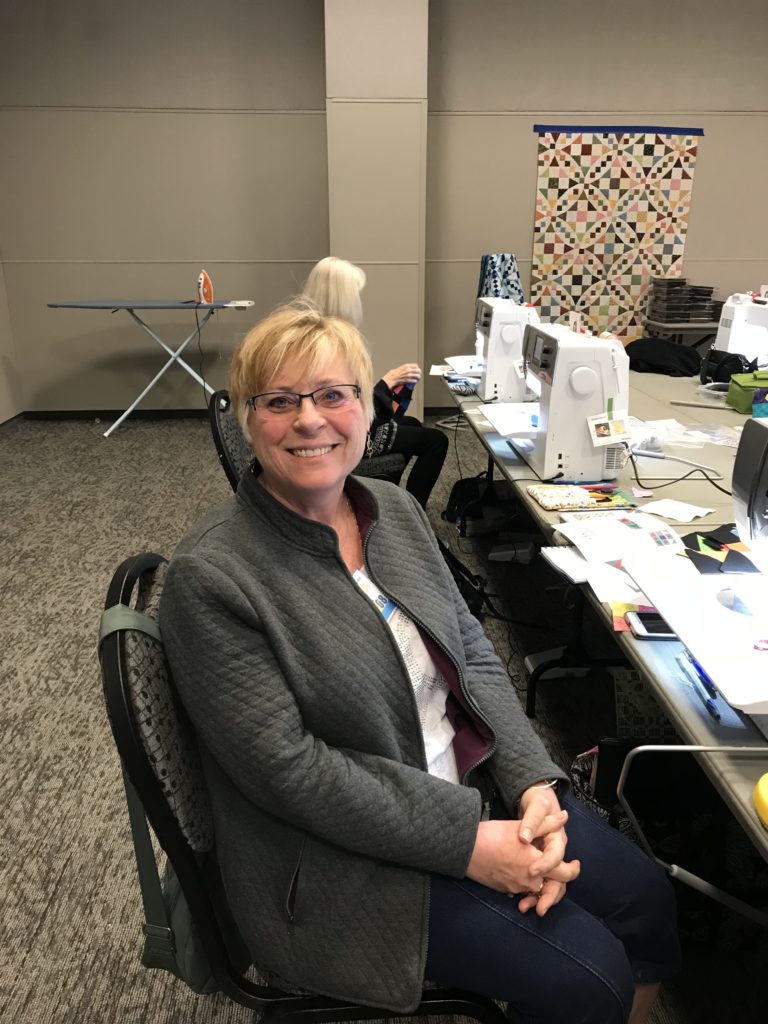 Canadian Lynne has been quilting for 24 years. 2018 was her first time at Road. She signed up for 3 classes. As a "traditional" quilter, she liked learning the precision techniques and trying out the Bernina sewing machines.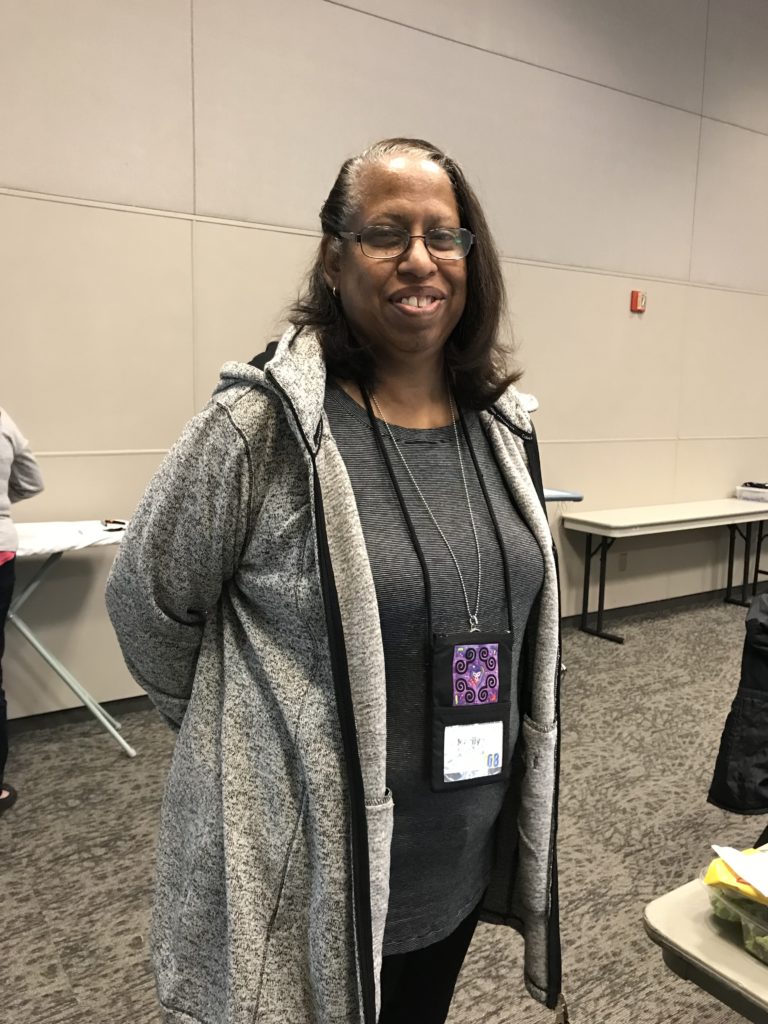 A quilter for over 30 years, Marilyn has been attending Road for 28 years. She took this class because it was offered on Tuesday and because she likes Kate. She thought the kit was fun .
Don't Expect Perfection. I was reminded by several students that classes are meant to practice new skills and that practice does not mean immediate perfection.
Don't Expect To Finish. I thought everyone finishes their projects during classes. Not so. Because everyone is at different levels, they are also at different speeds as far as working on the project goes. I barely finished (of which I was relieved) but several of my classmates inherited a new UFO!! And that's OK.
Taking a quilt class at Road to California is a great way to expand your quilting skills, meet new people, and get to know an expert quilter up close and personal. What quilt class(es) are you going to take at Road 2022?
Tags: Kate Flynn Nichols, Quilt Class, Road to California Quilt Classes, Tips for taking a quilt class