<![CDATA[Diane Kirkhart will be teaching three handwork quilting classes at Road to California 2019:
On Wednesday: 3007C – For Anne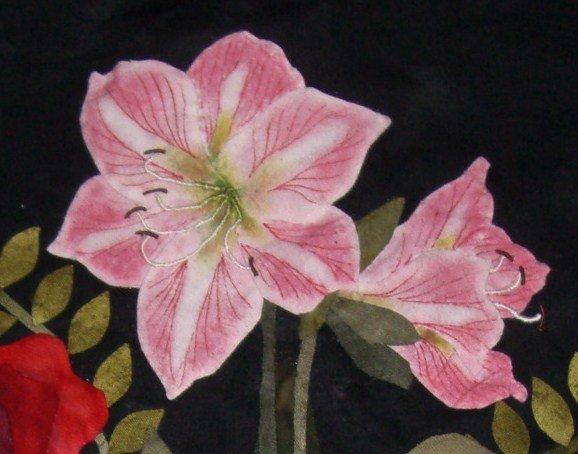 On Thursday: 4009C – Millefiori, La Passacagila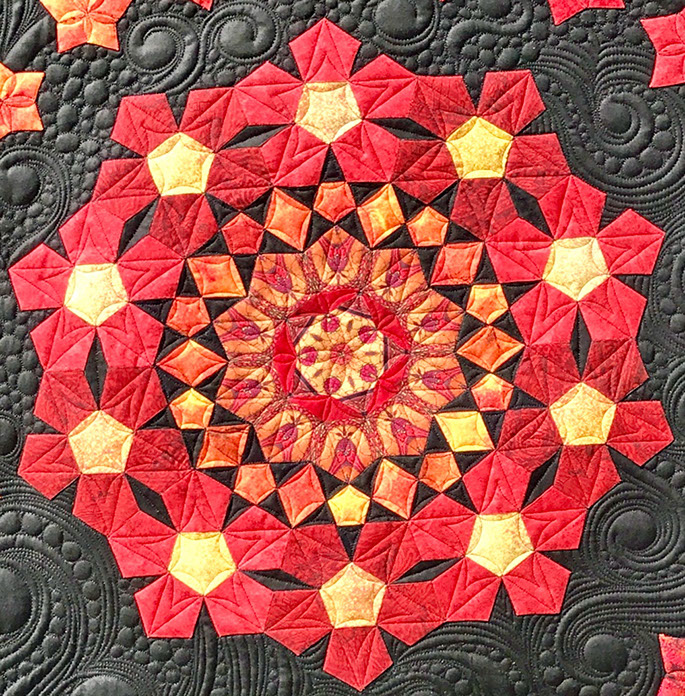 On Friday: 5006C – Tule Nova English Paper Piecing Quilt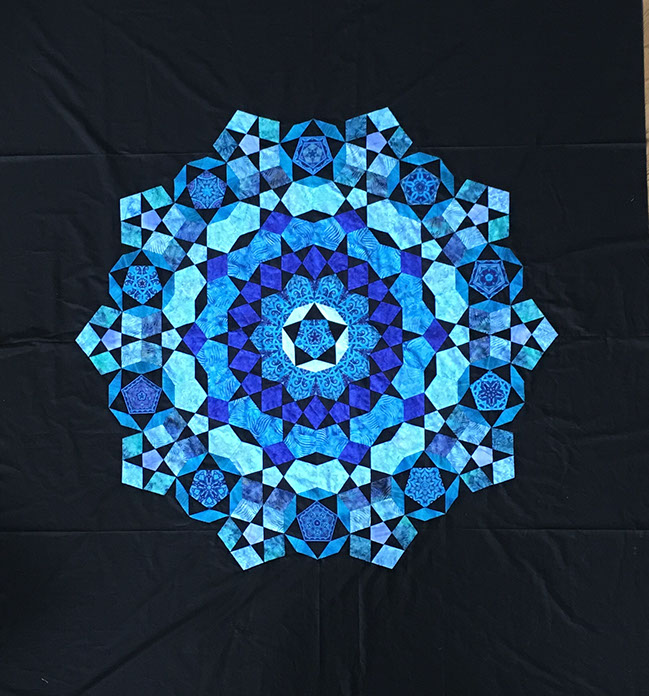 On Saturday and Sunday, Diane will be teaching a
unique table runner class
, 6702C Botanical Table Runner, utilizing Apliquick products and tools.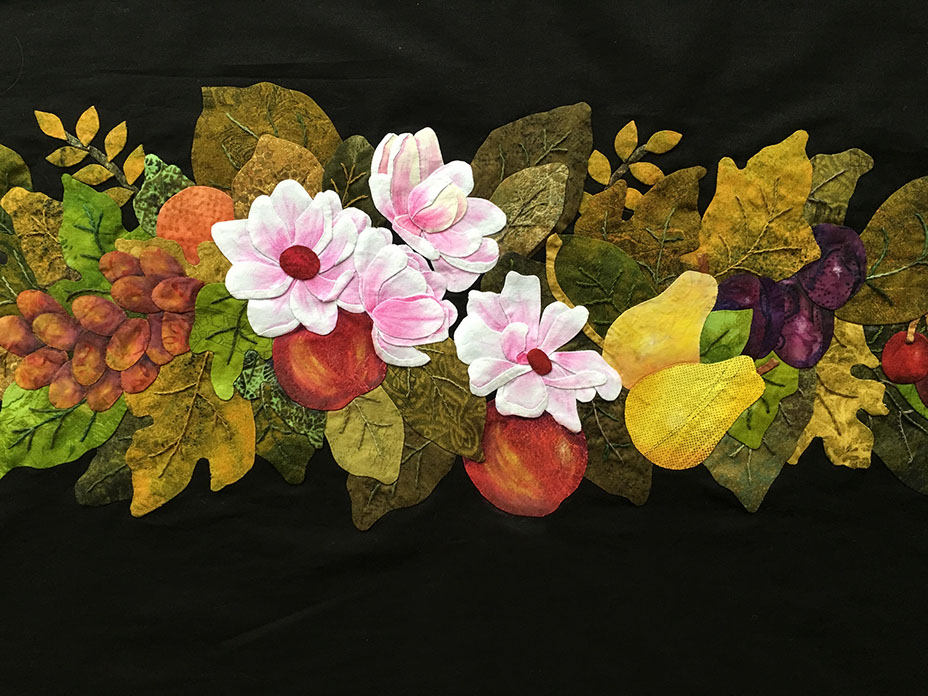 Diane Kirkhart was a "dabbler" in sewing and crafts before she found the handwork quilting bug. She tried knitting, crochet, cross stitch, bobbin lace and ceramics. She even did some painting for a while teaching friends and friends of friends. One afternoon during one of those classes, there were several quilters enrolled. They asked if Diane would be interested in attending a quilt meeting that evening. As she recalls, "Of course I went and as they say, the rest is history."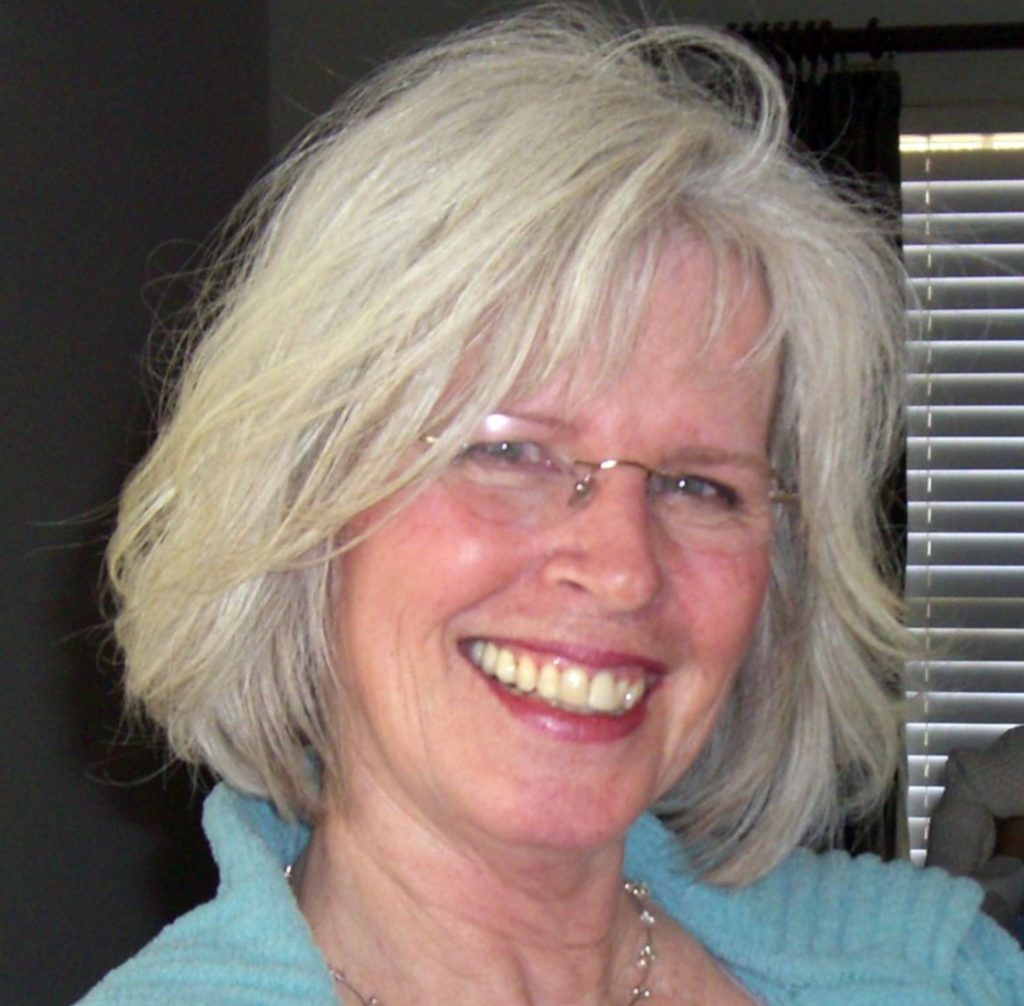 What does Diane like most about handwork quilting techniques? "My favorite aspect would be working with colors and seeing a quilt come to life whether from a pattern, a picture or sometimes even from my head." And her least favorite aspect of quilting? Binding. "I know I should be happy to do it but two things, this journey is over and my hands usually ache afterwards!" Handwork quilting, especially appliqué, has been Diane's favorite from the start, due to that first quilt guild meeting she went to. A member of that guild, Emily Martin, was giving a trunk show and Diane loved each quilt presented. She decided then and there that this was what she wanted to do and began her journey. Diane eventually took a class from Emily and so appreciated that class. Diane learned a lot of things including the fact that to this day, she doesn't like using the freezer paper technique. Instead, Diane has adapted over the years combining several appliqué techniques and is "still adapting, still learning." Where does Diane do her handwork quilting creating? She says she is fortunate to have a fairly large bedroom in her Virginia home to use as her sewing space.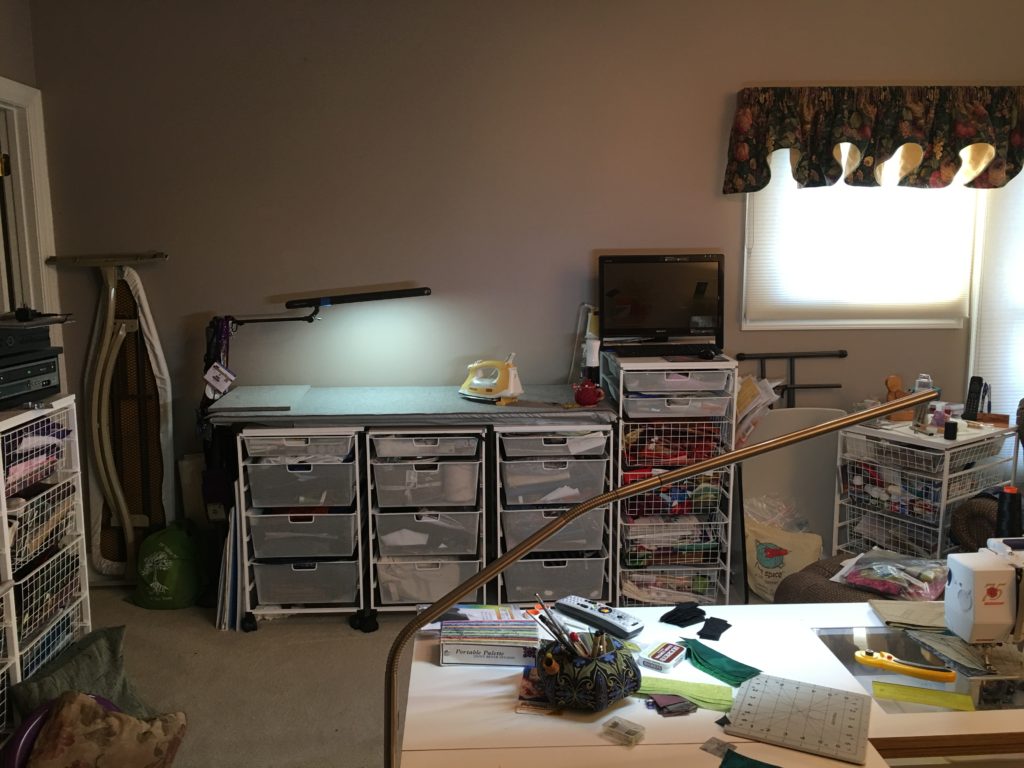 "It has a walk in closet and an attached bathroom which is very convenient. As I said it is quite large but the more you have, the more you want. Two walls are lined with Elfa drawers from the container store, of course filled with fabric and notions. On top of several of them, I have placed my big board ironing surface. There is a big easy chair and footstool in the corner. I have an old drafting table elevated with bed risers for a cutting table. Beneath that table are two bookcases from Ikea or someplace like that where I keep my books, light box and other paper type supplies. Various rulers (her favorite are Quilters Select rulers) are on a smaller drawer set and others are hanging on the wall.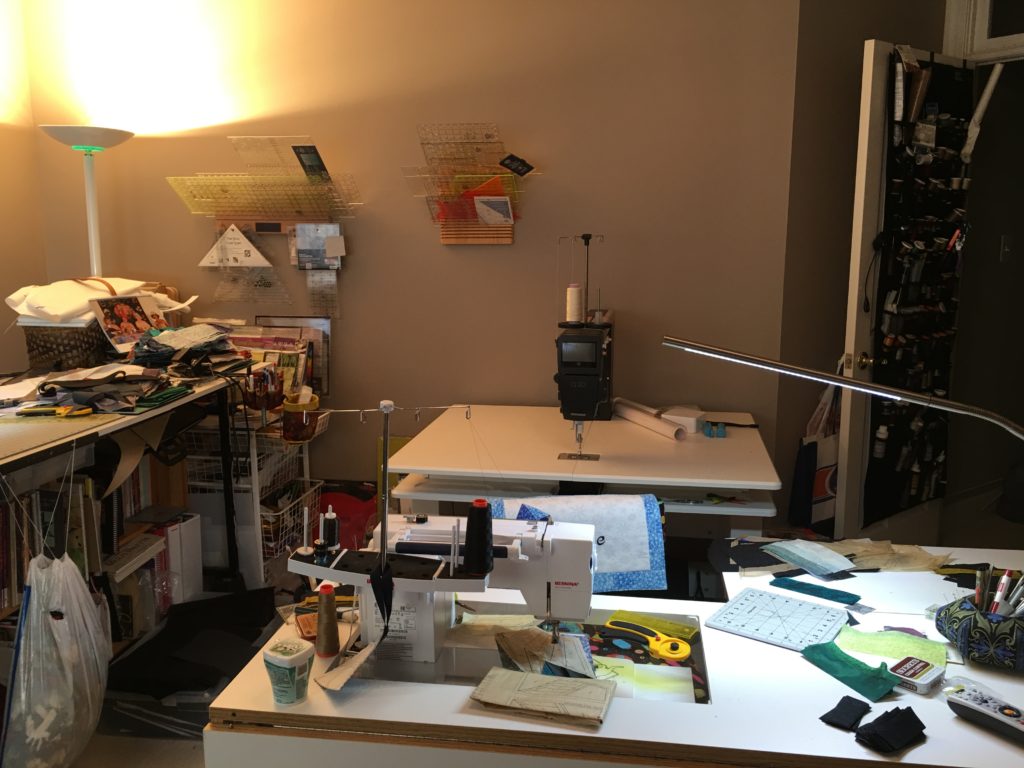 Around the walls, I have a Bernina-Q20 and I keep it's table closed to its smaller size until I need to put its leaves in it when I use it for quilting. In the center of the room I have a Horn Table with my Bernina 440 in it. My sewing chair sets in between both machines. There is a tv on the wall but it's rarely on. I like the peace most days.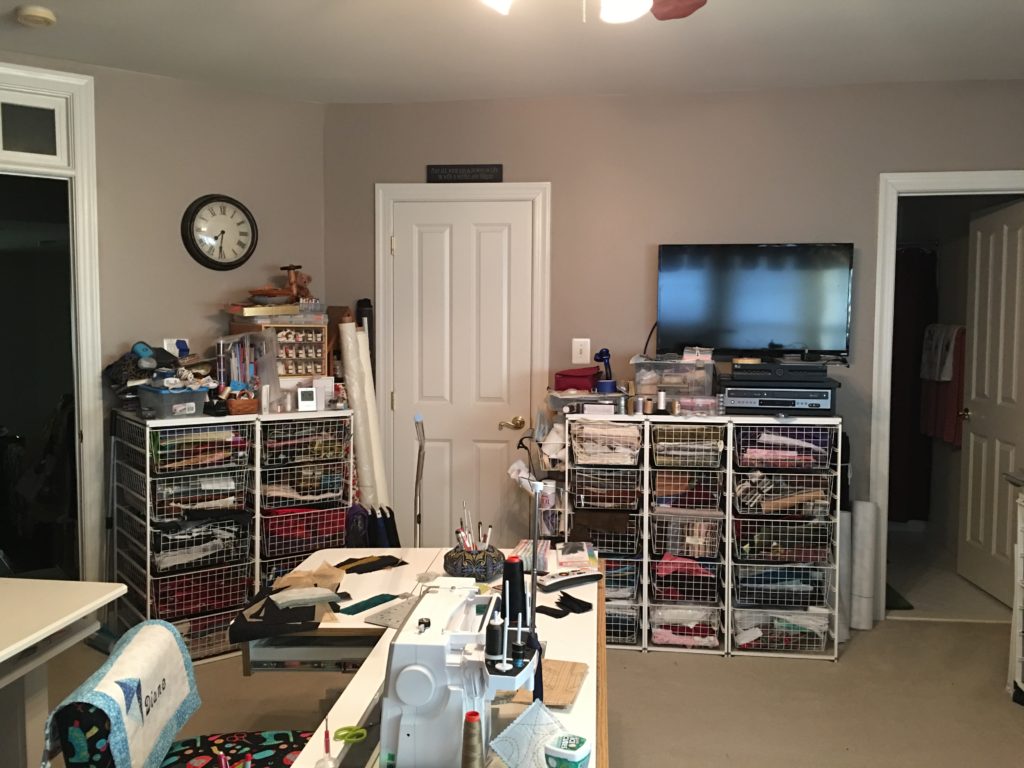 Oh, I also have a computer in there. It's tight in there, but it works for me. And if a friend comes to sew, I can flip up the drop leaf of my Horn Table or if they bring their Sew Easy Table there is room."
A handwork quilting teacher for over 14 years, Diane loves when she can evoke excitement and see a light bulb come on in a student's face. Diane also loves to listen to the chatter and banter of her students, especially when one student is explaining to another what Linda had just said, but in a different way. Linda has observed, "Not everyone learns the same way and sometimes their description works better. I too get to learn!" What does Diane want for her Road to California students? "I hope they gain the skills to complete the project. I want them to be confident that they can continue and even expand and someday share what they have learned by teaching someone else to keep this quilting party going." To learn more about Diane, please visit her
website
.]]>