Not only did Catherine DuCharme win Best Applique for Happy Trails, she also received honors for two additional quilts at Road to California 2019:
2nd Place, Other Wall, for Pieces of the Past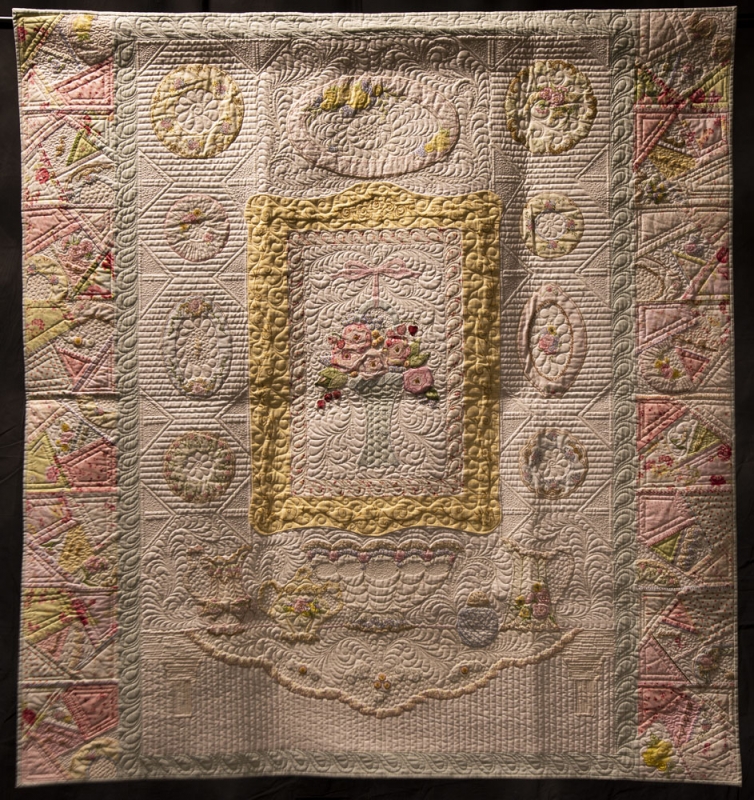 And, First Place, Other Large, for Heirloom Romance.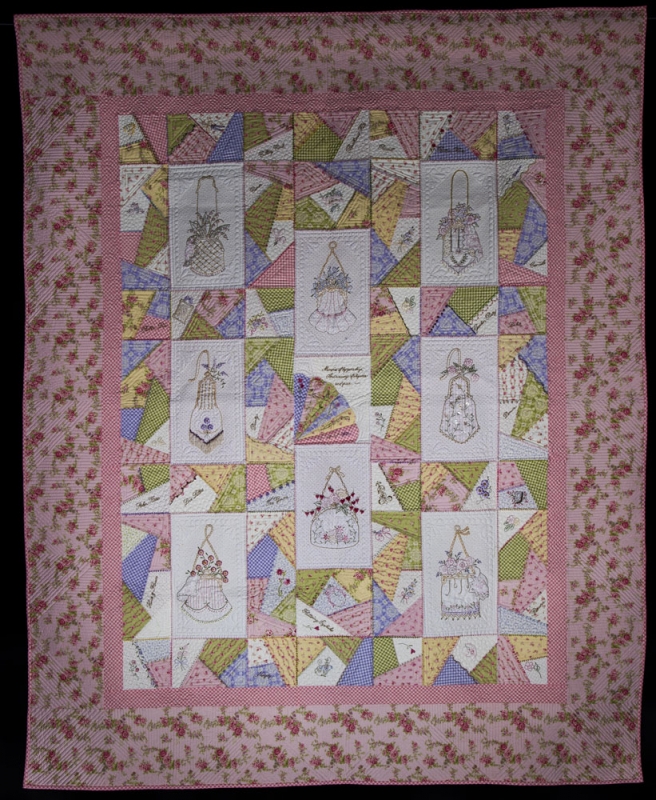 Pieces of the Past is from a pattern by Meg Hawkey of Crabapple Hill Studio. Catherine shared that she has enjoyed embroidery since she was nine years old and that Pieces of the Past combines her love of dishes and embroidery. While making this quilt, she learned a new technique for making the borders. She used the foundation paper piecing technique to make the crazy quilt blocks and then selected various embroidery stitches and designs to embellish them. Catherine thanked Diane Beauchamp for doing "a beautiful job quilting it." Catherine displays the quilt in her dining room and every time she walks past it, she "smiles inside."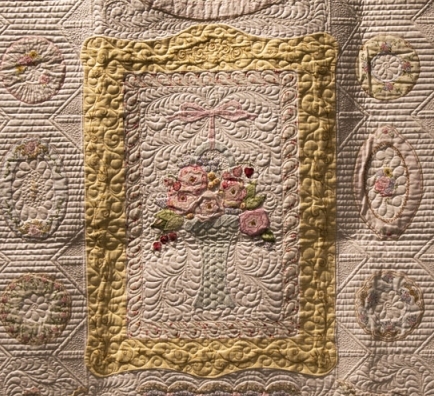 Pieces of the Past received $750 from Sponsor: Elna Inc.
Heirloom Romance was another pattern from Crabapple Hill Studio. Catherine said she was "excited to embroider the vintage purses and embellish them with beads.  I think I made the 9 vintage purses in just a month of stitching and then I put them away. One day I found them, and I thought I just had to finish the quilt. So I started making the crazy quilt setting blocks; I really enjoyed playing with the designs in the blocks and using beads for embellishments." Diane Beauchamp quilted this quilt also.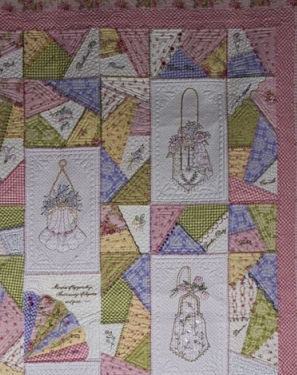 Sponsor, Pineapple Fabrics, awarded Catherine $1,000 for her winning entry.
What did Catherine think about having multiple winning quilts, receiving three prizes in one Road to California Show? "Oh, I was absolutely in shock to discover that I had three winning entries! Everyone had told me how difficult it was to be accepted so originally, I thought I'd submit three quilts hoping that one would be accepted for the 2019 show. I had plans to go to the quilt show with my Mom and my niece (who has just begun quilting) and I thought it would be fun to have one of my quilts on display. Imagine my surprise when all three of my quilts were accepted! Then on the day that the winners were announced, I kept checking my email all day. After 5:00 pm, I texted my girlfriends and I told them that I didn't win. Boo hoo! Then three and a half hours later, the emails starting coming in…..I couldn't believe it! All three of my quilts were winners!! And the prize money totaled $3250! I had to text all of my girlfriends again with the good news! I am so thankful for the sponsors who donate the prize money."
Congratulations Catherine DuCharme for your multiple winning quilts at Road to California 2019.