Esterita Austin will be teaching will be teaching three classes during Road@Home:
Wednesday, January 20th from 1:30 – 5:30 PM: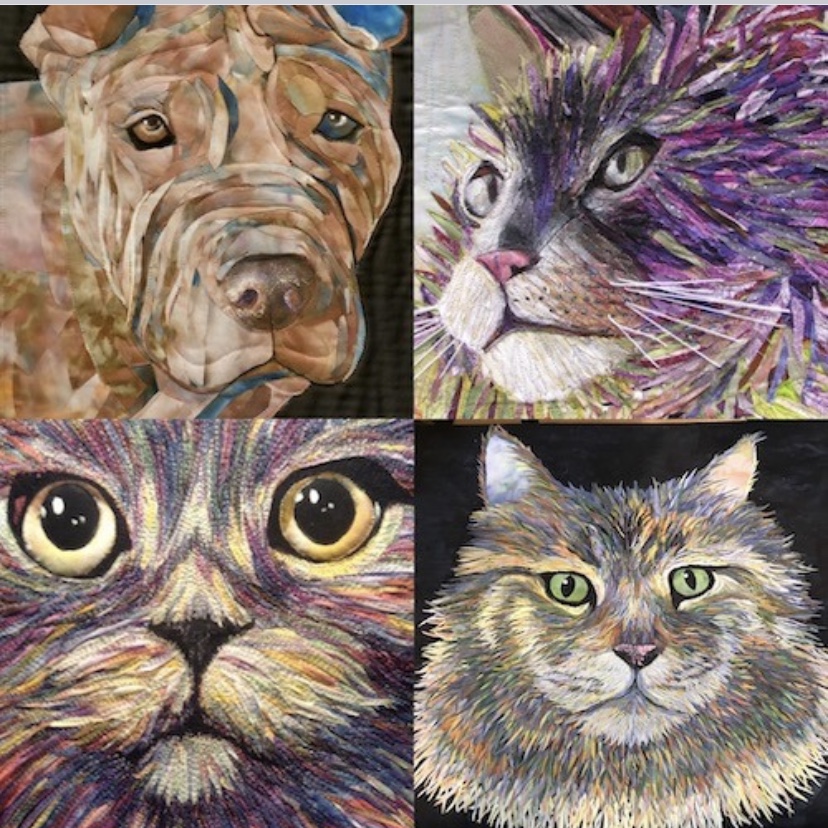 W119 – 4×4- A four-hour lecture demonstration on four original techniques that Esterita has developed.
Thursday, January 21st from 1:30 – 5:30 PM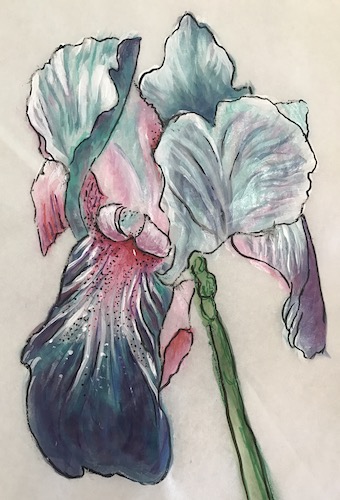 T115 – Luminous Painted Irises- Create an art quilt by combining and overlapping layers of paint and transferring it onto organza.
Friday, January 22nd from 8:00 – 9:30 AM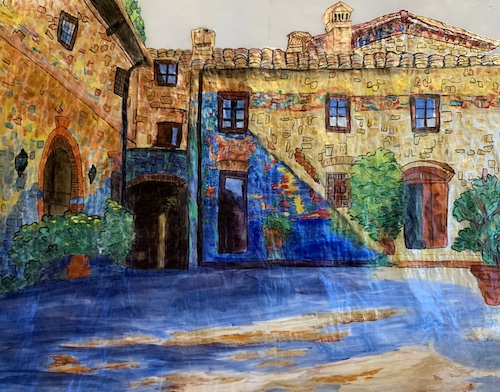 FL01 – Inspirational Journeys- Looking for art inspiration all around us.
Backpacking and Quilting
Esterita Austin learned about quilting at age 22 while backpacking through Greece. She tells the story how she "met a young woman from England who had small brown paper hexagons and bits of fabric she was folding around the paper. I asked her what she was doing and she explained to me that it was an American past time called patchwork quilting. I said to her you mean you Cut up fabric and sew it back together again? With a big grin on her face she said yes! I said, well that's the silliest thing I've ever heard of. The time I was embroidering the holes in my jeans and without realizing it so the pair I was working on to the pair I was wearing… It was embarrassing. 20 years past and we find each other on the InternetAnd she asks me, "so what are you up to? Of course I had to tell her that I was teaching quilt making to which I got quite a laugh out of her."
An Art Background
The classes that Esterita Austin will be teaching at Road@Home have a big art influence. That's because art has had a big influence in Esterita's life. She started off as a high school art teacher, teaching her love of drawing, painting, printmaking, photography, and ceramics. She discovered art quilting by taking workshops David Walker and was hooked.
Esterita and her business partner marketed a unique technique using Mistyfuse and paint transfer. Mistyfuse is a gossamer fusible that virtually disappears when ironed onto fabric and doesn't change the hand of the cloth.
Lessons Learned from COVID-19
To "save my sanity" during the Coronavirus lockdown, Esterita Austin "started doing some mindless work." She made three bed quilts for her children; two queen and one king. Then she made a couple of quilted backpacks.
What COVID-19 has taught Esterita is to "never take for granted all the things that I thought were small things before. Just getting to see my children is such a privilege. I've had my first grandchild during the pandemic, and she is such a treasure to me."
Teaching at Road@Home
Esterita Austin has been teaching for over 20 years. Her husband passed away when their children were still young, and she had to find a way to make a living. She decided to give teaching quilt making a try and has never looked back.
When the pandemic began, Esterita taught herself how to teach virtually. She has already taught numerous virtual classes and is "surprised" at how much she is enjoying the experience. Esterita sees virtual teaching as a way to demonstrate exactly what she is doing so every person has a front row seat. She has her cameras set up around her work area to provide an up close and personal demonstration every time. She has also developed a technique to interact with her students while the class is going on. Each student texts Esterita a screenshot of their work in progress. Esterita then annotates their photo on a shared screen, giving advice of where they can change and or improve their image. Estreita says, "It works out pretty well."
She is looking forward to sharing time and conversation with like-minded people during Road@Home and can't wait to create with everyone, helping them build confidence as well as a new sense of experimentation and creative adventure.
To learn more about Esterita Austin's work, please visit her website.
.