<![CDATA[
Modern Mojo Two was made and quilted by Linda M. Thielfoldt of Troy, Michigan. Linda received a $5,000 award for Best Modern Quilt from sponsor Riley Blake Designs.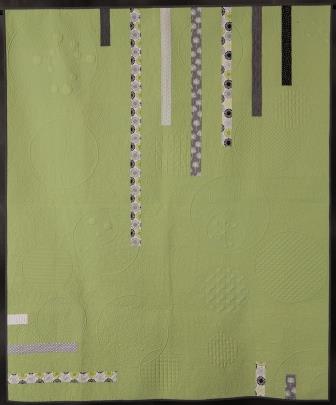 When Linda Thiefoldt was 12 years old, she tried her hand at quilting for the first time. Her sister was having a baby and Linda wanted to make her a quilt.   It was an original design and tied with embroidery floss. Her winning quilt at Road 2016 has come a long way from that first simple quilt.
Modern Mojo Two was very special to Linda.  She had a bad ski crash and broke her ankle and shoulder.  It was very painful and she couldn't quilt or sew for 6 months. It was a full 10 months before she was done with physical therapy.  There was a point where she thought she might never be able to machine quilt again. It was a very dark time for her.  Modern Mojo Two was the first quilt Linda made after her physical therapy where she felt like she was back. She had a lot of charity quilt practice but she felt her quilting was pretty awful due to her limited range of motion. Linda was fearful that she might never get back to competitive quilting again. It took a long time as she could only quilt for an hour or so a day due to the lingering pain. The quilt was in the machine for 4 months.  Linda learned "that you have to make the most of every day and push harder through adversity.   Had I given up, which trust me I wanted to on many days, this quilt would have never come to fruition. It was a very humbling and soul searching time where I had only my faith to rely on. The thought of losing something so central to my life was very scary."
The winning design was most influenced by the white fabric with the different sized dots she found. She had previously drawn out the stripes in the layout and was planning on doing some quilting in the background "white" space in a grid type format. But when she found that one print with the "spikey circle things," the design changed and the spikes and circles really took center stage.
When Linda found out her quilt had won, she was "beyond thrilled." Linda said, "I live in Michigan and I'm sure if you had been paying attention, you could have heard me squeal all the way to California.  I was stunned that this quilt which has so much meaning for me was chosen for this award and to make it to the "top tier" of awards was such a welcome. I have been competing a long time and have been blessed to have won many ribbons but this one by far has the most meaning to me." Linda used some of  her prize money to pay off the balance on her embroidery machine and set the rest aside for a future longarm machine. 
What is next for this modern quilt winner? Working on another modern quilt, of course. Even though she has been a traditional quilter all her life, Linda has found that she is most inspired by the open and negative space that is such a huge part of modern quilts.  Linda plans to keep the same name, developing a series: Modern Mojo One, Modern Mojo Two…..stay tuned.
]]>