<![CDATA[
What a Conference!!!
The number one response I heard when asking attendees what they thought about this year's Road to California was, "It was so inspiring."  And who wouldn't be inspired what with so many beautiful quilts on display.  Among those on the showroom floor, were the 84 winning entries.  How exactly were those winning quilts chosen?
Judging was again supervised by Road to California's capable and experienced staff member, Stevii Graves. She oversaw an extensive process that involved not only our three judges (Kathy McNeil, Marti Michell, and Linda Taylor) but an additional volunteer force of 17 people working the judging floor. These volunteers — many who are skilled quilt judges in their own right — assisted the judges by keeping the quilts in order, fanning them out for viewing, and writing down notes as the judges dictated their responses. 
Judging was over a period of two days. The judging floor was located in a locked area of the convention center.  Uniformed guards maintained security of the quilts over night. Efficiency was the key in the judging process.  Each and every quilt received its' opportunity to be viewed by the judges. They worked in a team, discussing all aspects of the quilt and sharing their opinions. Every comment was recorded by four scribes to make sure that every assessment was remembered.  While the judging was gong on, additional Road staff assisted in taking the final photographs of all the entries. Those were the pictures used to announce the winners on our website and on the official Road to California DVD.
When everything was said and done, the winning quilts were determined.  All entrants received an email Tuesday evening, notifying them of the top winners as well as receiving feedback from the judges on their entry.  The prize winning quilters also received an additional congratulatory email.  
So, what was the $5,000 Grand Prize Winner this year? Red Feathers by Marilyn Badger: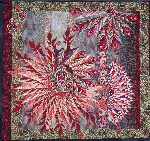 A huge thank you to everyone who entered.  Stay tuned for more winners and news from this year's conference.
]]>