Apparently, learning to quilt teaches all kinds of great skills, including learning English. Because that is exactly what happened with Molly Hamilton-McNally, winner of 2012 Road to California's Best of the Show quilt entry. Meeting Molly at this year's Road was a real delight as she shared her humble beginnings in to the world of quilting.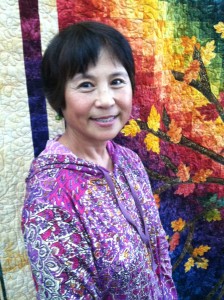 In 1994, Molly came to the United States on a seven month VISA. Originally from China, Molly spoke no English and a little Japanese. She was hired to work in a Japanese restaurant. One of her regular customers introduced Molly to her boss who also knew a little Japanese and they began dating. He had a hard time pronouncing her Chinese name, so he told her he was going to call her something easier, Molly. Thus, that was how she got her very English name. As the deadline for her VISA loomed near, he proposed marriage so that she could stay legally in this country and she accepted.
Tragically, in 2000, Molly's husband passed away from cancer. This left Molly with no income, no children, no relatives, and no way to effectively communicate in English. You can understand why she soon became depressed and sought therapy. Her doctor suggested that she find a hobby to help her through. Molly lived in the small Northern California town of Tehachapi. She had recently visited the local quit show and thought that quilting would be an interesting hobby to look in to.
Molly had no background in quilting; there are no quilts in China. But she did love art and could see where her interest in art could benefit her in this hobby. She decided to join the local quilt guild to find out what quilting was all about. She remembers that the first meeting she went to was really difficult because she didn't know English. She learned how to quilt not by following verbal directions but by carefully watching the demonstrations. Over and over again, she diligently watched the steps repeated and repeated until she was able to basically self-teach herself. Over time, the friends she made at the guild not only showed her how to quilt, but also helped her to learn English. Molly credits the guild and its members for saving her life.
Today, Molly uses her Chinese background as inspiration in creating her quilt designs. She has become a teacher, lecturer, and designer of quilts. Molly says she loves quilting because of the many uses of color in fabrics. Her favorite technique? Appliqueing. It was that technique that she featured in her award winning quilt.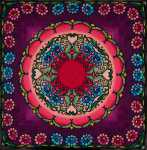 Molly truly was an inspiring find at this year's Road to California. Who did you meet at Road this year that inspired you?
Tags: Quilt Guilds