<![CDATA[
Did you know that Road to California is a family owned and operated business? You're probably familiar with Carolyn Reese and her grandson, Matt, as being the names and faces behind Road.  But when the conference begins, the whole Reese clan is involved with making the conference "the best in the west." Having the Reese family touch is what makes this quilt show so unique.
Carolyn has three sons, Mike, David, and Darrell.  They, along with their wives and children, take the week of Road off from their day jobs and school, dedicating long hours insuring a seamless experience for everyone who attends.  
Mike, the oldest of Carolyn's three sons, is Matt's dad. Mike and his wife Shellee, own a full service machine shop in Upland, California: M & S Screw Products. Mike's main role with Road to California is Financial Officer.  But you'll also find him on the floor, assisting conference goers with anything that may come up during the week. And with over 20,000 guests attending, you can bet his hands are full. Mike enjoys boating and his Harley Davidson Motorcycle. It was Mike that worked with Pomona Valley Harley Davidson to provide the Harley motorcycle in front of the Route 66 Quilt Exhibit this year.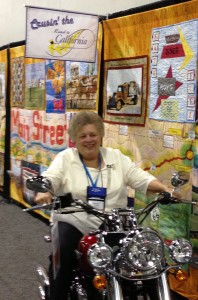 Dave provides the technical assistance for Road to California all year long. He is the one who designed the on-line registering system for the conference. Dave and his wife Susan also contribute by photographing all of the winning quilts entered for judging. This year, there were 84 winners and it took them two days to capture all of the images and create the beautiful CD's of this year's entries.  When Dave isn't at Road, he is the Vice-President and CPO of CENIC, the Corporation for Education Network Initiatives in California, an organization that designs, implements, and operates the high-bandwidth, high-capacity Internet network for the majority of California's K-20 educational institutions.
Darrell is charge of equipment logistics. He oversees the set up and take down for the entire show. Darrell spends the week roaming the conference center floor, overseeing the physical details of this huge production. During the rest of the year, Darrell is employed with M & S Screw Products.
In addition to Matt, Carolyn was assisted this year by four other grandchildren. They filled in in many areas from sitting at the registration table to helping customers at the Road to California Booth to assisting teachers and lecturers with the evening classes.
Carolyn Reese and her family take great pride in providing an exceptional quilt conference. Road to California is definitely a one-of-a-kind, all in the family, experience.        
]]>