<![CDATA[
Cony Larsen is a first time vendor at Road. Her Ammee & Co. will be in Booth 223 featuring the Edgit! Piercing & Crochet Hooks along with "the cutest crochet kits for kids" according to Carolyn Reese.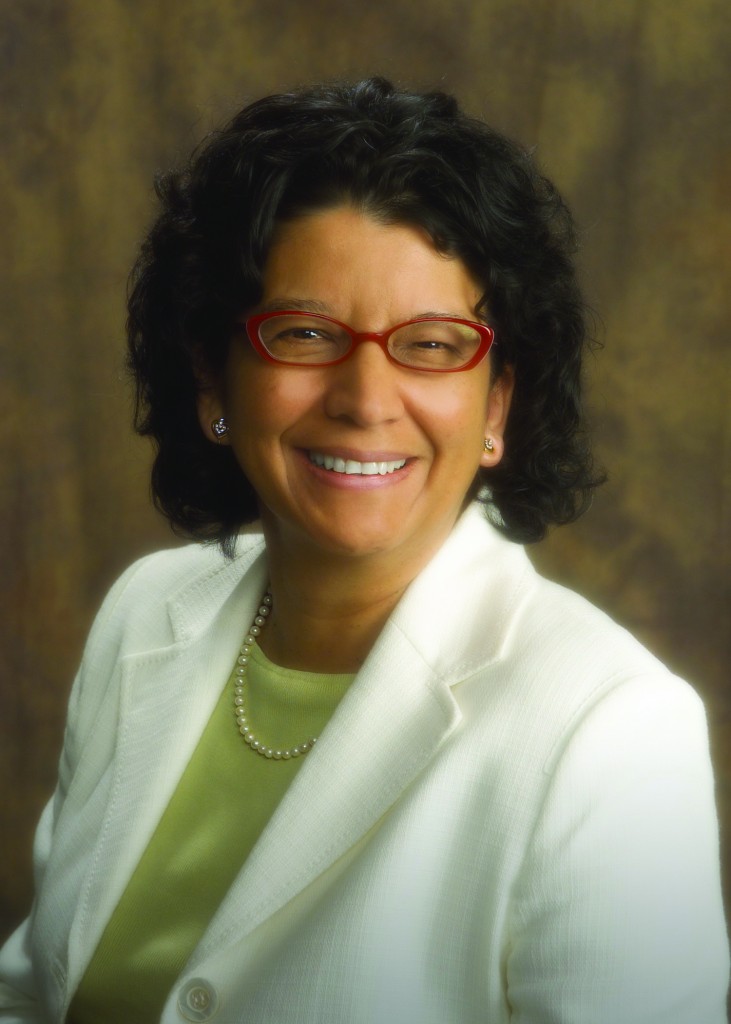 Personal: This busy mother and grandmother also has a heart of gold.  In 2008, she viewed a documentary on newborns in Honduras and saw how they were sent home from the hospital wrapped in newspaper after the country had been devastated by severe flooding. She wanted to do something to help and her "sweetie" suggested that she make crochet blankets to donate. This led to her inventing a new product, the Edgit!, and her original business, Ammee's Babies. 
How did you get involved with quilting?  I have been a crafter for the last four decades. I started with crochet when I was six years old. My first grade teacher taught me how.  I learned to quilt and sew and did that for 14 years for my five children when they were babies. After that, I founded a scrapbooking company and designed for the scrapbook industry for 10 years. I also knit and now I have come full circle back to my first love, crochet!
Where did you get the idea for your company? I often found it was difficult to find the time to crochet an entire project. I knew other friends were in the same situation. I also knew my product needed to be unique, high quality, and quick and easy to finish. That's why I chose hemstitching. I had been hemstitching for a couple of decades and loved it because I could finish edging a blanket in one day. It was the perfect creative outlet for busy crafters and a great beginners project too!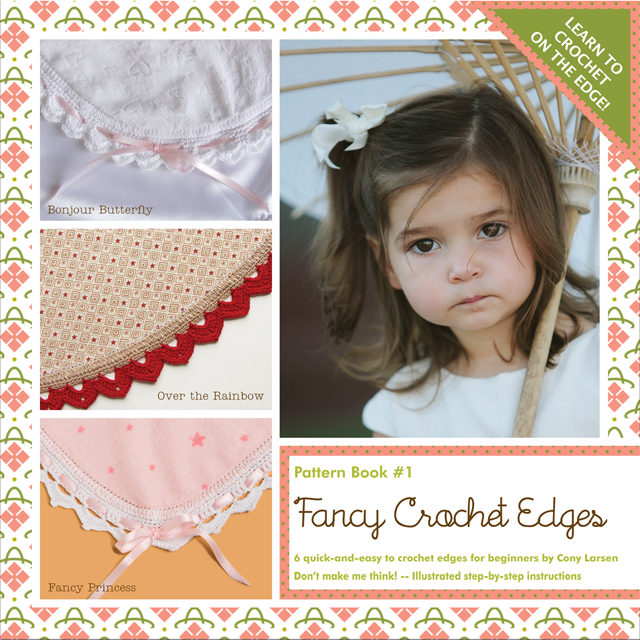 Why did you change from Ammee's Babies to Ammee & Co.?  We have re-branded because we are expanding our line to a variety of craft products rather than just baby items.
How does the Edgit! help with crocheting?  It is the optimal tool for smooth piercing through two layers of fabric, making it simple to crochet on the edges. It eliminates having to punch holes with a hemstitch machine and can be used to embellish aprons, kitchen towels, pillowcases, blankets and, of course, baby projects too!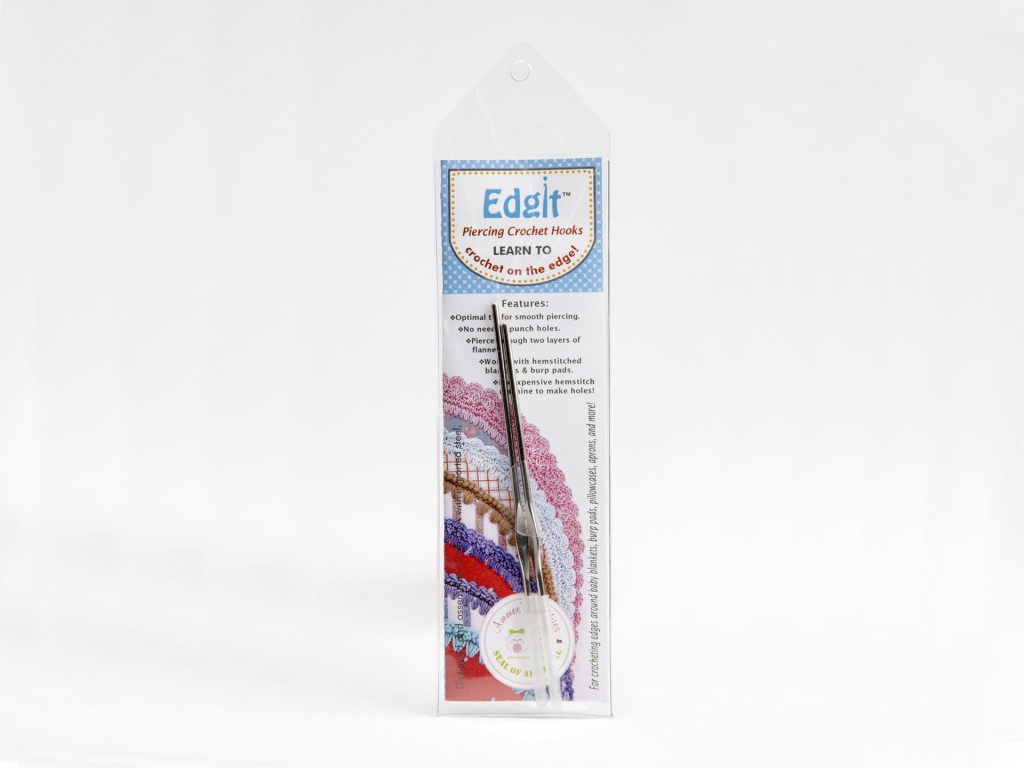 What are you looking forward to as a first time vendor at Road?  I'm looking forward to the high energy that quilters bring to the market. Their love for fabrics inspires me to keep trying new things. I'm also looking forward to show quilters how they can enjoy working with both fabrics and fibers at the same time in one project.
What will you be featuring in your booth?  Of course, our revolutionary tool, the Edgit! Piercing & Crochet Hooks. I will also be introducing our newest pattern books: Simply Sweet Crochet Boutique Projects for Little Girls, and Just Dreamy Crochet Edges along with kits to make hemstitched blankets, bibs, and burps. Because our business began by being committed to making a difference in the way a newborn begins life, a part of the proceeds from selling our products goes toward donating blankets for babies, a win-win situation!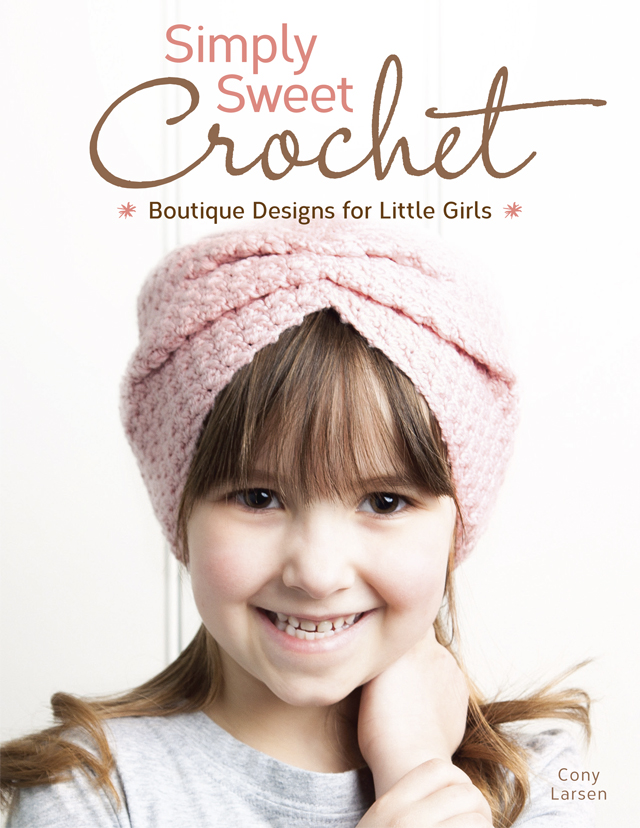 What advice do you have for quilters? I love quilters because they are very diversified. They are not "just quilters"; they love to try other crafts. Most quilters I know also know how to knit, crochet, scrapbook, garden, paint, etc.  I guess my best advice for the novice quilter is to diversify your talent. When you do this, new ideas, new concepts, and new energy will be infused in your projects.
You can find Cony at: http://www.ammeeandco.com
]]>
Tags: Crochet, Edgit!, Hemstitiching, Honduras