<![CDATA[
"A quilt is not a quilt without batting."
Not only does batting provide warmth and give quilts their dimension, batting also determines the general look of the quilt and guides the quilting method.
Over 100 attendees sat in on a batting class given by Judy Novella from Fairfield Processing. This class was part of Road's new $5.00 Lectures Series. Each lecture lasted 45 minutes, did not require advanced registration, and provided interesting information about different products normally found on the vendor floor.
The main point of Baffled by Batting? Don't skimp on the batting when you are planning your quilt project. When determining the type of batting to use, remember these four considerations:
                                    How is it to be quilted? (Hand, machine, or tied)
                                    How is it to be used? (Bedding, decorating, or art)
                                    What fibers will work best? (Cotton, polyester, wool, bamboo,                                       or a blend)
                                    What function will effect durability?  (Loft, drape, shrinkage)
Refer to the packaging for the batting you are purchasing. It should describe each of these considerations for that particular product.
Some other great batting tips that were shared:
1. Scrim is an added layer given to batting to provide extra integrity and durability. Batting that has scrim should not be used for hand quilting because of its stiffness. The scrim side of the batting should be placed on the back layer of the quilt.
2. Quilting Distance typically should be no more than 2 to 4 inches. You can always quilt closer but further apart will leave gaps and the batting won't stay in place.
3. Never Pre-Wash your batting. Soaking and agitating the batting breaks down its fragile nature.
4. Use Straight From The Package. If you are concerned with wrinkles, use a steamer to release them or place a damp towel over the wrinkled area and blow dry on low for two minutes.
5. Quilt A Sample First. Because thread, tension, and needles all affect batting, practice first on a 12" sandwich (fabric-batting-fabric) to test the batting's performance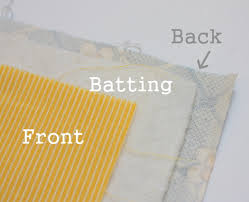 Great information for a key ingredient to making quilts.
What is your go-to batting?
]]>