<![CDATA[
The Cities of Angels Special Exhibit was born out of a mutual friendship between two Latin based quilting groups from two different countries.
The East Los Angeles Stitchers (TELAS) first made contact with quilters from Puebla, Mexico in 2011. A member of TELAS, Los Angeles County Supervisor, Gloria Molina, found out about the Puebla group on the internet. Through her correspondence, she learned that they had a quilt show every year and suggested that her guild go and support the quilt show in Mexico.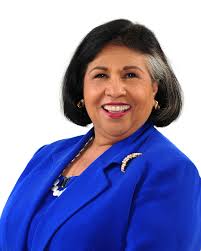 Nine women from TELAS went to the Puebla show in September, 2012. Although quilting is done on a smaller scale in Mexico, the two groups found they had a lot in common. They both had a desire to express their heritage and culture through quilting.
That first TELAS visit began an annual exchange between the organizations. In May, 2013, The International Quilters of Monterrey, Mexico came to the United States to attend the TELAS quilt show in Los Angeles. Because they don't have the assortment or same types of fabrics in Mexico, the Monterey ladies went home with their suitcases stuffed full of fabric.
Then, in September 2013, women from TELAS returned to Puebla. This time, they sponsored a display at the Mexican show, featuring rebozos, traditional shawls that TELAS has quilted.
While in Los Angeles, the two groups talked about creating a quilt challenge. They settled on the theme of angels since both of their home cities' names translate to mean "angels." With Carolyn Reese's encouragement, they were able to complete the challenge in time for Road 2014.
Starting in May, 2013, each quilter was given four fabrics from Hoffman Fabrics to be used for their project. From there, participants could add whatever else they wanted. Each quilt had to depict an angel or "heavenly feature" and had to be completed by October. Out of the 30 quilts in the exhibit, two came from Puebla area quilters.  One of the women, Sonya Ruiz, is an artist. The other woman, Marylou, serves on the board for the quilt expo in Mexico
Overseeing the project was Jane Tenorio-Coscarelli, a member of TELAS and an author of 6 quilt books and over 70 quilt patterns – all available in Spanish. When she went to publish her first book, she was told there was no interest for bilingual quilting materials. Because no one would support her idea, she had to mortgage her home to pay a printing broker in China to publish her first book. All of her titles tell a traditional Latin story from when she was growing up, is fully illustrated, and includes a quilt pattern, and recipes that follow the story. Her book Tortilla Quilt has been reprinted 8 times.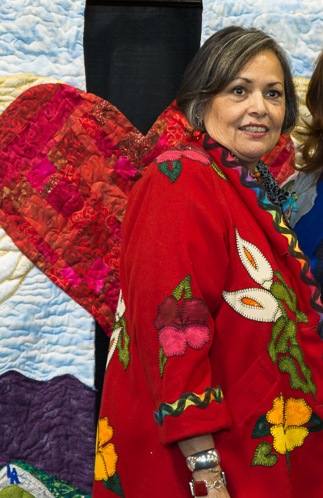 Jane said there are Hispanics interested in the art of quilting and that quilting bridges people who love fabrics, no matter their culture. "There is no language, no ethnic, no racial barriers when it comes to quilting." 
]]>
Tags: Angels, Gloria Molina, Hispanic Quilters, International Quilters of Monterrey, TELAS