<![CDATA[
Sharon Schamber of Payson, Arizona created the Best of Show winning entry, Once Upon a Time, and received $6,000 from sponsor, Gammill Quilting Systems.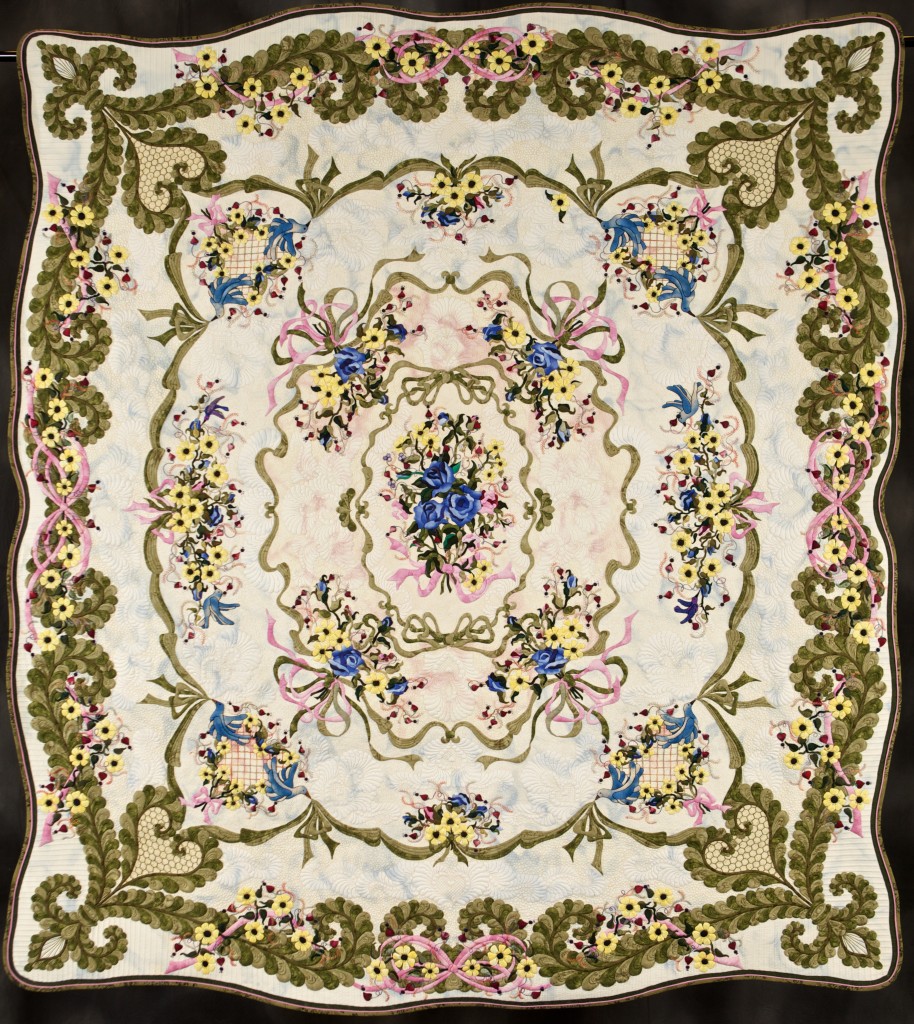 Sharon Schamber began quilting in 1999. Her winning entry, Once Upon A Time, took 14 years to complete. This quilt was inspired by her love for the romantic and delicate details of the Victorian era. Says Sharon, "I love how things are both simple and complex at the same time. I wanted to create a medallion quilt that spoke to that romantic notion."
Sharon chose blue roses because "they were unique and the quilt asked/demanded something special like them."  At the time she started on the quilt, there were no actual blue roses, but by the time she had finished, they became available. Sharon likes to think that "maybe the quilt knew something that the rest of the world hadn't thought about yet." Talk about romantic!!!
When Sharon started the quilt in 2000, her plan was to finish it as any other quilt she had worked on. But that didn't happen. Sharon would work for a while, and then stop because she didn't feel like she knew what she needed to do next. During each pause, she learned and developed additional techniques to have the tools needed to continue on. This lengthy process taught Sharon that each quilt truly has its own schedule and identity. "You have to follow the clues it gives you if you want the best out of it and yourself," remarked Sharon. Even though it took 14 years to finish, Sharon felt it was an amazing adventure and she "enjoyed every minute of it."
How did Sharon feel after she won Best of the Show?"I was ecstatic. Road to California is a prestigious and well respected show. The best quilts in the world are competing here, so winning Best of Show was an honor."
What did she do with her prize money? "Since winning any award is a surprise, I never have plans to spend the money. I am passionate about machine embroidery, so I bought a few things that'll allow me to explore this art form in new and different ways."
What does the quilting future hold for Sharon? "My plan for the future is to combine every aspect of quilting into one piece. Traditional piecing; hand embroidery; needleturn appliqué; machine appliqué and machine embroidery. Each technique has its own strengths and weaknesses and I am exploring the limits of each. You name it, and it will be in my work."
Congratulations Sharon for winning Road to California's 2014 Best of Show.
]]>
Tags: Best of Show Quilt, Gammill