<![CDATA[
Rob will be teaching a three day class, Monday through Wednesday, 1302R Seascape/Landscape Extravaganza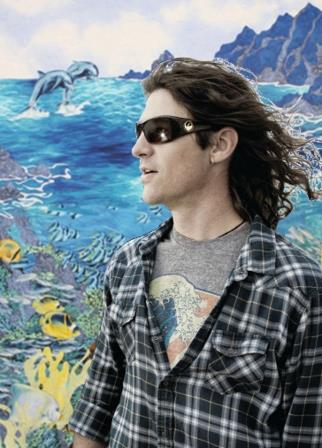 Personal: Rob Appell is a husband, father of two young children (a son 11 years old and a daughter who is 9), caretaker of "too many pets to list, including a Chameleon and miniature Lab (Chihuahua with big personality)" and an "accidental" quilter. He wanted to try the free motion machine quilting, so he created a few quilt tops to play with, and he was hooked. Last summer, he went on a 25 day teaching spree from California to Sisters, Oregon, then to Quilt Colorado, onto Quilting on the Beach in Kona, Hawaii and back to California. When Rob isn't quilting or teaching, he likes to surf, hike, play guitar, draw, and whittle away on "a mile long honey do list." 
Where do you find inspiration for your quilting? Mostly deadlines now a days. I am blessed to be a very busy quilt maker, so as I am finishing one project there is always another to start. For the actual designs, it is sometimes market driven, and if not, then I look to Nature and Tattoo design.
What is the one quilting tool you can't live without? "The Shark Applicutter" that is as soon as I can get it to the market. It's the new 15 mm cutter that I have invented that works awesome with cutting fusible appliqués. I do love my Pfaff sewing machines as well.
What do you like best about teaching? I love watching the students' faces as they realize that the work I create is so much less complicated than it looks. I get great compliments on how fun my classes are and how much the students take away out side of the course work.
What is the funniest or most embarrassing moment that you've had while you were teaching? I taught on a 14 day cruise to Hawaii, and was sea sick the entire time. I would teach for about thirty minutes, then go be sick for thirty minutes, I did that for two weeks and it became a fun joke that the guy who surfs gets sea sick. After two years I am beginning to see the humor in that… 
What do you want your students to get out of your class? I want them to enjoy themselves, and learn how my landscaping background technique can apply to so many different styles of quilts. I also will show them how to use prints and batik blenders for their appliqués, how to read and work with the fabrics, as well as how to layout their seascapes so that they look natural.
What is your best quilting tip?  Do not take it so seriously. Enjoy the process and try things you have not done before.
Learn more about Rob and his work on his web site: Rob Appell Designs
]]>