<![CDATA[
Curated by Donna DeSoto, this exhibit was inspired by the 50th anniversary of The Beatles first visit to the United States.  The project began as a simple challenge to Donna's bee, Playing Outside the Block, located in Northern Virginia. Before she knew it, her idea spread and went viral!  
The challenge was announced in February 2014 and quilts were due in August 2014. The quilts needed to be 24" x 24" and each quilt had to contain a "regulation" hanging sleeve and label. Entries could not contain any copyrighted information, images or lyrics. The collection was not juried; anyone who made a quilt for the project and who got it to Donna on time was included.
[caption id="attachment_2708" align="aligncenter" width="401"]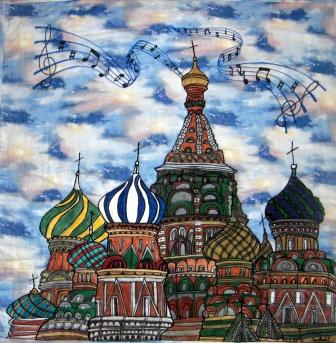 Back in the USSR by Priscilla Stultz[/caption]
The exhibit features 150 quilts made by fiber artists from Germany to Utah. While many techniques and materials were used by artists of varying skills and abilities (for some, this was their very first quilt), all of the artists had one thing in common: a shared desire and passion to make a quilt honoring the timeless music of the Beatles.
[caption id="attachment_2707" align="aligncenter" width="446"]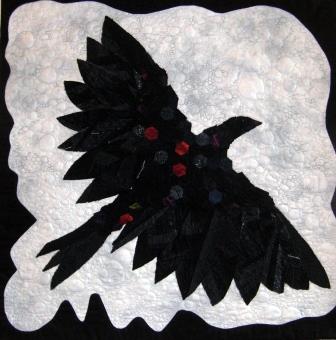 Blackbird by Su Gardner[/caption]
Over 300 Beatles titles were considered by the artists and each quilt depicts a different song.  Some quilts were made using the title of the song, or the lyrics quite literally. Other artists studied the meanings behind the songs, and their quilts depict deeper concepts. Some songs are easily recognized right away. Ohers are a bit more obscure, and encourage the viewer to revisit music by the Beatles that is less-familiar.
[caption id="attachment_2706" align="aligncenter" width="448"]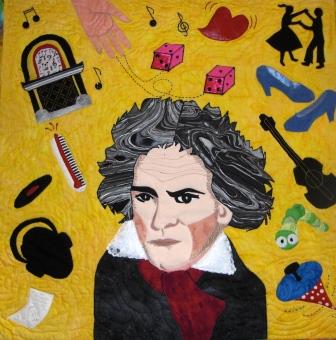 Roll Over Beethoven by Pat Dews[/caption]
Donna has seen many exhibits containing quilts created by people she regards as "masters" of the fiber art world. While she has had a deep admiration for these artists, she has often looked at those exhibits and felt like she could never do anything good enough for such an exhibit. Her hope for the Beatles exhibit (and for the book) is that when someone looks at these quilts, they would think, "I could do that!" Donna wants the exhibit to inspire quilters to take a chance and do something different.
[caption id="attachment_2705" align="aligncenter" width="452"]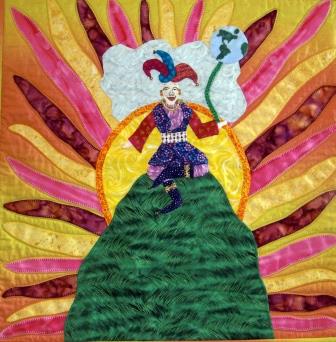 Fool on the Hill by Dolly Krach[/caption]
In addition, Donna is sure that guests will find themselves taking a walk down memory lane, remembering where they were and what they were doing when these iconic songs were popular.
What favorite Beatles song will you be looking for in the exhibit?
]]>
Tags: Quilt Exhibit, The Beatles