<![CDATA[Classes for Road to California 2018 have recently been released. Priority Registration opens July 1st at 8:00 AM with public registration starting July 8th also at 8:00 AM, all Pacific time. For 2018, we are offering over a hundred classes taught by a distinguished faculty that are geared to all levels of quilters. Our classes offer assistance with traditional to modern techniques, hand and machine quilting skills and the latest in surface-embellishment using paint, thread and embroidery. With so many choices, how do you know which class is right for you?
Skill Level
Based on teacher recommendations, we assign the following skill levels for our classes:
Beginner
: New to sewing or it's been awhile since you last sewn. A knowledge of basic sewing skills with some rotary cutting skills and a working knowledge of using a sewing machine is useful.
Beginner-Intermediate
: Some basic sewing experience with confidence to move past beginner.
Intermediate
: Knowledge and experience from sewing over time.
Advanced
: Experienced quilters looking for a challenge.
All Levels
: Assumes a knowledge of basic sewing skills, basic rotary cutting skills and basic quilting skills, either appliqué or piecing.
Expand your horizons
Take advantage of our varied classes and patient, expert faculty to explore new techniques that you've always wanted to try. Or enroll in a class that is not even machine sewing related. We offer several
handwork classes
like beading, watercolor on fabric, silk ribbon embroidery, and hand quilting, to name a few. [caption id="attachment_5011" align="aligncenter" width="279"]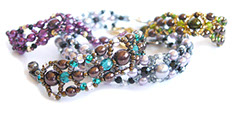 3063C Celtic Dance Bracelet Amy Loh-Kupser http://www.i-bead.com/[/caption]
Equipment
Are you looking to purchase a new sewing machine? While many of our classes require you to bring your own sewing machine, there are others that have sewing machines provided, allowing you to "try before you buy." Have you always wanted to try longarm quilting but don't have access to a longarm machine? We offer several classes that provide longarm machines for your use.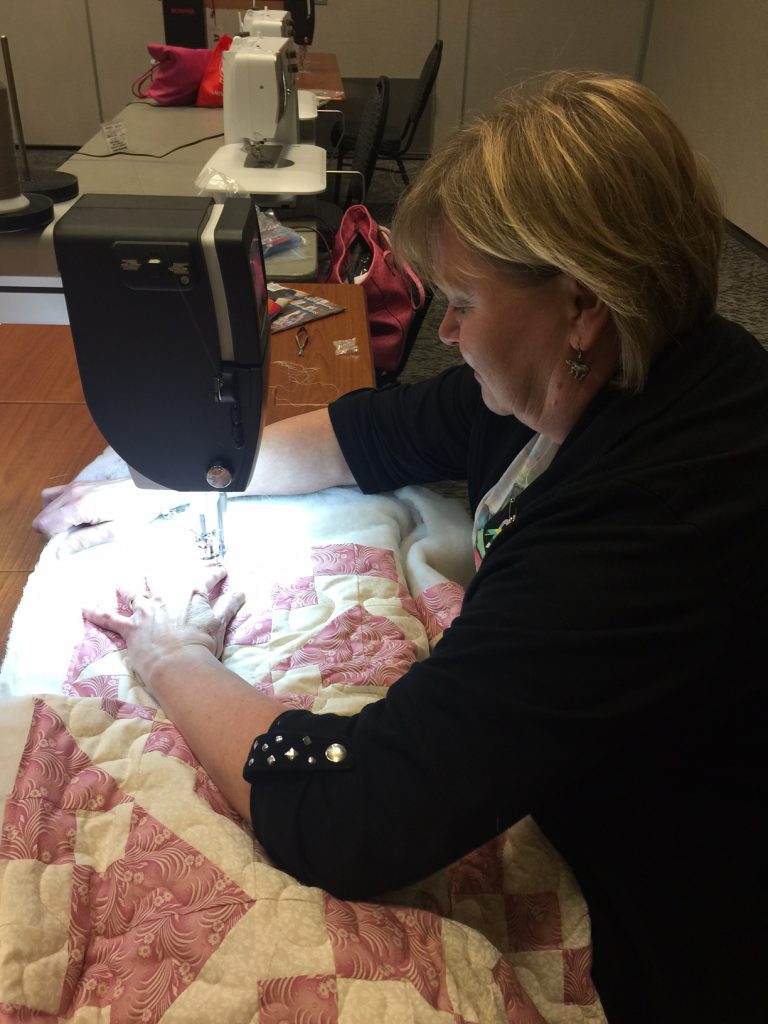 Do you want to try a sit-down longarm machine? There are several classes that include sit-down longarms like the
Handi Quilter Sweet 16
and the
Bernina Q20
.  Students can learn the same skills as a quilter who uses a domestic machine; the machine is stationary and the quilter moves the quilt through the machine.
Perfect your techniques
Have you just begun to learn a new technique and need some practice? Utilize our classes to perfect your skills.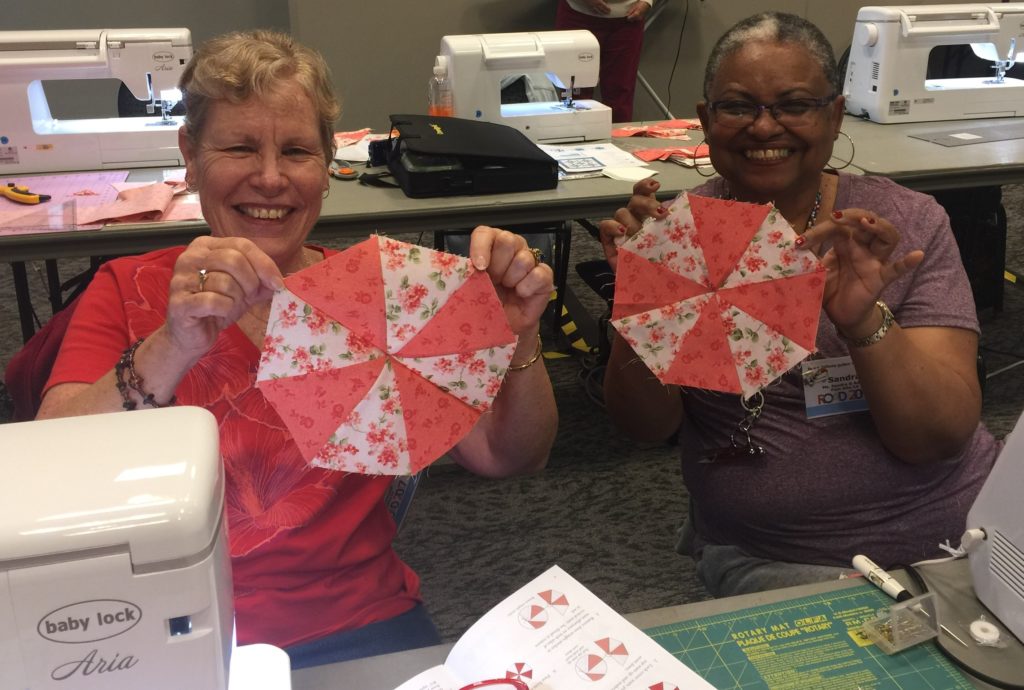 Learn from the best
Our
2018 faculty
is top-notch. Many have taught not only throughout the U.S. but internationally as well. And several are published authors too. We bring the experts to you.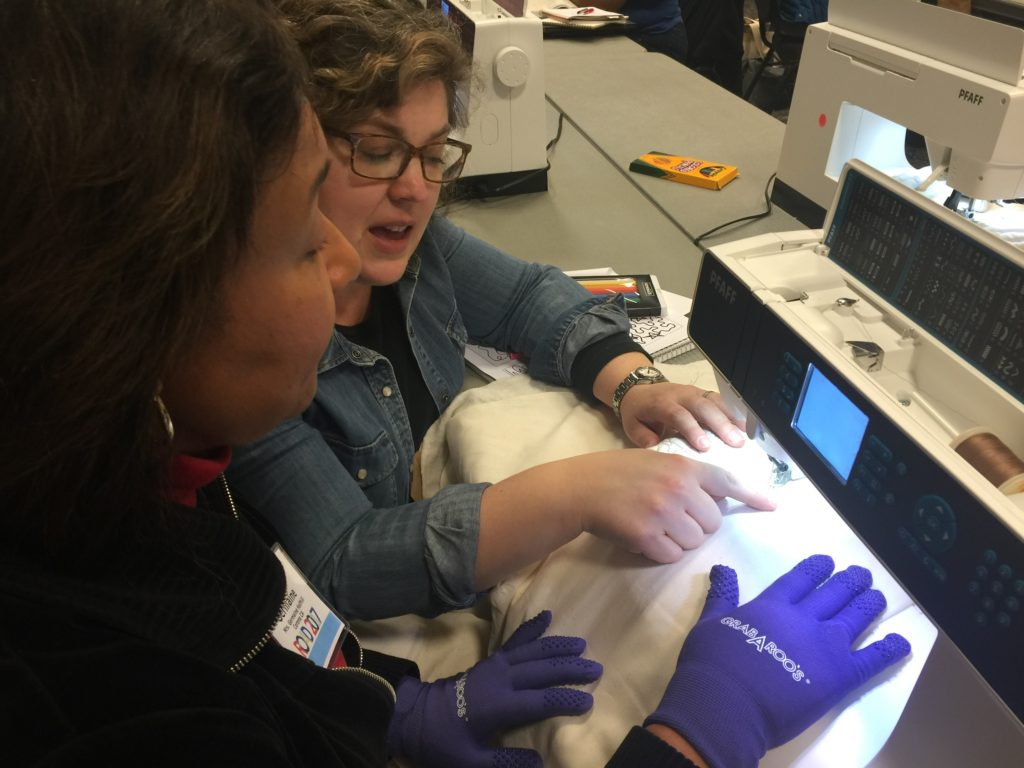 Don't forget the Swag
All class attendees receive a
badge
for admission to classes, exhibits and vendors. In addition, they also get a
show program
plus
entrance to Preview Night
. Registrations prior to January 9th will also receive a special gift: a
Road pin and/or year bar
. One last bonus item that all class participants receive is
a tote bag
. Last year we gave out small foldable grocery bags. Although many students enjoyed the bag due to California's strict new single use plastic bag ban, many were not satisfied with our choice of bag. We sincerely apologize for 2017 class attendee bag. When selecting our 2018 bag, last year's comments and desires were taken into account. The 2018 tote bag is a canvas tote large enough to hold shopping goodies without getting too heavy. There will also be
a very special surprise
included with each bag which will be revealed later this year. Road hopes you've found your reason to sign up for one of our many classes. To encourage early sign-ups, we will be giving away
5 Priority Registrations.
To enter,
comment below
with the name of the class(es) you are interested in taking
before midnight Pacific time on Thursday, June 29th
.
Using Random Number Generator,
5 winners will be chosen and notified June 30th
, in time for Priority Registration on July 1st. Remember, Priority Registration is non-transferable. Good luck to all the entrants. We can't wait to see the class registrations start coming in.]]>
Tags: Contest, Priority Registration, Quilt Classes, Quilt Teachers