<![CDATA[
Have you ever tried to express your love of animals in a quilt design?
That's exactly what Wendy Knight of San Diego, California did with her Road 2017 winning design, Here's Lookin' at You.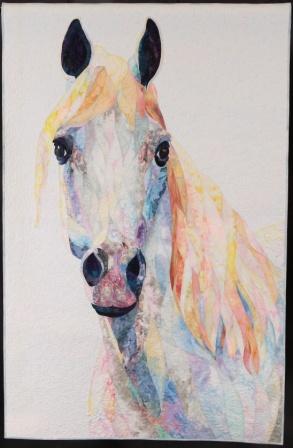 Wendy grew up with horses and they have always been an inspiration to her. Many of her quilts have horses in them but this was the first quilt which solely showcased the horse. Her intent was 
to create a white horse on a white background without using white fabrics, making it look like a watercolor painting, which wasn't totally photo realistic
. Says Wendy, "I always like to pose a challenge to myself, as I feel this is the most important part of what keeps me learning." A lifetime sewing lover, Wendy wasn't exposed to quilting until a good friend, who Wendy played soccer with, decided it might be fun for the two of them to take a quilting class. They both had young children at the time and thought the class would be a great way to get some alone time. They signed up for a class at their local quilt shop, bought all the supplies and arrived on the evening of the first class.  As they stood at the door of the shop, they got second thoughts about taking the class. They reasoned that they were young women and figured that the others in the class were probably a bunch of older women that they would have nothing in common with. As Wendy remembered, "Being the silly girls that we were, we got in our car and left the building! Months later we decided to give it a go again.  Much to our surprise, the teacher and the students were a mix of ages, interests and backgrounds, and it turned out to be a turning point in my life."
It took Wendy about a year and a half, working on it off and on, to complete
Here's Lookin' at You
. The quilt was designed to be appliquéd and Wendy quickly realized that that would never happen. She went back to the drafting to redesign the pattern in order to machine piece it together. Auditioning the eventual fabrics that were used in the quilt took the most time in the process because she had to get the shadows and highlights to work well with such a high key piece. What did Wendy learn from making and quilting
Here's Lookin' at you?
"There are always so many things that I learn while creating every quilt. Most don't smack me I the face, but gently nudge me into a new direction or force me to experiment with some new technique. I did learn that working in high key, or a very light range of values, came much more natural to me than I thought it would. Thank goodness for all the batiks I still had from 20 years ago. They were really the pieces that helped me pull it off." Wendy received $1,000 for 1st Place in the Art Critter category from sponsor Martelli Enterprises, Inc. She said she was "shocked and elated" to find out she had won and added, "It is a wonderful feeling when something you create touches someone else the way I intended it to. I actually had to read the email twice to my husband before it really soaked in." Wendy hasn't decided what to do with her prize money yet. "I have tons of ideas and will be building a new studio addition which will offer many ways to use the prize money. The reality is, it will probably go to something special for the grandkids. Maybe a trip to Disneyland!" What is in store for Wendy's future quilting life? "Currently I'm working on a designing a series of historical, pictorial quilts of the Civil War, Revolutionary War etc., as well as continuing to design and piece my watercolor pictorial horses and other animals. My belief is that we can never learn enough, so I'll continue to take classes and explore new techniques. I'll retreat to my sewing room where, as I say, daydreaming and playing are always allowed." To learn more about Wendy, please visit
her website.
]]>
Tags: Award Winning Quilter, Martelli Enterprises, Wendy Knight, Winning Quilt