<![CDATA[For one week at the Azure Hotel, students learned how to improve their longarm skills on Innova machines under the tutelage of Jamie Wallen.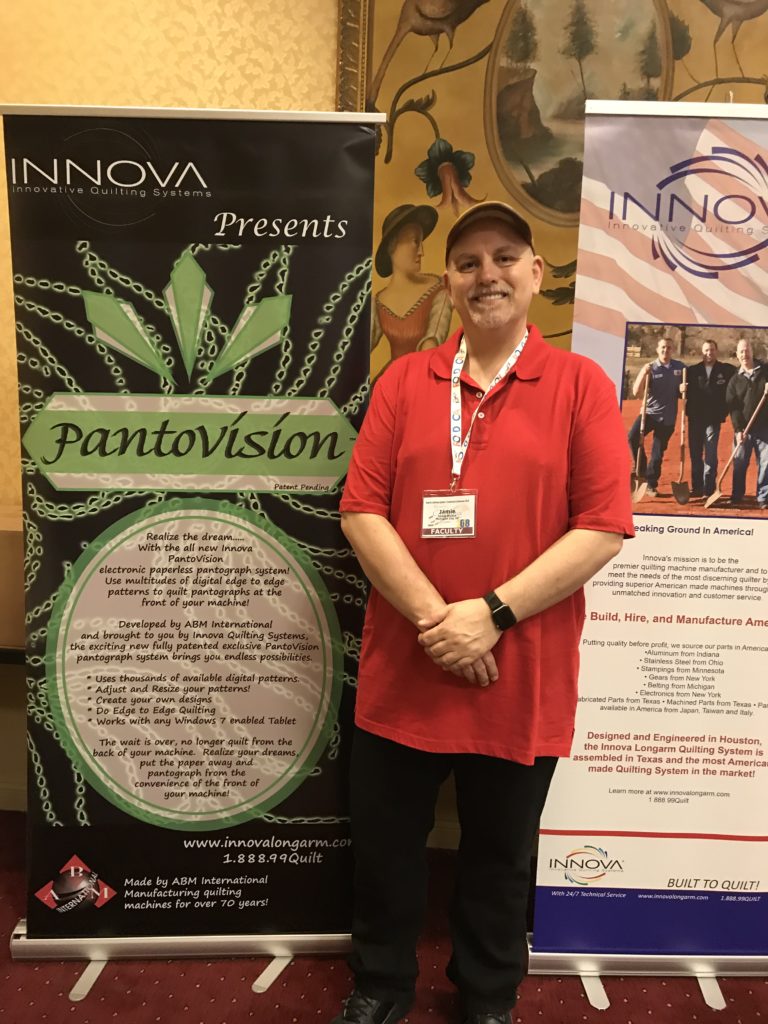 Prior to becoming a long arm quilter, Jamie was a Registered Nurse for over 20 years. Burn out with the profession settled in after working 18-hour days, 7 days a week for so long. One day, in the mid-90's, Jamie went to a friend's house to help him put up a fence. His friend's wife was a piecer and had a quilting magazine laying around. Jamie picked it up, thumbed through it, and saw an ad for a longarm quilting machine. He bought the machine 2 days later!! Right from the beginning, it was never about the piecing for Jamie; he was all about the longarm quilting.  He recalled, "I saw the potential for 'painting on a canvas of what was finished.'" For two years, Jamie did nursing and quilting was his hobby. In those days, there was no support for longarm quilters so "you had to make it up as you went," shared Jamie. He did a lot of practicing on bed sheets to come up with ideas. Soon, the quilting industry began to boom—and so did his business. How many quilts has he quilted? He stopped counting three years ago when his total reached 6,500!!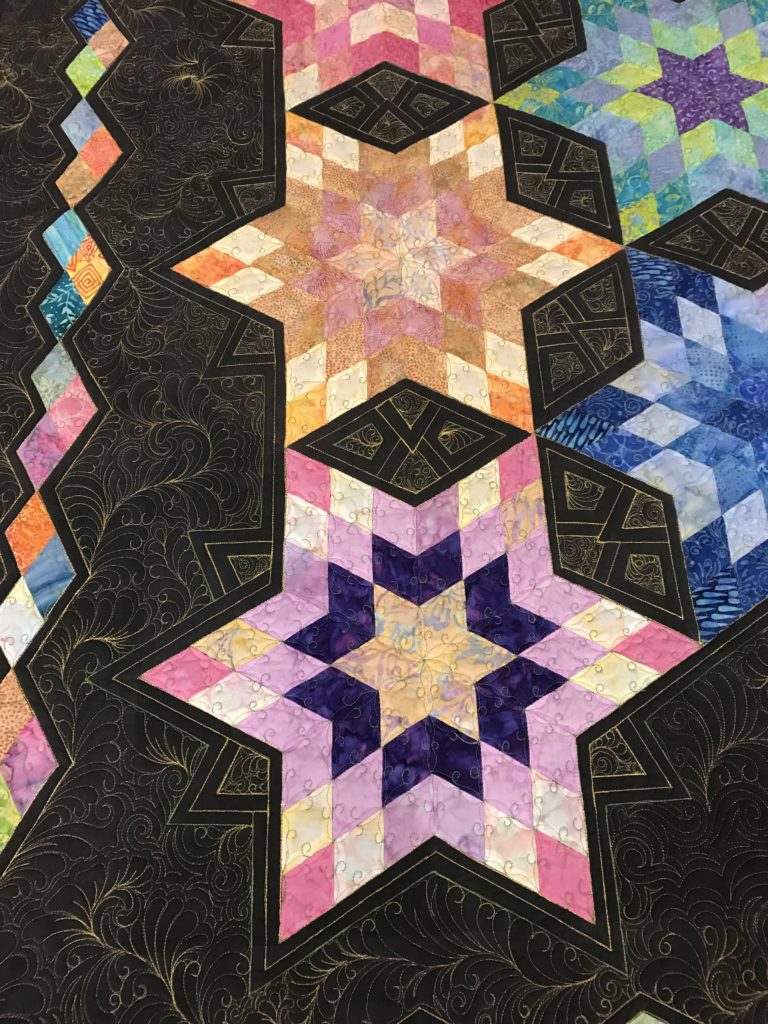 A resident of Michigan City, Indiana, he and his partner, Rich, travel extensively with their business, Quilters Apothecary. In 2017, they spent 34 weeks traveling over 60,000 miles driving and flying, including a one-month stint in Australia teaching in five different cities.    Jamie got in to teaching as a way to be a mentor for friends who made a big investment in their longarm machines but didn't know what to do with them.  Today, he values teaching as a way to be a caretaker for the industry.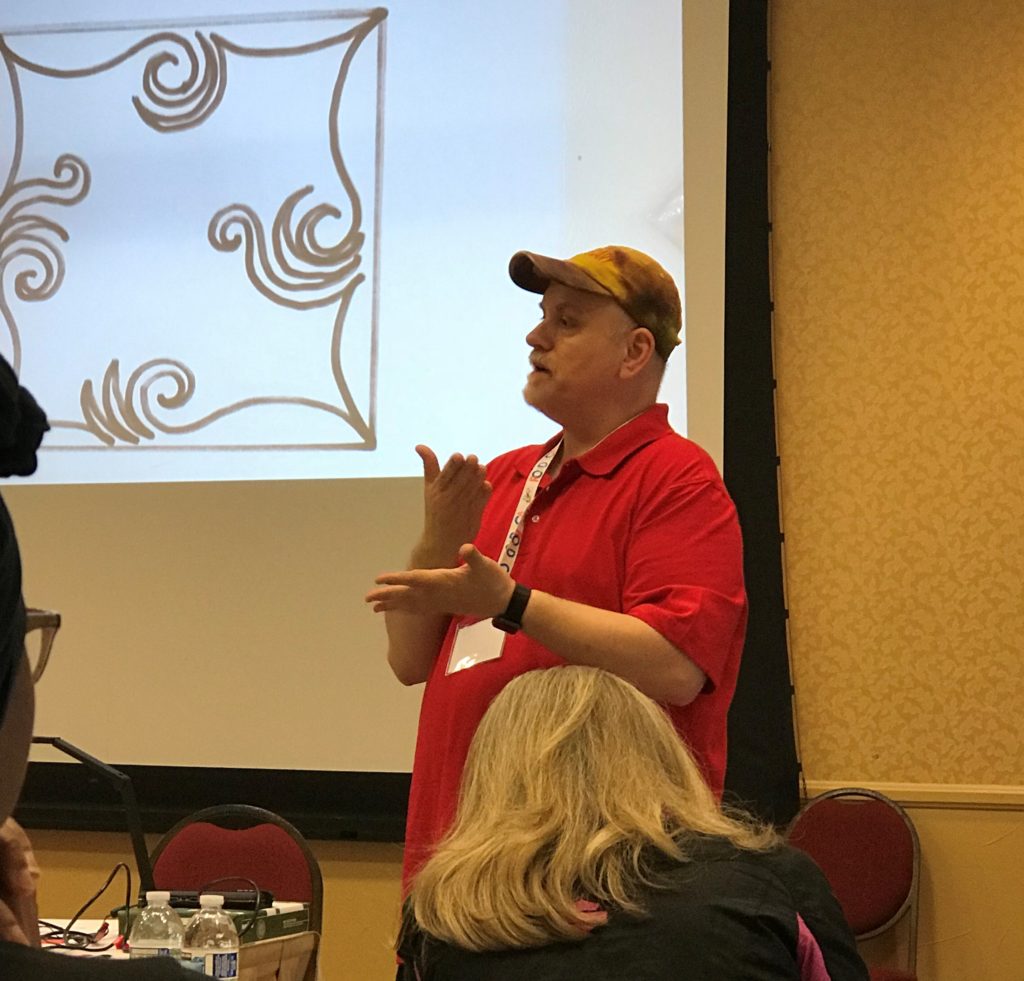 Jamie teaches at Road approximately every other year (he previously taught in 2013 and 2016), and his classes sell out fast. Being from the East, he enjoys coming to Ontario during the winter. He appreciates the creative energy found at the show and all the inspiration that it has. Jamie says his students are always "happy and ready to learn." During his classes, Jamie demonstrated drawing and quilting different designs as he shared personal stories of what it like to be a longarm quilter. One thing Jamie stressed with his students was the necessity of putting aside time each day for practicing.  With drawing, practicing at least a half hour to 45 minutes will help build muscle memory which eventually translates over to working on the machine. "Drawing designs is addictive. Anything a pencil can do, a longarm does," Jamie said. He recommended keeping a TV tray, a folding chair, and some drawing tablets in the family room and use them when watching television.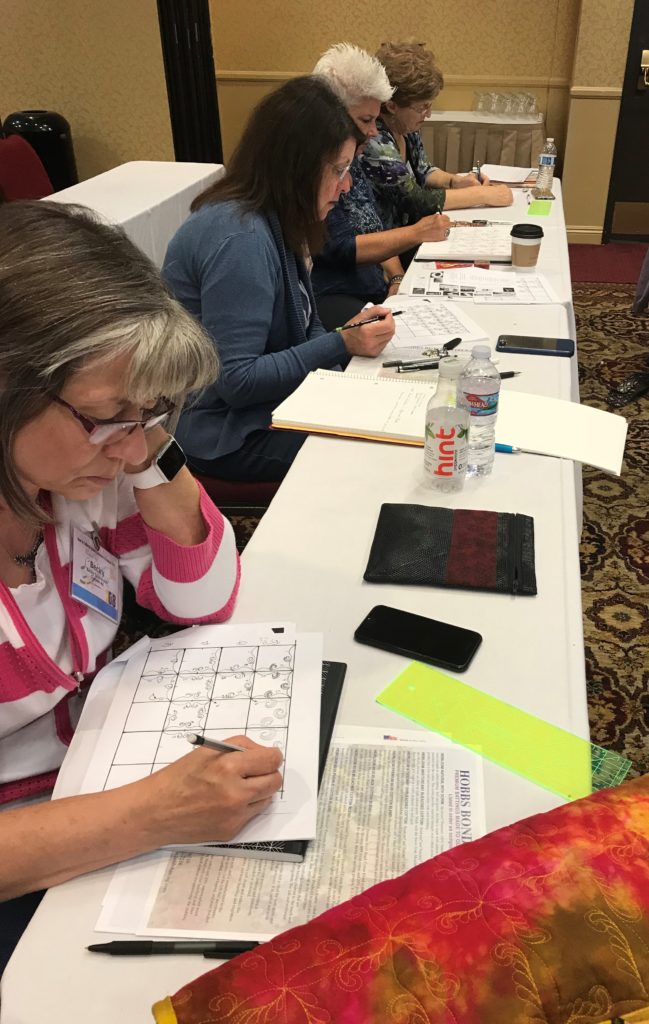 With quilting, Jamie said that the biggest problem is waiting until you have a quilt before you start quilting. "You need to practice a lot before you lay down a quilt on the machine." He added, "Every new quilt design is like learning cursive. It will look ugly at first," but over time, "repetition brings rhythm."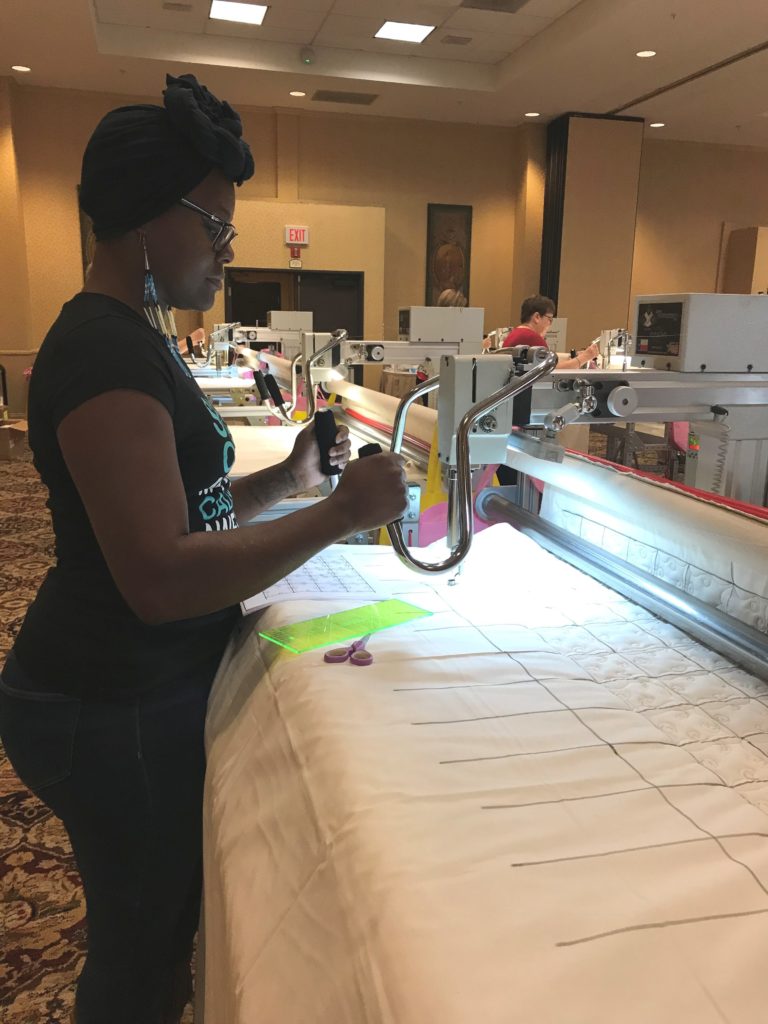 Looking for new longarm quilting ideas? Jamie recommends going online. "Search for contour line quilt blocks. There are 100's of quilt blocks to print off and practice." He also said to look for popular quilts, print a picture of them, and come up with three ways to quilt it.     What are the biggest changes Jamie has seen with longarm quilting since he started?  For one, it has become more of an industry than merely a hobby. People recognize its value and are willing to pay appropriately. Another change is how quilts are looked at in general. No longer are they just functional fabric items. They have evolved into family heirlooms where quilters preserve lasting legacies.  Jamie shared that the current biggest trend is photo quilts—4×4 inch photos on fabric. To learn more about Jamie Wallen and his quilting tools, please visit his website. ]]>