<![CDATA[The best way to set out to win a quilt contest might be to learn from quilters who have done just that.  We'd like to introduce you to this past year's big winners as they share their thoughts on what they did to achieve their high honors. Starting off with our Best of Show winners, meet maker Claudia Clark Myers from Duluth, Minnesota and quilter Marilyn Badger of St. George, Utah who teamed up to win $5,000 from Moore's Sewing Center, for their quilt, Red Feathers.    Claudia first got interested in quilting in 1991 when she attended the Minnesota Quilter's annual show. She was amazed at the quilts she saw there and so she went out and purchased a rotary cutter, mat and Trudie Hughes' book. Marilyn began quilting in the late '70's when there was no such thing as a rotary cutter and mat. She marked, cut and pieced everything by hand. The designer of Red Feathers was Claudia. She decided to use traditional patterns in a non-traditional way. Claudia commented, "I couldn't see why a Mariner's Compass couldn't have feathered points, so I decided to draft it that way."
The quilt was pieced and appliqued by Claudia in 2-1/2 months after which it was sent to Marilyn to quilt. That process took about five months to complete because Marilyn and her husband were building a house at the same time. When the quilting was finished, Claudia got the quilt back and spent another 3 weeks painting it.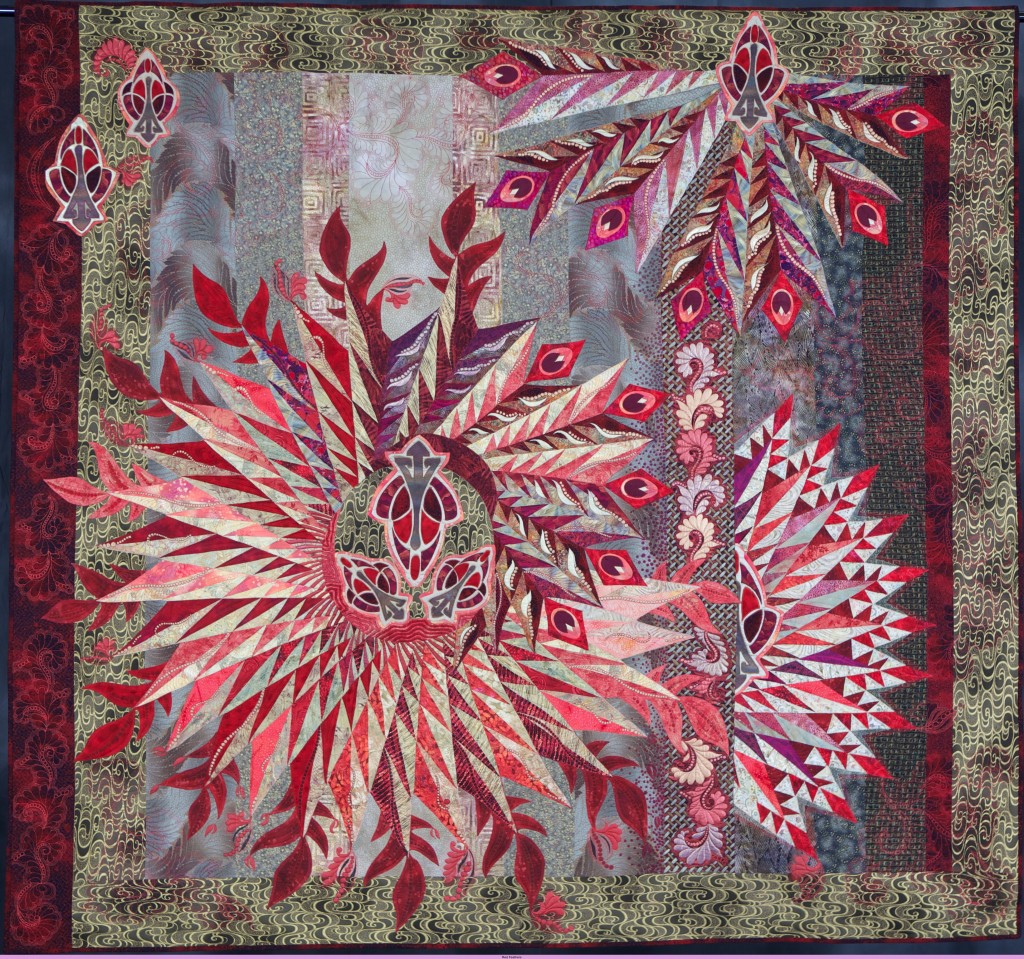 What was their reaction when they won? They were both floored. They had been competing together on their quilts since 2002 and had never won this kind of prize before. According to Marilyn, "Best of Shows don't come around very often and a Best of Show at Road to California is just the best of the best."
When asked what they did with their prize money, both women spent it on things for their homes. Claudia said she and her husband are moving and wanted to change their decorating style from Victorian to Mid-Century Modern, so she used her share of the award to purchase new furniture.  Marilyn bought window coverings so she could "relate where the money came from."  
Attaining "best of the best" is a hard act to follow. Where do they go from here?  For Marilyn, she needed to take the past six months off from quilting so that she could take care of her husband, who recently passed away. She hopes to get her enthusiasm back and spend lots of time in her sewing room again. As for Claudia, she will continue to paint her quilts which will be puzzles of some kind. She "loves to create quilts that bring a smile to people's faces."     
What was your reaction to Red Feathers?
]]>