Janet Stone of Overland Park, Kansas won $10,000 from Road to California's Platinum Sponsor, Gammill, for her winning Best of Show entry, Garden Variety Sampler.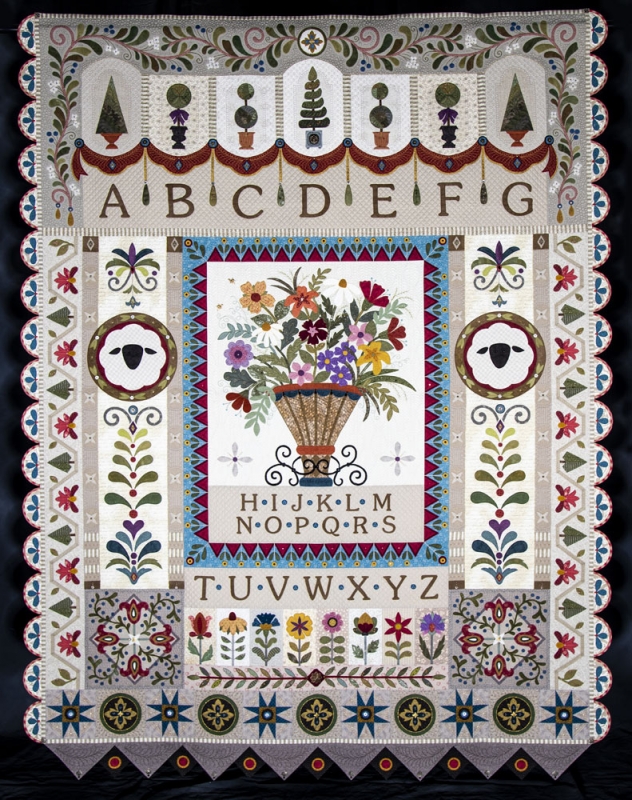 Janet Stone was a start-stop-start again quilter. She first started making quilts out of printed panels and tied with yarns back in the 80's. She started quilting again, between lots of cross stitching, about 1995. Janet finally got "serious" about quilting in 2006 when she bought a new sewing machine. She entered a show in 2008 with the first quilt that she designed that had an alphabet in it and won 3 ribbons. That first winning experience, "immediately hooked" Janet on quilting for shows.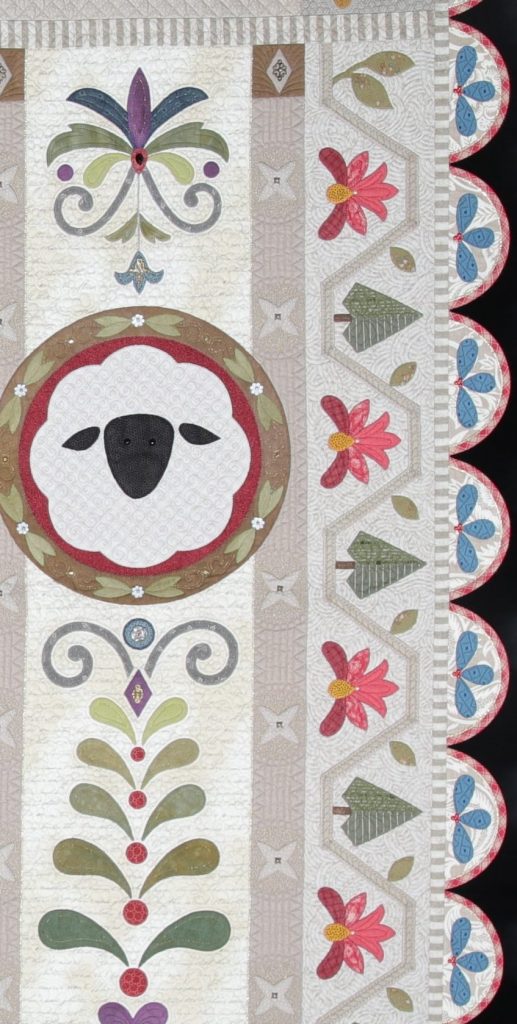 Janet's trademark is alphabet quilts because she has "so many ideas" for this style of quilt. She decided to do a series of 26 alphabet quilts; Garden Variety Sampler is number 17.
Best of Show, Garden Variety Sampler, was inspired by Janet's many years of stitching reproduction antique cross stitch samplers. She was also inspired by some Japanese quilts that she had seen in several shows that use taupe fabrics, which Janet loves.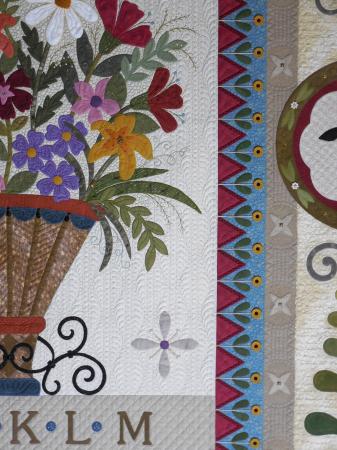 The layout of Garden Variety Sampler was loosely based on a page from an antique children's book, written by Walter Crane in 1878. It took Janet about 7 months to complete. She works a regular 9-6 office job, so is only able to quilt in the evenings and weekends. Janet notes, "Luckily, I have a very supportive husband who encourages my madness."
The dimensions for Garden Variety Sampler is 68 inches by 90 inches. Janet keeps saying that she needs "to stop making quilts that are so BIG!! When I design them, the old-fashioned way on graph paper, they never seem so big! I quilt on a domestic machine, but I keep saying I am getting too old to wrangle these big quilts under my machine."
Where was Janet when she found out she had won Best of Show? "In my sewing room. I have to admit, I was checking my email all day long at work, wondering if I was going to get a notification that my quilts had won! When I finally received the email, I had to run upstairs and share the good news with my hubby." And her reaction? "Quite shocked! I am well aware of the AMAZING competition at Road to California, and I never take any win for granted. Every show is tough and you never really know what the judges will think of your quilt, as well as the quilts you are competing against."
Janet plans to take her Best of Show winnings and put them in the bank. "I may spring for new carpet in my house, but I hate shopping, so that may take awhile."
And if it wasn't enough to win Best of Show at Road to California 2019, Janet also won in another category at the same show. Her quilt, ABC Frippery, won First Place for Large Applique.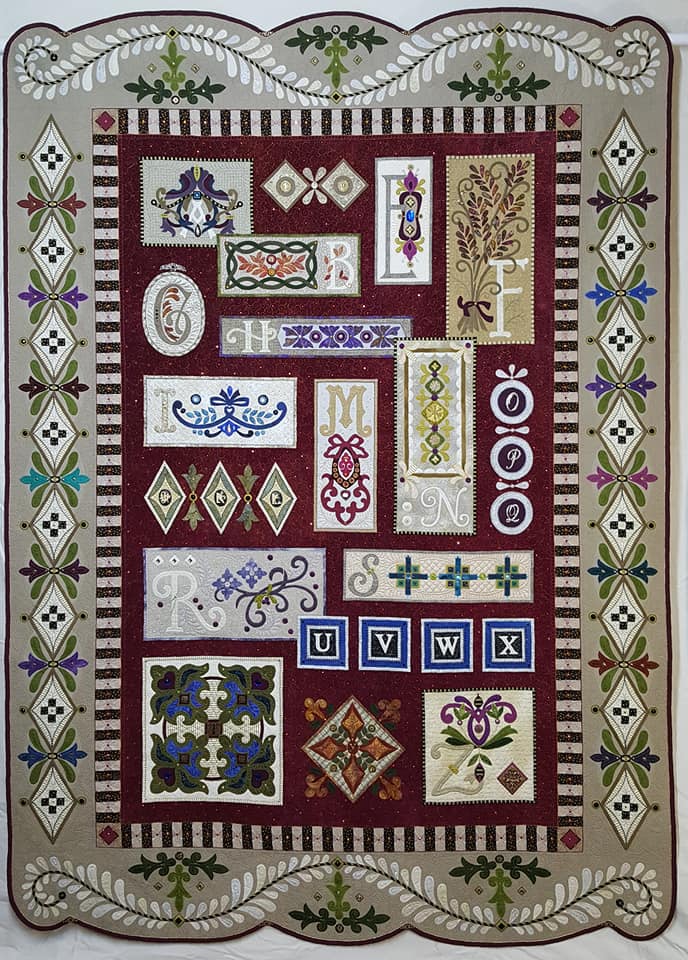 ABC Frippery is number 18 in her alphabet series quilts. Her concept for this design came from "wasting time looking on Pinterest one day" where she came across "some amazing pieces of antique jewelry." Janet started pinning several pictures of jewelry that she liked and interpreted them into blocks for this quilt.
The background fabric for ABC Frippery is a cotton velveteen that her friend, Gilber Muniz, hand dyed for her. Each block was appliqued individually, and then the blocks were appliqued on top of the background. The entire quilt was then quilted. Janet shares that she loves quilt embellishments and has a pretty good collection of stuff, so she incorporated several items in the quilt.
In addition to making alphabet quilts, many of Janet's projects also feature sheep in one way or another. Janet says, "As a collector of sheep, I am kind of known for putting sheep in my quilts. I was not going to put one in this quilt, but my husband insisted. For anyone who hasn't found it, it's in the letter M."
Now that she has won Best of Show at Road 2019, where does Janet and her quilting go from here? "I am working on quilt number 20 in my alphabet series and hoping to have it done by this summer. It is pretty big as well, and again, I find myself grumbling and wondering to myself why I keep making big quilts! I just want to stay healthy enough to be able to finish the 26th quilt one of these days!"
Congratulations, Janet Stone, for your Best of Show entry, Garden Variety Sampler, at Road to California 2019.
]]>