<![CDATA[
To encourage the excitement for Road to California 2019, we held 3 Giveaways. The final and grand prize giveaway was titled, BFF (Best Friends Forever) Time with Eleanor Burns where the lucky winner would receive for themselves and up to 3 friends, a hotel stay for Road to California 2019, lunch with Eleanor Burns, and front row seats to Eleanor's Trunk Show celebrating her 40 years in the quilting industry.
This giveaway was quite popular; over 870 entries were received. The lucky entry chosen, #679, belonged to a Facebook Fan, Marianne Frasca-Troccoli from Wildomar, California. Marianne saw her name announced on our Facebook Page, as well as received an email from us, while she was waiting with her husband (who is on the list for a kidney transplant) at the Mayo Clinic in Phoenix, Arizona. "I screamed when I saw that I had won. My husband and everyone around us asked me if I was OK," said Marianne.
When Road talked with Marianne to set up the details for her prize, she expalined why this prize was so meaningful to her: "My mom died suddenly 16 years ago. I was really spiraling and couldn't function. One morning, I turned on the TV and there was Eleanor, flipping fabric and smiling. I though to myself, that is one happy person, and I immediately fell in love with her."
So, it was Eleanor Burns that got Marianne through a dark period in her life and inspired her to start quilting. In the years since her first introduction to Eleanor, Marianne has made several of Eleanor's patterns, has several of her books, and even bought an Elna Quilter's Dream sewing machine because of Eleanor. Currently, Marianne is working on a quilt from Eleanor's Day and Night book. Marianne brought the book for Eleanor to sign!!
Marianne's BFF with Eleanor Burns luncheon was scheduled for 1:00 PM on Saturday of the show in one of Road to California's offices in the Ontario Convention Center. Marianne arrived first with her friend Linda, her Book Club and quilting friend, who shared Marianne's prize with her. A few minutes later, Eleanor arrived. There were lots of hugs and some tears for Marianne, as the two got acquainted.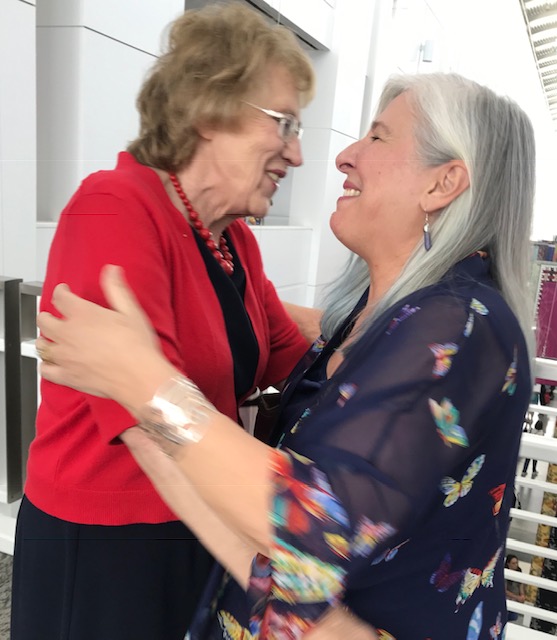 Road to California owner, Matt Reese, and his wife, Jennifer, peeked in at the start of the BFF with Eleanor Burns luncheon to meet Marianne and offer his congratulations for winning the giveaway.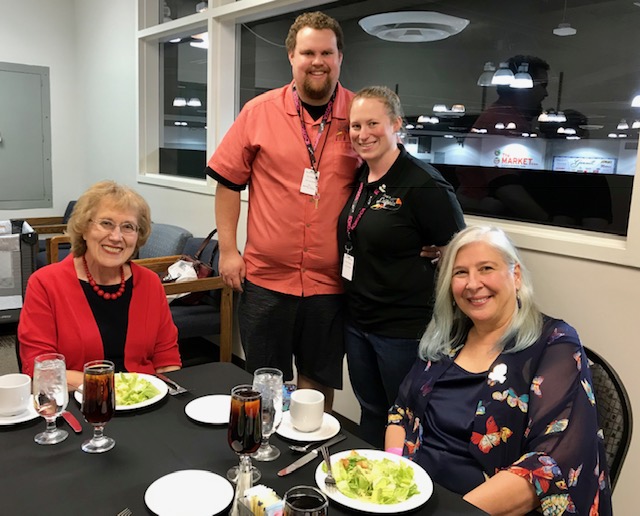 So, what did Eleanor and Marianne talk about during their luncheon? The kind of stuff that you would expect from BFF's: grandchildren, sewing tips, and hair color (Marianne's gray hair is accented with blue at the tips). Marianne also asked Eleanor, "Are you still quilting?" Eleanor quickly responded," Am I still quilting? I just finished making a 'signature quilt' for Accuquilt called Falling Leaves. I've been working on leaves all week."
Part way during the BFF Luncheon with Eleanor Burns, Eleanor's sister, Patty, was able to join the group. Eleanor described their sibling relationship as, "I am the engineer; she puts the color in to it."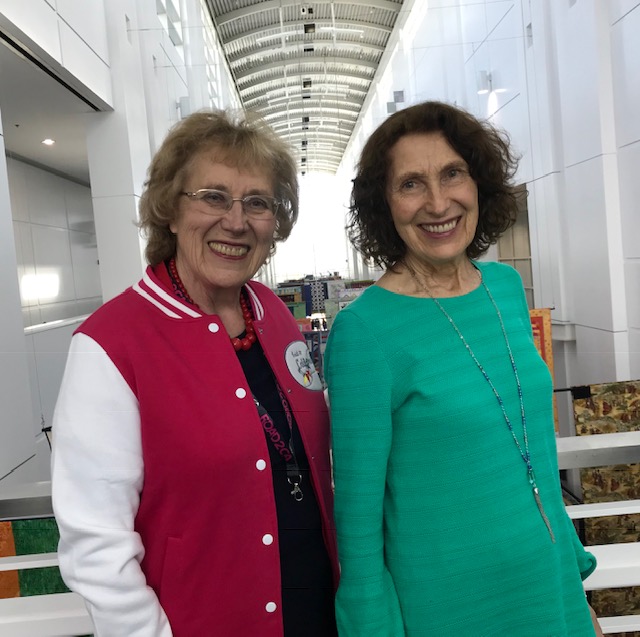 Later that night, Marianne and Linda took their seats on the front row to see Eleanor's 40th Anniversary Trunk Show. Marianne was invited to share her winning story with the guests in attendance before the show began. And in true Eleanor fashion, there was a lot of laughing, dressing up, and sharing quilt tips during her presentation.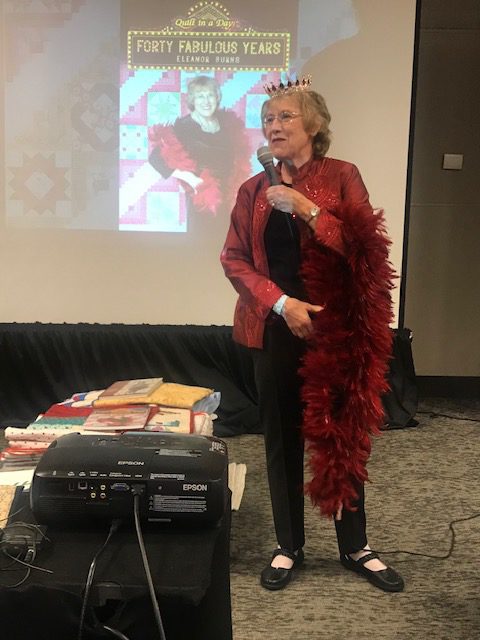 When her BFF with Eleanor Burns time was over, Marianne remarked, "Thank you for a spectacular experience. We had a blast. Already looking forward to next year's Road to California."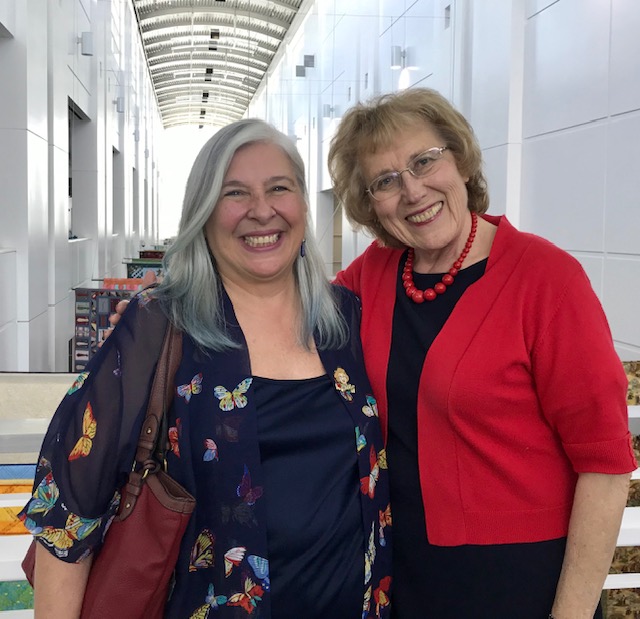 ]]>