Molly Hamilton-McNally won $5,000 from Sponsor, Pollard's Sew Creative for Midnight Frolic.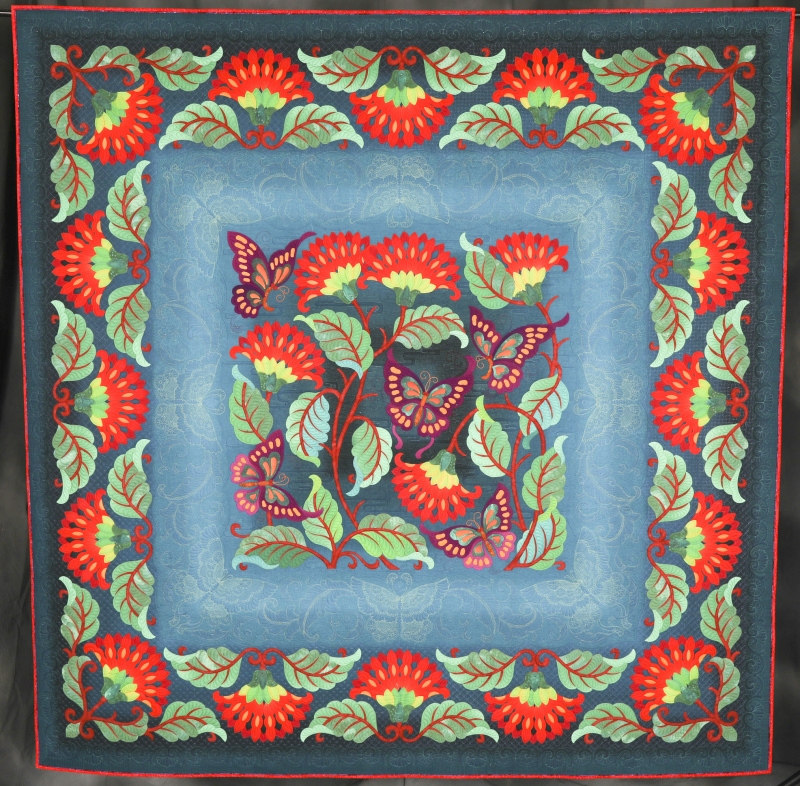 The year 2000 was not a good one for Molly Hamilton-McNally. That was the year she lost her mother and husband to cancer and Molly, herself, was also struggling with the disease. Needless to say, Molly fell into a deep depression. To aid her recovery, an acquaintance encouraged Molly to take a class in basic quilting. Unexpectedly, Molly found herself developing a passion for this art form and it helped in her recovery.
Making Midnight Frolic
All of Molly's quilts reflect the journeys and roads she has traveled. Midnight Frolic, Road to California's Outstanding Large Quilt for 2020, was no exception. It was Molly's re-creation of a moonlit night long ago in Maui. She saw the soft light touch the sea and the flowers and there were tiny insects darting everywhere. Molly says that "I have never forgotten that moment. This quilt is my way of sharing this special time with you."
It took Molly about 1700 hours, on and off for 2 years, to complete Midnight Frolic. She learned that she needed to concentrate on what she was doing in order to keep on improving.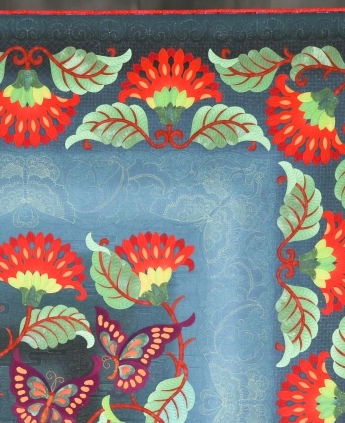 Molly learned from friends on Facebook that Midnight Frolic had won Outstanding Large Quilt. Of the award, Molly commented, "I was, of course, extremely happy to have won such an honor." She hasn't decided what she is going to do with her prize money yet. She went out of her way to thank Pollard's Sew Creative for her cash prize.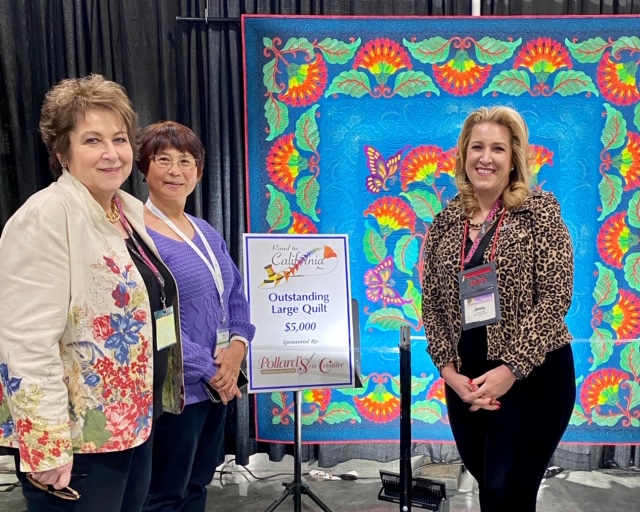 A Three Time Winner
Molly is not a stranger to winning awards for her quilting at Road to California. Molly won Best of Show in 2012 for Everlasting Bouquet, a quilt she made and that was quilted by Cindy Seitz-Krug.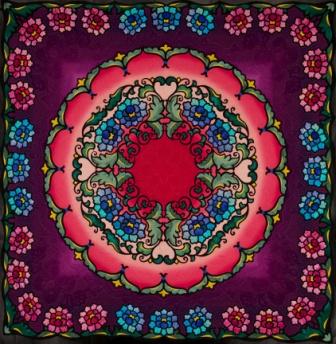 She won again in 2017 in the category, Outstanding Innovative Quilt, for Reborn.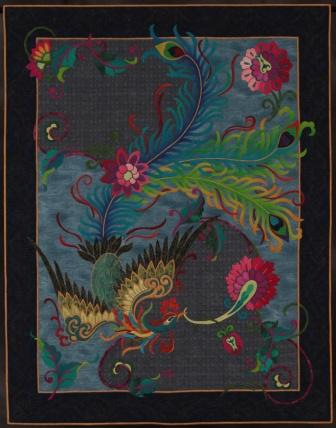 Molly is an active member of the Tehachapi Mountain Quilters where she is always willing to teach her quilt skills.
Future Quilting
What is up next for Molly? "I always have several projects on my mind so I will pick one of these next."
Congratulations to Molly Hamilton-McNally for her award winning entry.