This past week, our show's owner, Matt Reese, announced changes to our annual quilt contest for Road@Home 2021. There will be three categories:
Could Be Your Grandma's Quilt
A spin on traditional quilts including traditional blocks
What You See
Realistic imagery featuring pictorial and animal designs
What You Think You See
Non-realistic images
Details about the quilt contest will be available soon.
As we prepare for a different kind of show with a different kind of quilt contest, we wanted to spend some more time remembering some truly amazing quilts – Best of Show winners 2017 – 2018.
Remembering The Twisted Sister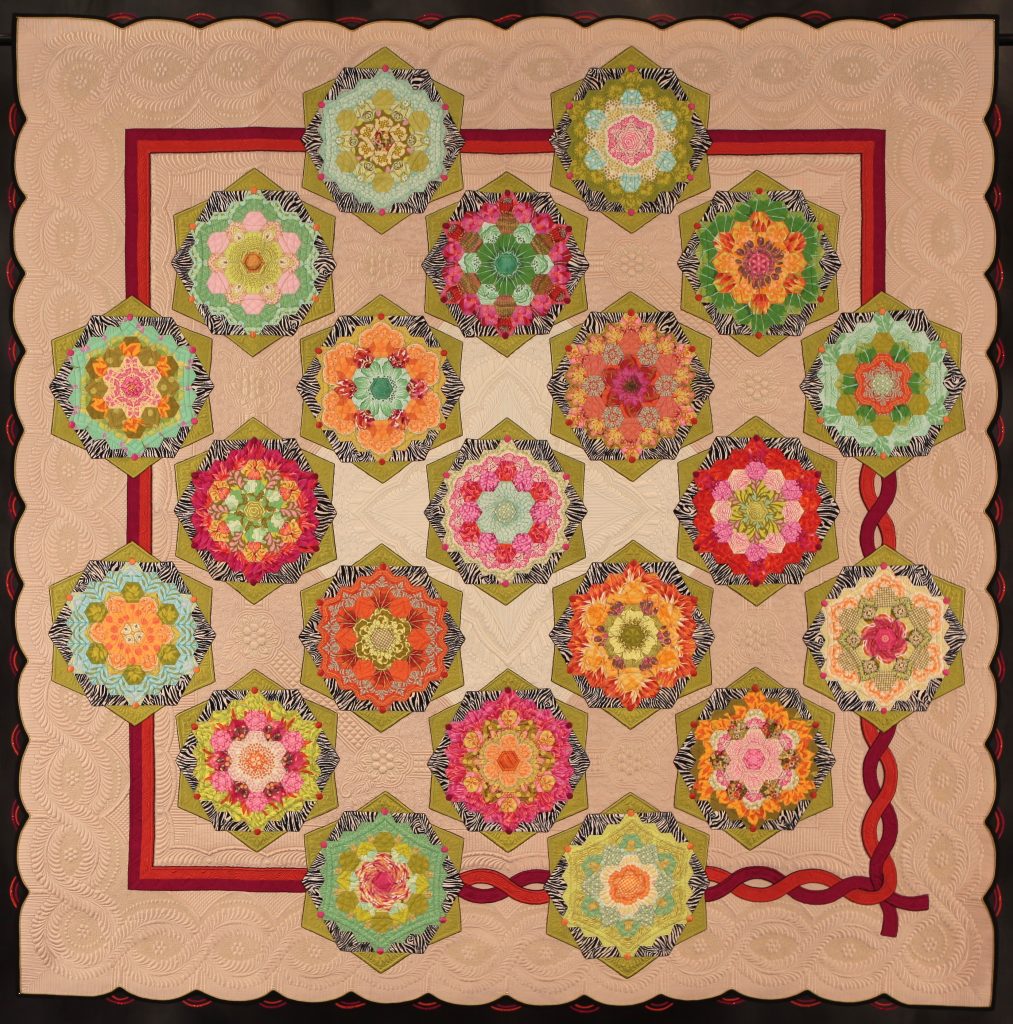 In 2017, Margaret Solomon Gunn of Gorham, Maine, won $10,000 for The Twisted Sister. This quilt is the sister quilt (hence the name) to Margaret's 2015 quilt, Bouquet Royale.  The earlier design featured the elongated hexagons of Lucy Boston, set on silk Radiance.  Margaret loved the process of hand piecing the fussy-cut pieces so much, she decided to do it again.  The Twisted Sister also has fussy-cut pieces, but they are regular hexagons.  They are not English Paper Piecing, but rather a hand-pieced technique Maragret developed that is much better for custom quilting.  The colors in the quilt are Margaret's "current fave" – pinks, greens and orange.  She also has a current addiction with silk, so Margaret revealed, "you can expect the backgrounds of my quilts to be silk Radiance for some time to come! It allows me to use bolder prints elsewhere because the quilting will always show beautifully on the silk."  The Twisted Sister's blocks feature a crazy zebra print (because Margaret says this sister is a whole lot more wilder!), and an asymmetrical twisting border.   There is also a twisting motif in the quilting of the outer border. It took Margaret about 16-17 months — from the time she started the blocks– to complete the quilt.  There is about 180 hours in the quilting alone and about 120 hours in the binding.  Margaret realizes that small points in judging "can be won and lost with finishing, so most of my quilts feature more unique edge treatments."
2018 Best of Show: Fractal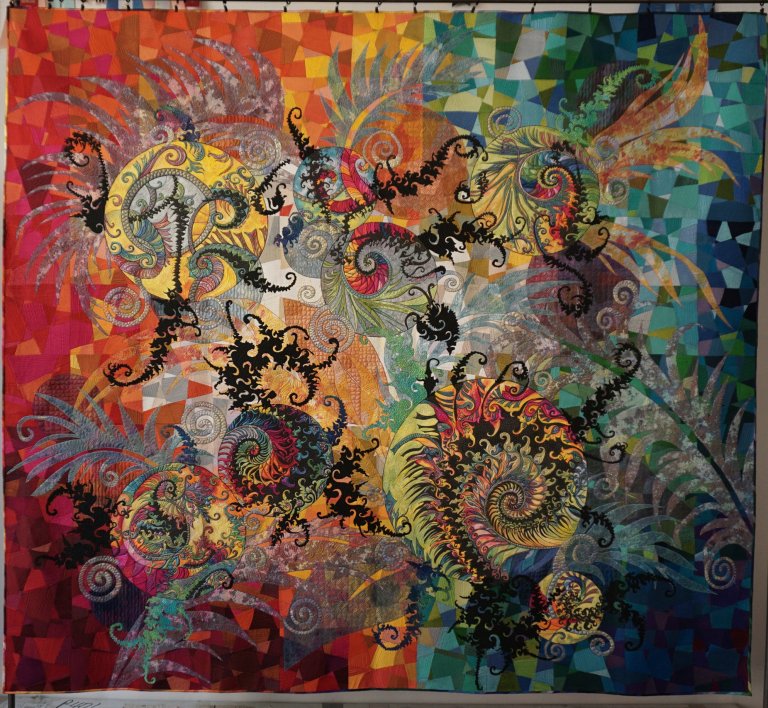 Like Margaret Solomon Gunn, German quilting pioneer, Claudia Pfeil, found new quilting creativity after she purchased her longarm machine in 2005. Remembering her purchase, Claudia said, that she found a way to "express myself through fabric and thread that was exciting, addictive and fun." Claudia says that free-motion quilting gives her the freedom–"like an eagle flying over the mountains"– to play with spaces and quilting designs.
When Claudia begins a project, she likes to work with a theme. Themes challenge her, get her out of her comfort zone, and start her thinking "out of the box." Her theme for Fractal was kaleidoscopes. Claudia searched Google for pictures of kaleidoscopes and endless links introduced her to fractals. She admits that before then, she really didn't know what fractals were.  She became fascinated by their dynamic, vitality and vibrancy. Before falling asleep at night, she would collect dreams and visions of her theme and began thinking about how she could translate her visions into realistic designs. She began by preparing circles in different sizes out of white Dupioni silk on freezer paper templates. Next, she drew designs on to the circles, first with pencil, then if she was satisfied, she drew them with a black pen (Faber-Castell)  filling in the details and painted them with acrylic colors (Stewart Gill) and Tsukineko ink pens. Playing and creating the layers is one of the main parts of the quilt. Claudia tried to enhance this impression with the choice and placement of quilting designs. Using 100 wt black silk thread, it took several backtracking stitches around the outlines of the circle designs to repeat and enhance the black drawing lines. The design was couched with different yarns (for example Razzle Dazzle and Yli ) around all outlines, respecting again the different layers to create a foreground and a background. Her final touch? 30,000 Swarovski Crystals!!! Besides learning about fractals, Claudia also learned by trial and error how to use mixed types of ink and paints and pens while making Fractal. She commented, "I learned that it is hard to get rid of pencil drawings on silk."
Remembering past winners is a great way to be inspired for new quilting ideas.