One of the highlights of each Road to California Quilt Show is the anticipation of which quilt, from the over 200 accepted for the quilt contest, will be recognized as the Best of Show Winner by the judges.  
Because Road is moving forward in 2021 with an all online quilt show, Road@Home, the decision was made not to have our traditional quilt contest. Details for a quilt contest that is more conducive to the online format are being finalized and will be announced soon. Road is confident that they will receive many entries from excited quilters and can't wait to see everyone's creativity with the new categories.
Even though going forward for 2021 means no Best of Show quilt, we can still appreciate all the hard work and dedication from the makers and quilters of the last two Best of Show quilts.
Janet Stone first started making quilts out of printed panels and tied with yarns back in the 80's. Moving forward, she started quilting again, between lots of cross stitching, about 1995. Janet finally got "serious" about quilting in 2006 when she bought a new sewing machine. She entered a show in 2008 with the first quilt that she designed that had an alphabet in it and won 3 ribbons. That first winning experience, "immediately hooked" Janet on quilting for shows.
Janet is known for her trademark alphabet quilts. She decided to do a series of 26 alphabet quilts and Garden Variety Sampler, the 2019 Road to California Best of Show, is number 17 in the series.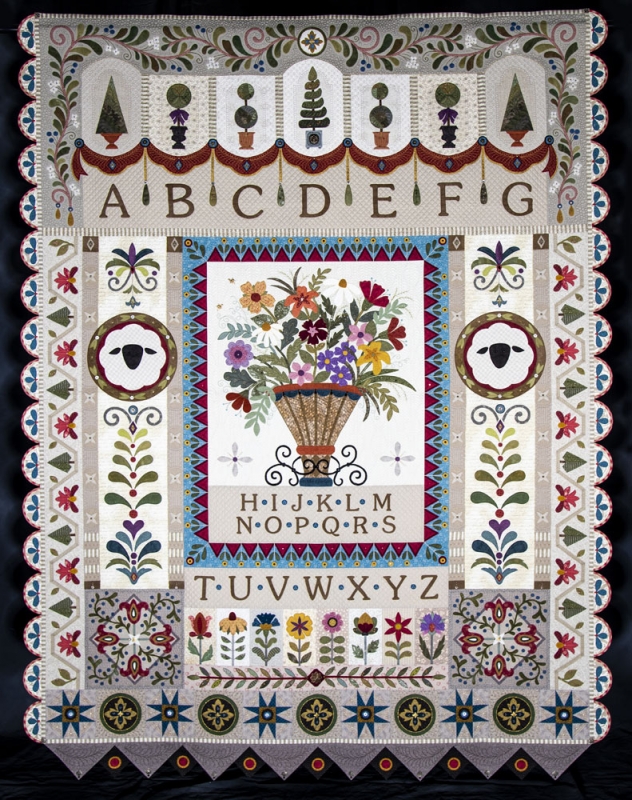 Garden Variety Sampler was inspired by Janet's many years of stitching reproduction antique cross stitch samplers. She was also inspired by some Japanese quilts that she had seen in several shows that use taupe fabrics, which Janet loves. The layout of Garden Variety Sampler was loosely based on a page from an antique children's book, written by Walter Crane in 1878. It took Janet about 7 months to complete. She works a regular 9-6 office job, so is only able to quilt in the evenings and weekends. The quilt was designed the old fashioned way – using graph paper – and was quilted on a domestic sewing machine.
Marilyn Badger has won several awards at Road to California and was even the Featured Artist in 2013. But moving forward and winning the Best of Show award at Road's 25th Anniversary Show in 2020 was extra special. Marilyn commented, "I know how difficult Best of Show awards are to come by – the competition is incredible today! I also know how lucky I am when I win, whatever the award."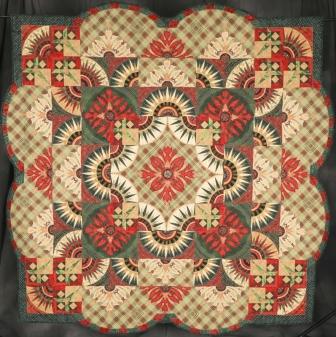 Claudia Clark Myers came up with the design for Christmas at St. Andrews and challenged Marilyn to use the plaid fabric in the background. After all the piecing, appliqué and quilting, Marilyn really "had fun" adding the hand details and trims.
It took Marilyn about 9 months to complete Christmas in St. Andrews. She said that she tends to be somewhat obsessive about getting a quilt finished before starting another one. Quite a few were waiting in line when she was working on this one. By the time it was finished, she was more than ready to move on to the next one. Marilyn said she really learned a lot about matching plaid seams while making this quilt. She eventually used 6 yards of fabric by the time she fussy cut everything.
While we are moving forward with a new and innovative Show for 2021, we know we will be seeing more outstanding Best of Show winners starting again in 2022.
To learn more about Road@Home, please visit our website and be sure to opt in for our new and improved newsletter.