One of the hottest quilting trends is collage quilts.
A collage quilt borrows a technique from the fine arts world where quilting is paired with applique to create unique designs. Collage quilts take advantage of print fabrics, different methods, and a lot of creative imagination. Several collage quilt fiber artists have taught at Road to California and recently, during the online show, Road@Home.
Laura Heine
Laura Heine is a pioneer of collage quilting. She has taught to sold out classes at Road to California since 2014.
Arriving in her pink, 1956 Shasta trailer that she restored, Laura has also been a vendor at Road to California Shows with her Fiberworks booth.
Laura was scheduled to teach 2 collage classes during the in-person 2021 Road to California before it was cancelled due to the Coronavirus Pandemic. We look forward to having her return when we present our 2022 in-person show.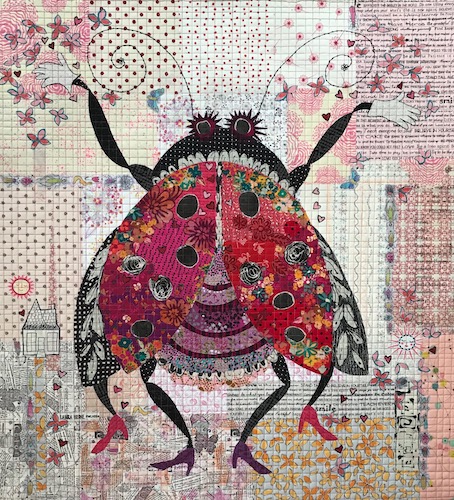 Phyllis Cullen
A resident of Hawaii, Phyllis Cullen is an anesthesiologist turned quilter. She is also a trained artist. Phyliss is known for combining painting and fabric in her fiber art creations.
Phyllis taught 5 classes during Road@Home, with two them focusing on collage quilts: It's All About the Face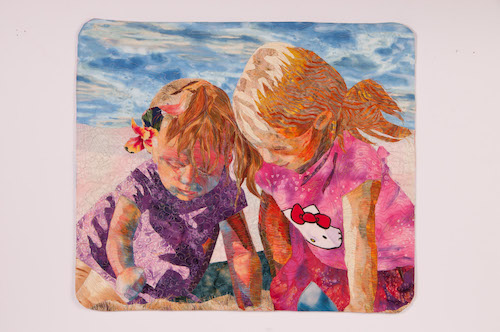 And Wild (Fabric) Animal (Or Bird) Collage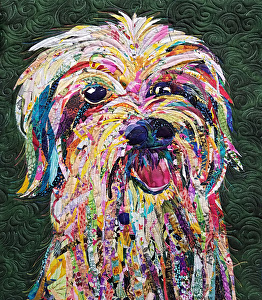 During her classes, Phyllis told her students, "Don't expect to be done" with your project by the end of class. "It takes a couple days." "Go at your own pace." She also instilled confidence in her students by telling them to "make all your mistakes in class so that next time you go to work on the project, you've got the technique down."
For Phyllis, a must have notion for creating collage quilts is Steam-A-Seam-2. Steam-A-Seam-2 is a fusible web that allows for perfect placement every time. It does not stick to your sewing needle and when pressed, it permanently bonds fabric together. "Use a sharpie to trace your pattern on the front of the Steam-A-Seam-2 and cut around the design." It makes it easier to see what you are doing when creating your collage pieces.
She also presented during the popular evening class, Roundabout 2.0. The title of her class was Wild and Easy Animal Collage. Phyllis shared an easy way to get a variety of colors incorporated into your collage quilts is to use jelly rolls. "They offer a variety that varies in values from light to dark."   
Jane Haworth
Jane Haworth is an award winning professional quilter specializing in making nature inspired raw edge fabric collage quilts using her own hand dyed fabrics and commercial fabrics. She taught 2 quilt collage classes during Road@Home, Succulent Love Fabric Collage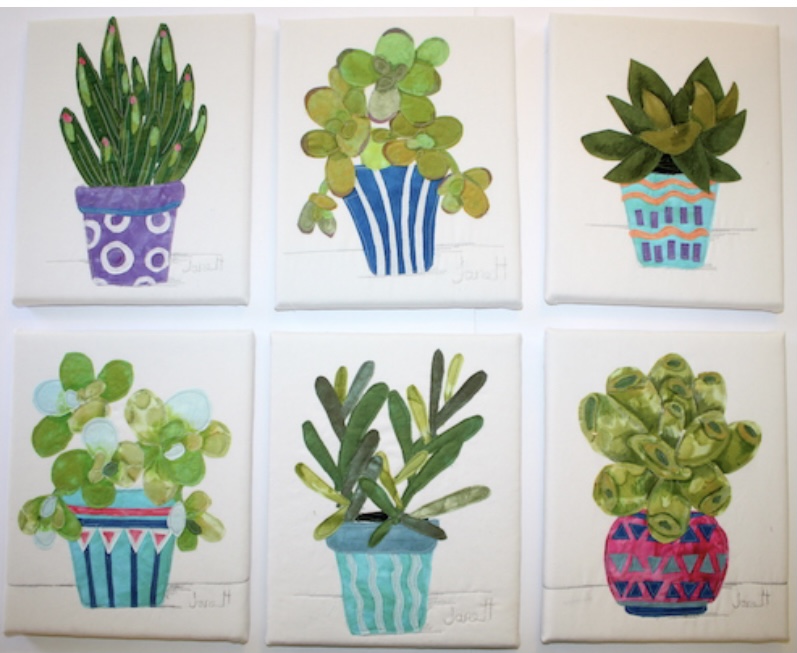 And Pink Cosmos Fabric Collage.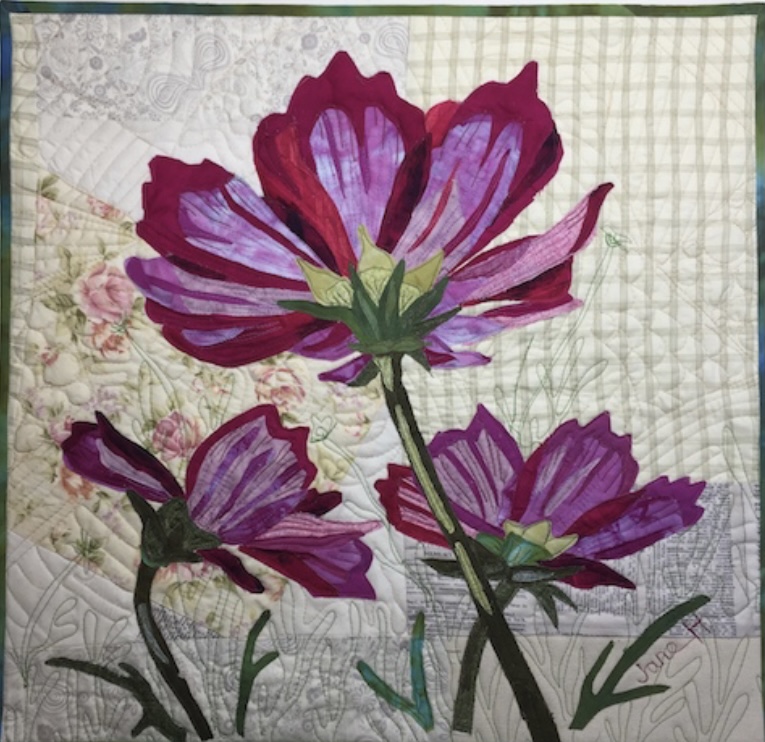 Collage quilts are a perfect fit for Jane because her favorite aspect of quilting is color and fabric.  Kaffe Fassett has had a big influence on her. She heard him speak while attending college in 1984. His ability to blend and select "all those colors" is the same technique Jane uses for her raw-edge college appliqué.  Jane shares, "This allows me to cut, layer then glue the fabrics before machine quilting."  
During Roundabout 2.0, Jane's presentation was, "Fabric Collage Fish." She encouraged students to follow her lead and use a variety of colors with a range of values to give contrast in their design. She also recommended using Alene's Tacky Glue to hold the pieces down on the foundation fabric. "Gluing pieces together can extend the amount of fabric and is an easy way to start a collage."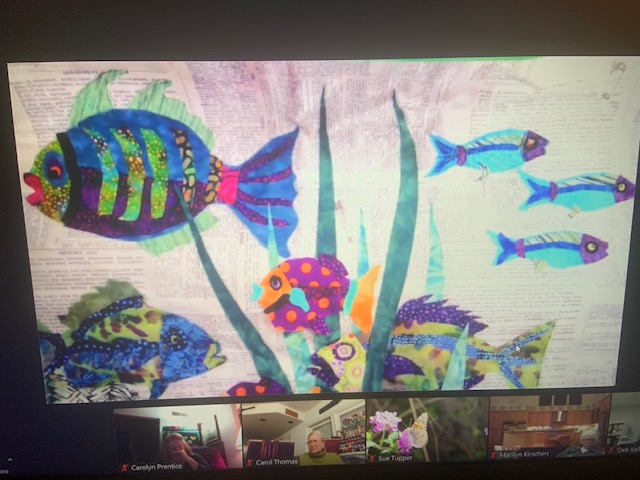 Road@Home was a great place to learn trending quilt techniques – like collage quilts – from experts in their field. Participants will find the same quality of instructors and class content at Road@Home May. Registration for those classes will begin soon.