<![CDATA[Beginning at Road 2016, an initiative was started to reach out to youth and senior groups to provide an up close look at quilting and Road to California. Carolyn Reese assigned associate Renee Hicks to organize free tours for interested groups with popular vendors and exhibits.
Home schoolers from Dehesa Charter School in the Escondido School District participated in the 2016 community outreach program at Road. Dehesa Charter Schools has 8 learning centers in San Diego, Orange, and Riverside County. Regional Manager Traci Lockman accompanied the students on their tour. A member of the home schooling community for over 20 years, Traci identifies herself as a "self-taught, beginner quilter."  She belongs to the Riverside quilt guild.
Members of the Marsella and Cardon families made up the Dehusa group. Mom Caryn Marsella serves as the art director for the Riverside Art Museum and has done some quilting in the past. She was joined on the tour with her two daughters: Zoe, age 15, and Abby, age 14.
Erika Cardon accompanied her 3 children, Olivia (9), Lily (6), and Lizzie (3). Erika says she is a "medium" quilter who enjoys designing quilts.
Renee arranged for the tour to meet and receive special hands-on demonstrations from Charlie's EZ Mat Olfa Distributor, Flynn Quilt Frame Co., Schneck, Clover, and Handiquilter.
In-between the visits to vendors, the students viewed the Marie White Masterpiece Award and Best of Show quilts; Eqyptian quilts; and the National Parks Quilt Special Exhibit. [caption id="attachment_4055" align="aligncenter" width="336"]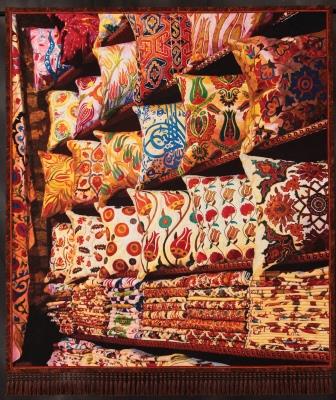 Best of Show Road 2016 – Silk Road Sampler by Melissa Sobotka[/caption] The students received a bag full of goodies filled with quilting tools from the vendors.  Best of all, they were inspired by what they saw and have a greater appreciation for the quilting community.  Dehesa Charter School thanked Road to California for this wonderful opportunity. Road is hoping to expand the community outreach program next year. If you know of a youth group or senior center that would benefit from Road's Community Outreach during Road 2017, please contact our office.]]>