<![CDATA[
Rebecca L. Smith of Rapid City, South Dakota won $1,000 from sponsor Clover USA for winning 1st Place for Road 2016 Modern Piecing.
[caption id="attachment_4326" align="aligncenter" width="336"]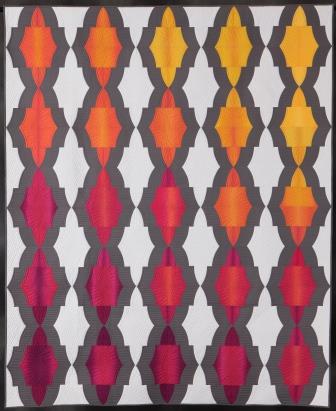 Modern Medallion[/caption]
Rebecca L. Smith says she was "very fortunate" to have had a grandmother that quilted who patiently taught her to hand piece and quilt many years ago. Rebecca added, "I miss her every day."
Modern Medallion was started in 2014 and finished in 2015, taking 60-70 hours to quilt. The quilt was inspired by Rebecca's rather large collection of beautiful gradated fabrics and from the interesting curved patterns from Sew Kind of Wonderful. She said she learned a lot about curved piecing on this project.  The quilting on Modern Medallion is mostly free hand.
What did Rebecca think about winning 1st place for Modern Piecing? She was 'so excited" when she found out and was pretty sure she spent her prize money on buying more fabric.
Rebecca is hoping that her future quilting endeavors will challenge her to design an original pattern for her next quilt .
]]>