<![CDATA[
Last year, Road introduced Marketplace where top manufacturers in the quilting industry shared their knowledge and expertise directly with our guests. Located right in the center of the main show floor, Marketplace is the destination for innovation and inspiration on the latest and most popular quilting products. This year, there will be 6 companies in Marketplace. This post features two more vendors:                                                   Shannon Fabrics and Clover-USA
If you are familiar with plush fabrics, then you must know Shannon Fabrics. Shannon Fabrics was founded in 1995 by Ebrahim Pairavi, a Persian immigrant. A few years later, his son, Arvin, joined him to help manage and grow the family business. Together, they saw an exciting opportunity, and in 2005 Shannon Fabrics entered the quilt market. The company is well known for carrying the largest selection of high-quality
Cuddle
(minky) plush fabric. They also offer Cuddle Suede, Embrace (100% cotton double gauze), Terry Cloth, Faux Fur, Tissavel Faux Fur, Solid Silky Satin, kits and precuts. In addition to a licensing agreement with Robert Kaufman, Premier Prints, and other industry leaders, the company works with independent and in-house designers to develop and create some of the best fabric collections available in the industry. Shannon Fabrics is an innovative and creative market leader, regularly introducing new colors, styles, and products.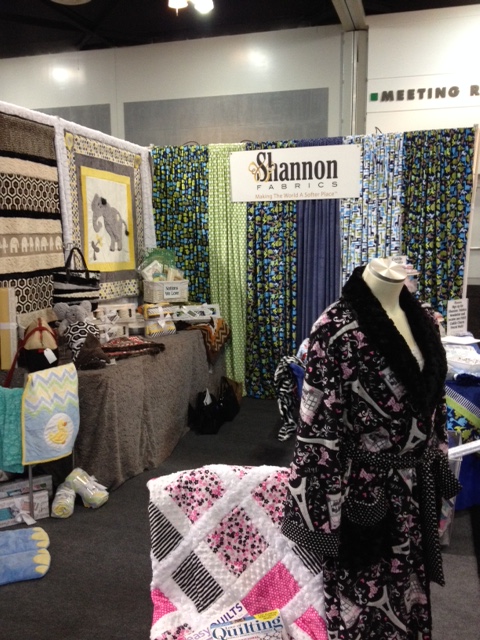 Shannon Fabrics is excited to be returning as a Marketplace exhibitor for Road 2016. In their booth, they will be demonstrating a variety of tips and techniques, as well as how their fabrics can be used alone and together with other fabrications, including quilting cottons. They will also be displaying numerous finished samples made from some of their kits and precuts. Their booth will have lots of
tip sheets
and
free patterns
as well as other helpful information.  A highlight at the show will be their newest
Embrace
 double gauze collection, featuring brand new prints and solids. With its signature "Cuddle" collection, Shannon Fabrics has become a household name and is Making The World a Softer Place™. To learn more about their company, please visit
their website
.

Clover's history dates back to 1925  when it was founded by Mr. Toshio Okada at the age of 26. The name of their company originated when Toshio Okada was attending college. He would study in the park and use clovers to bookmark his pages. When Mr. Okada founded the company, he remembered the hard work and dedication it took to succeed in his studies and all the clovers stuck between the pages of his books that accompanied him through his journey. In 1948, Clover officially became the brand. Clover began as a wholesale company of needles and handicraft accessories. Soon after, Clover became a manufacturing company, with the use of machinery designed to capture the vision of the engineers to create the wonderful tools we know and love today. In 1983, Clover USA was established in Los Angeles. Clover USA was given the name-Clover Needlecraft Inc. selling Takumi Knitting Needles. Later, the US line grew to patchwork quilting tools and sewing notions. With the support of their parent company, Clover USA has become a substantial brand in the artisan world of North America. At their booth, Clover will be demonstrating several of their products including the
Wedge Iron
,
Press Perfect Collection
by Joan Hawley, Felting, Tassel Makers & Handy Thread Twister, the Standing Oval Knitting Loom and Nancy Zieman Notions.  Mark your schedules now to attend one of the workshops they will be hosting:
Crochet with Fabric- Thursday, Jan 21, 7-10PM
Felted Scarf-Thursday, Jan 21, 7-10PM
Wrap 'n Fuse Round Up-Friday Jan 22, 7-10PM
Bead weaving on Mini Beading Loom-Friday Jan 22, 7-10PM
Weaving Sticks Scarf-Friday Jan 22, 7-10PM
Nancy Zieman E-tablet-Saturday, Jan 23, 6-10PM
Mini Flower Loom- Saturday, Jan 23, 7-10PM
Yo-Yo Centerpiece-Saturday, Jan 23, 7-10PM
Learn more about Clover USA on
their website
. ]]>