<![CDATA[
Jocelyn Atkinson , from Waiuku, New Zealand, received $1,500 from sponsor American Professional Quilting Systems for her entry, Matilda.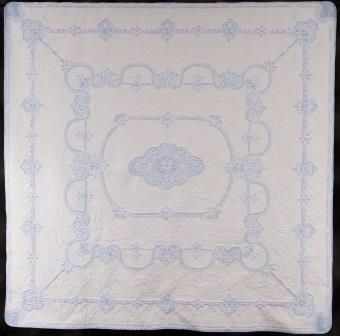 Years ago, when Jocelyn's family moved to a new town, she decided to join a night class for quilting so that she could meet new people. Jocelyn had wanted to make quilts for a
very
long time and finally the timing was right. After she made her quilt top, and it was time to do the quilting, Jocelyn struggled. She started out doing the quilting with her domestic machine but her back ached too much. She figured there had to be a better way. Jocelyn did a lot of research on the internet and decided to import a
Hinterberg
longarm machine. She didn't want to spend too much money on a machine as she didn't know if she could or would even like doing longarm quilting. That machine ended up being a really good work horse yet the learning curve was huge. Jocelyn self-taught herself "the hard way," reading from books and watching videos on YouTube. After a few years, she outgrew the Hinterburg. She knew she wanted to continue and take her quilting to a higher level but she also knew that she would need a new machine to take her there. Jocelyn ended up purchasing a
Sharon Schamber 1709 Prodigy
in 2009 and she's never looked back.
Matilda
was inspired by Jocelyn's admiration for Battenburg lace. After seeing what
Cindy Needham
was doing with old linen, Jocelyn decided that that was what she wanted to do with a Battenburg lace bedspread she had purchased. Jocelyn also wanted the project to be challenging and take her out of her comfort zone. Made in 2013, Jocelyn estimates that
Matilda
took
600  hours
to complete. She used a shadow trapunto type technique to put fabric behind the lace, trimming the excess off, then marked the feathers and quilted. The quilt barely fit onto her 10 foot longarm frame. With only a 17 inch throat, there was a lot of rolling. Jocelyn says she learned "patience and discipline and how to fudge the quilting to fit the space." At the time she was doing the quilting, Jocelyn had a full time job. She would come home from work each night and quilt for 2 to 3 hours. On weekends, she went "hard out." Over the several months it took to complete the project, Jocelyn's husband, Steve, showed his support by always cooking the evening meal. He did all the housework too!! When she heard that she had won, Jocelyn was "absolutely thrilled to be recognized by my peers for my workmanship." With her prize money, Jocelyn "indulged in purchasing threads — quilter's candy!!" Jocelyn intends to make more competition quilts. She admits that she has many suitable tops to choose from, but it may be a few years before she enters. In the meantime, Jocelyn will continue doing quilting for her customers and of course, continue to learn.]]>