<![CDATA[
Rob Appell brought his high energy,  quilting expertise to Road 2015. He taught the class, Seascape/Landscape Extravaganza, and visited with guests at the World of Quilts Travel booth, talking about their quilt cruises, including the New England Fall Foliage Quilt Cruise being hosted by Road to California.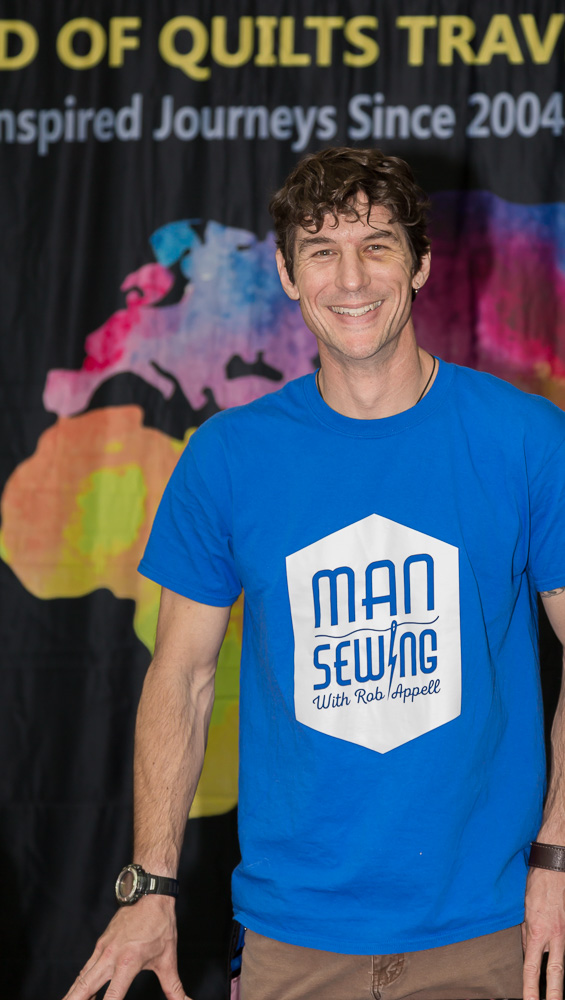 Rob was also anxious to talk about his latest project: Man Sewing with Rob Appell, a new You Tube Channel that debuted February 2nd.
Rob is collaborating with the Missouri Star Quilt Company to produce weekly quilt tutorials on line. This project was an answer to Rob's prayers. It allows him to continue in an industry he loves from a new perspective: the business side of things. Rob helps decide what to film and puts together the weekly projects. "I'm not an actor — I am a quilt maker. My talents are in design, communication, and entertainment. Man Sewing gives me the ability to use all of these features."  
New tutorials will be posted every Monday, 52 weeks a year. The tutorials average around 10 minutes in length and feature Rob"s high energy and creativity.  Rob spends one out of every six weeks in Missouri filming. When he is not filming, he is back at home "making stuff" (using current fabric and products) and working with the staff, planning the next episodes. In addition to the tutorials, Rob is also making "quick tip" videos for the Man Sewing channel. 
Rob is "looking forward to deadlines; accomplishing things I wouldn't have done before; and expanding my skills." 
How can you be a part of Man Sewing?  Subscribe to the You Tube Channel and follow on Facebook so that you don't miss out on any of the Man Sewing fun.
Road to California wishes Rob the best of luck as he embarks on this new adventure!!
]]>