<![CDATA[
This year's Director's Award was given to Macon, North Carolina resident, Cathy Wiggins, for her quilt, Carousel Stampede. Cathy received a $1,500 prize from the award's sponsor, Superior Threads.
Cathy became interested in quilting after she attended her first guild meeting held in Lake Gaston, North Carolina, in 2002. Up to this point, she had never owned a sewing machine. She went out and bought a $99 machine and used it to make several quilts before upgrading a few years later. After attending her first quilt show in 2003, she knew she was born to make quilts. She bought her longarm in 2006 and has never looked back.
Cathy had been collecting carousel horse images for a while and knew that she would one day make a quilt of them. Once she started painting quilts, the time was right to create her stampede of carousel horses. All of Cathy's show quilts are a game of some kind and this one is no different. She decided to give each horse a name so the viewers could identify their favorite horse. She tried to include a horse that would appeal to everyone.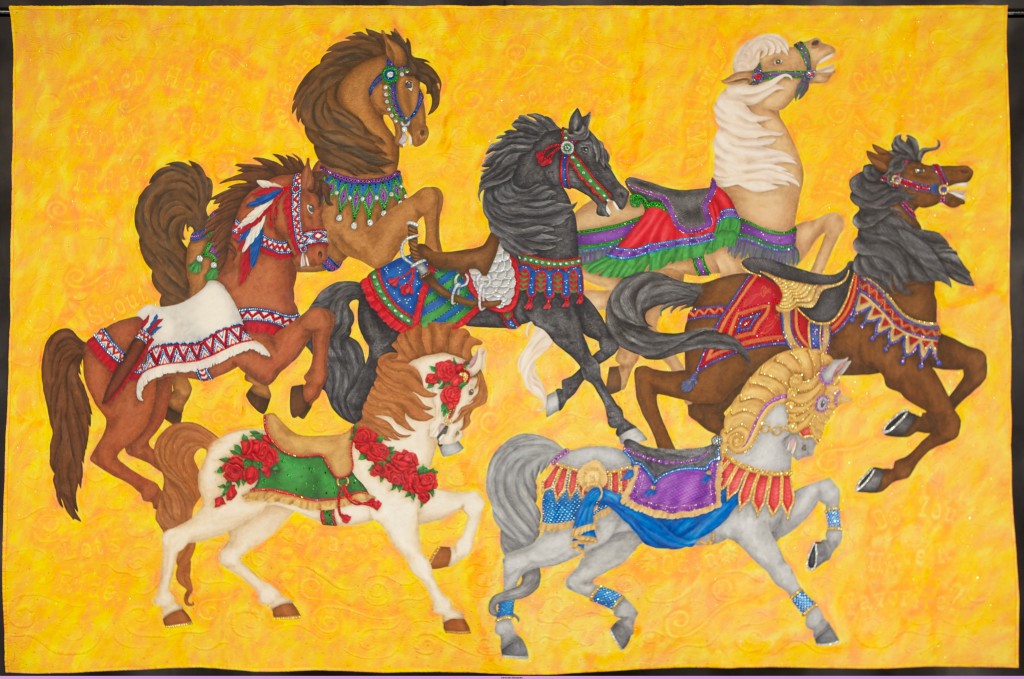 Approximately 600 hours were spent creating Carousel Stampede. Cathy started with white muslin and spent 250 hours painting it, followed by 300 hours of quilting and another 40+ hours adding the crystals.
When Cathy found out she had won the Director's Award, she was "thrilled." Said Cathy, "I love seeing people enjoy my quilts while hanging at shows but when they win a large prize such as this one, it just means that many more people will be able to enjoy something I have created through publications, articles, etc."
What did she do with her prize money? Cathy purchased an iPad Mini to replace her old, original iPad.
Where does Cathy do next after winning such a prestigious prize? She is going to continue painting her quilts, keeping her tradition of making them in to some sort of puzzle. She loves creating quilts that bring a smile to people's faces.
]]>
Tags: Cathy Wiggins, Director's Award Winner, Superior Threads