<![CDATA[
Do you remember your elementary school field trips?
You probably went to a museum or to an art exhibit; the zoo or the fire station. Maybe you even went to a theatrical performance. For 5th and 6th grade students in the Quilt Club at Innovative Horizons Charter School, their field trip was to attend Road to California!!
[caption id="attachment_3037" align="aligncenter" width="662"]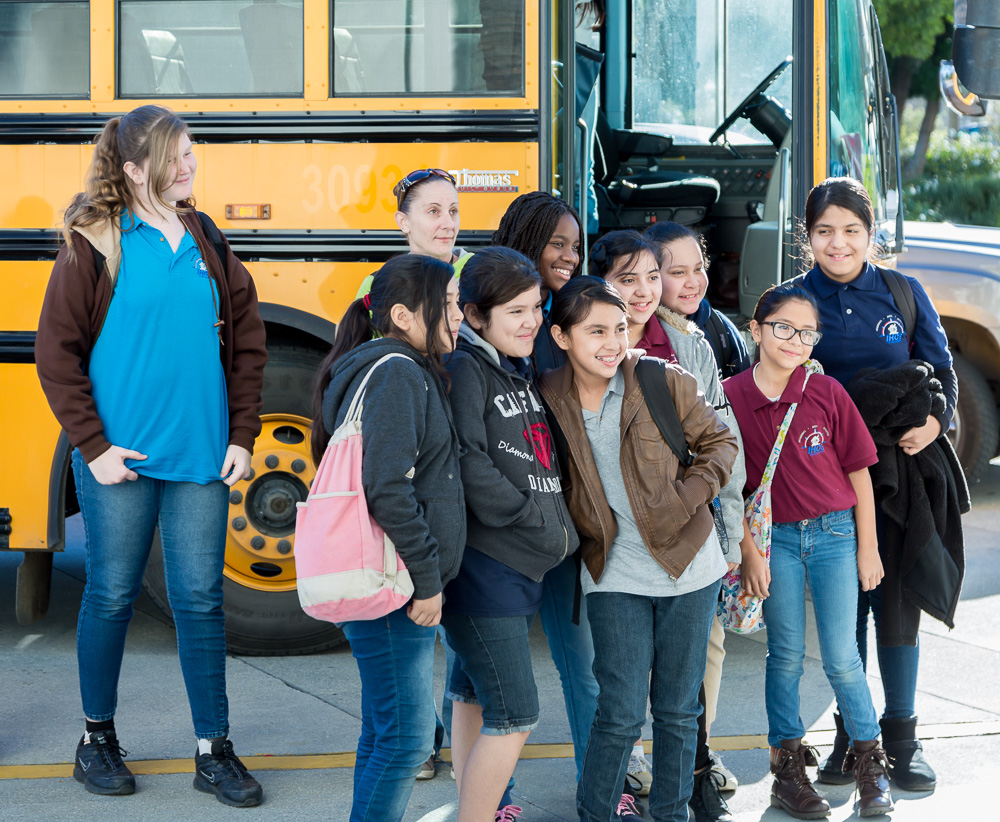 Photo by Gregory Case Photography[/caption]
A low, socio-economic school located in the low, socio-economic Perris Elementary School District, Innovative Horizons Charter School's  Quilt Club is in its second year under the direction of teacher (and quilter) Abbie Van Buskirk. The original intent of the club said Ms. Buskirk was to enable students to "learn to sew something for themselves and to sew something for them to give away."
[caption id="attachment_3039" align="aligncenter" width="673"]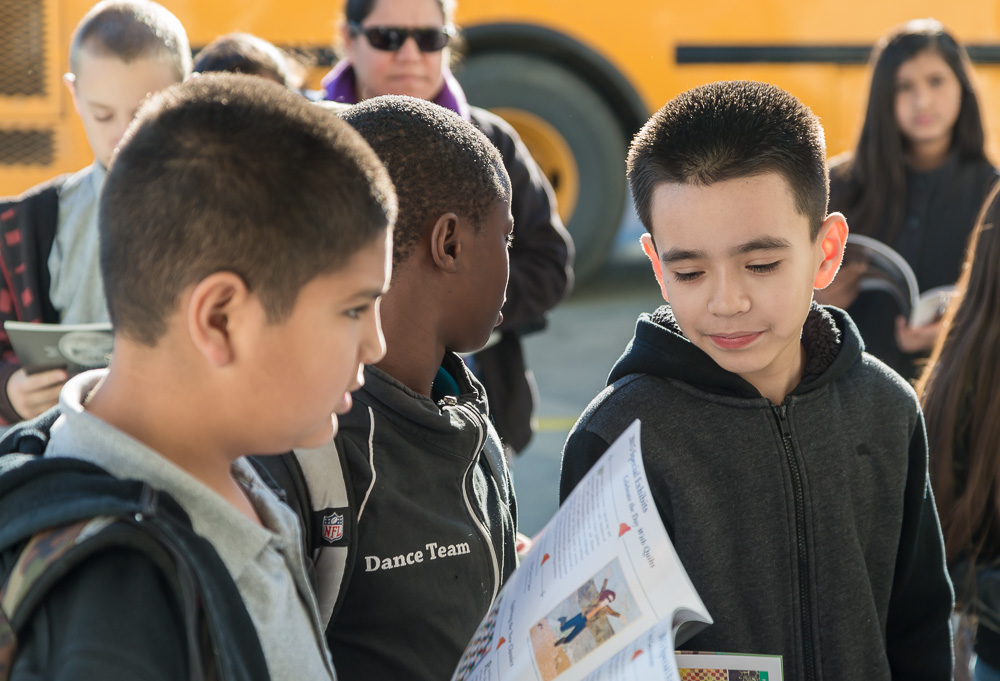 Photo by Gregory Case Photography[/caption]
This year, there are 25 fifth grade and ten sixth grade students participating in the after school club.  "I joined the Quilt Club to make quilts for people who need warmth in the cold," said 5th grader Jesus Ayala. Added Cain Gonzales, another 5th grade student, "I wanted to make quilts for preemies." 
The club meets on Tuesdays and Wednesdays for 1-1/2 hours.  It has access to 8 Brother sewing machines which were donated to the school along with cutting boards and cutting tools. Students cut out their own projects using fabric donated by Ms. Van Buskirk and other faculty at the school. Christine Tober, a mom of one of the club members and a volunteer with the Quilt Club, said of the program, "My son has been in the Quilt Club for 2 years and has become an advanced quilter. I love the opportunity the club gives the kids not only to learn how to quilt, but for them to socialize, use their math skills, and participate in something."
[caption id="attachment_3040" align="aligncenter" width="708"]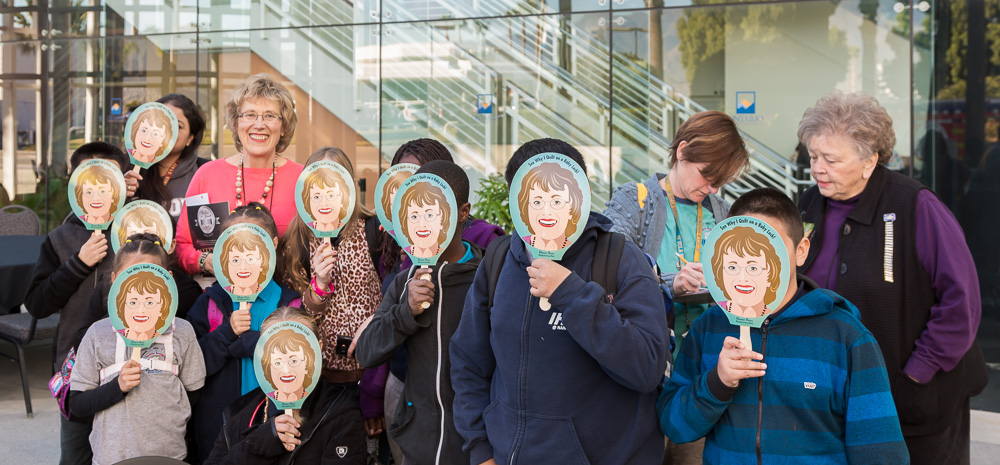 Photo by Gregory Case Photography[/caption]
Ms. Buskirk approached her school district and Road to California to attend the show. The district provided the buses from its art funding.  After a one hour bus ride, the students were greeted at the show by Road's owner, Carolyn Reese, and well known quilter Eleanor Burns. Many of the students were familiar with Eleanor's Quilt in a Day and so they treated her like a celebrity!!
And Eleanor was just as excited to see them. "I started sewing when I was young so I know firsthand the benefits of how sewing will keep you healthy and give you something to look forward to each day. I hope these children will keep sewing the rest of their life."
The students were divided in to three groups and given a three hour tour of the show. Each group took turns learning about long arm quilting machines and cutting tools; visited the Celebrating 150 Years of California State Parks special exhibit and met with the Egyptian quilters at their special exhibit. They were thrilled with the special treatment they received and were inspired but what they saw.
Carolyn Reese enjoyed hosting the students.  "It's important to let the younger generation experience the different aspects of quilting and learn that it's much more than making blankets."        
[caption id="attachment_3038" align="aligncenter" width="618"]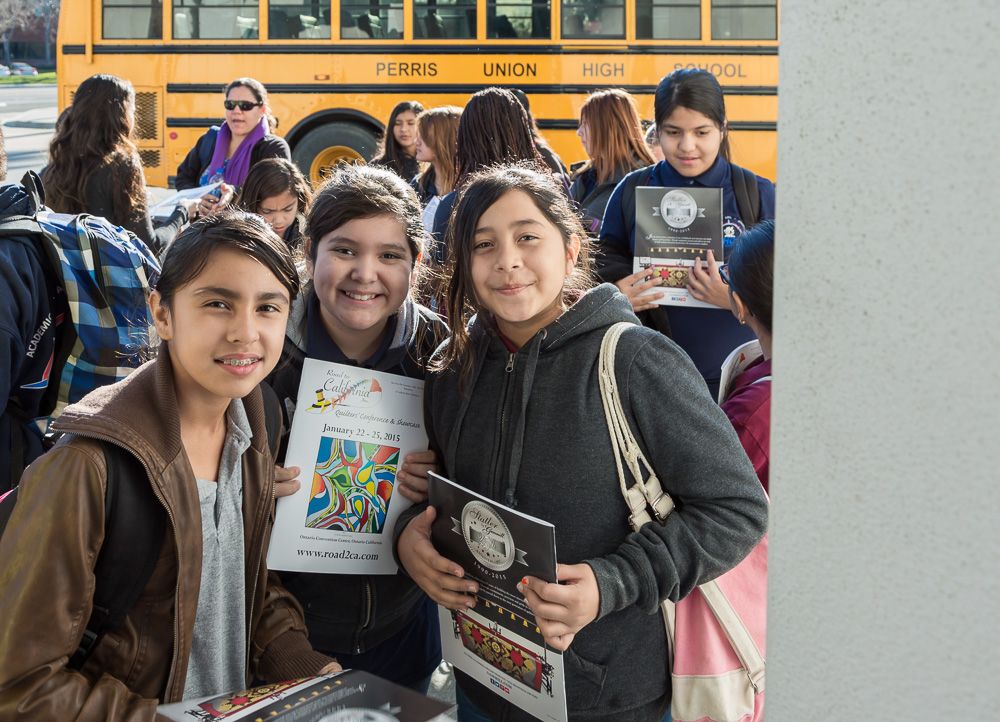 Photo by Gregory Case Photography[/caption]
For the Quilt Club of Innovative Horizons Charter School, going to Road to California was the field trip of their dreams!! 
]]>
Tags: Eleanor Burns, Innovative Horizons Charter School, Perris Elementary School District, Quilt Club, Quilt in a Day, Young Quilters