<![CDATA[
Keep it Simple was made and quilted by Jodi Robinson. She was awarded $5,000 from Robert Kaufman Co., Inc.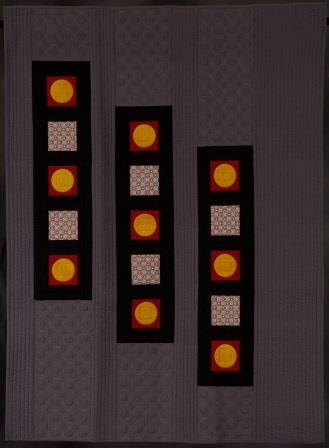 How did you get started in quilting?
My mother-in-law introduced me to quilting about 20 years ago.  The first quilt I made was a log cabin.  It wasn't until I had made all of my blocks, and began the layout process, and saw all of the design possibilities that this one stack of blocks had …. I was hooked.  A couple of years later, we purchased a longarm machine and I found my passion. I have been machine quilting for others ever since.
What inspired you to make Keep it Simple?
My inspiration for this entire quilt came straight from the pattern on the backing fabric.  I actually started with an idea for the quilting, and kind of made the quilt to fit the quilting designs.  I wanted to see if I could make a very simple modern quilt that would still have a very strong visual impact.
How long did it take to make your winning quilt?
I made and quilted my original design for
Keep it Simple
in 2013. The quilt piecing actually took very little time. I had made the small applique blocks and then didn't actually do anything with them.  Then, a few months later, I needed something to work on at a sewing day I was going to, so I grabbed those blocks and some matching fabric and pieced it into a finished top.
What was your reaction when you won?
I was so shocked!  I am amazed by how well this quilt has done!  I never in a million years could have imagined winning an award like this, especially knowing the incredible talent that is displayed at the Road to California Show every year.
Did you do anything special with your prize money?
I did not.  I am hoping to purchase a new longarm machine at some point in the future, and this prize money will definitely help me reach that goal sooner.
What quilting will you be working on next?
I will continue to explore my love of modern quilts.  I was so happy when I saw that Road to California had added "modern" categories to their show.  I am definitely planning on entering again in 2016!]]>
Tags: Best Modern Quilt, Jodi Robinson, Modern Quilting, Road to California