<![CDATA[
Where would a quilter be without batting?
Cotton batting by the Stearns & Foster Company has been a staple of quilt making since the 1800's. Long trusted by quilt makers for its strength and cleanliness, the batting needed a sales boost as the quilt revival of the 1920's and 30's took hold. Sales manager, Fritz Hooker, launched an ingenious marketing campaign to make Mountain Mist batting more attractive to quilt makers. His plan was to revamp the batting wrapper by adding colorful quilt designs that he developed in to the Mountain Mist pattern series. Fritz worked with professional artists as well as seasoned quilt makers to vet his choices.   After a pattern had been tested for design and work-ability, a model quilt was made. By 1950, there were about 100 Mountain Mist patterns and a model quilt for each design.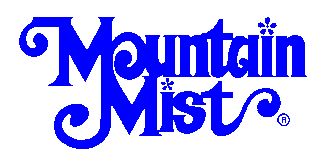 Through the years, the company has shared these model quilts in various ways. They were loaned to state and  county fairs, fashion shows, and quilt events. On the 150th anniversary of Stearns & Foster, the complete set of quilts was displayed at the International Quilt Festival in Houston in 1996. In 2012, the Mountain Mist sample quilts were acquired by Quilt House at the University of Nebraska in Lincoln along with other materials from the company. [caption id="attachment_4523" align="aligncenter" width="600"]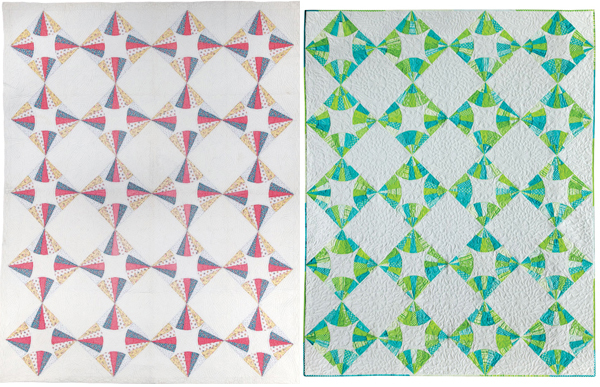 This Fan Quadrille quilt pattern was first made available by Mountain Mist in 1942. The original is on the left, and an update (which requires no curved piecing) by Linda Pumphrey is on the right[/caption] The Special Exhibit, Mountain Mist Historical Quilt Mid-Century Quilts Made New, is curated by Linda Pumphrey. She authored the newly released book with the same title.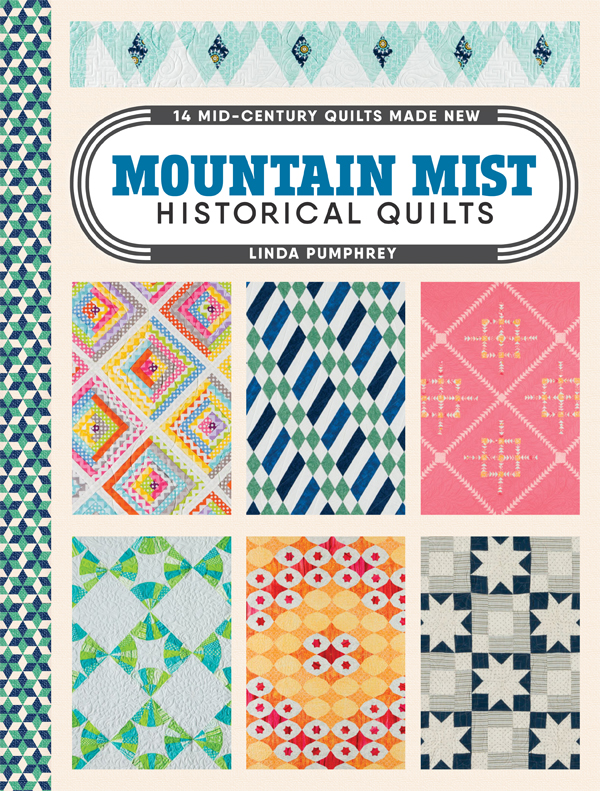 The book contains variations of 14 original quilts designed and released by Mountain Mist in the 1930's and 1940's on the back of the Mountain Mist batting wrappers, Some of the quilt designs were updated and simplified and some remained the same as the pattern using current fabric lines. The various designs speak to quilters of today just as they inspired quilters of the mid 1900's. This is the second time that quilts made from the Mountain Mist pattern collection have been shown at Road to California.   In 2009, quilts from the collection were shown to over-whelming response. This "new" exhibit is being shown for the very first time at Road to California 2017.
In addition to sponsoring this Special Exhibit, Fibrix, LLC, the parent company of Mountain Mist, will be donating 800 batts to support the 
Roadies Give Back Event
on Saturday evening, January 21st as well another 200 batts for another Road initiative. Road to California is appreciative for all Mountain Mist is doing to support quilting at Road 2017.]]>
Tags: Linda Pumphrey, Mountain Mist, Mountain Mist Historical Quilts, Roadies Give Back