<![CDATA[
Emma in the Looking Glass was made and quilted by Lenore Crawford who won $5,000 from sponsor, Handi Quilter.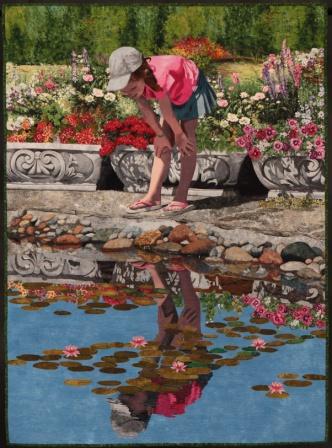 Lenore Crawford is no stranger to Road to California. She has been a member of the teaching faculty in the past and in 2014, she won in the same category, Outstanding Art Quilt, for her work,
Capturing Brittany.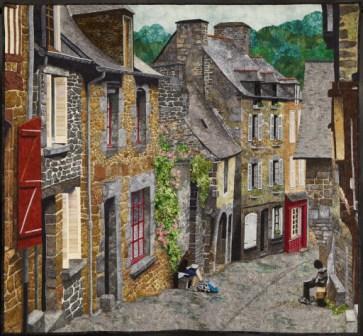 Lenore started quilting in the late 1990's using 2" fabric squares as her art medium in the watercolor quilting style.  She created impressionistic art quilts with the squares.  Up until that time, she hadn't done any quilting; just lots of other things with different mediums. What inspired Lenore to create
Emma in the Looking Glass
? Lenore along with her friend, her friend's daughter and granddaughter were visiting Lenore's mother's gardens where there is a beautiful lily pond that Lenore's step-father had built.  Emma, the granddaughter, was playing around the pond when Lenore took her picture.  It was a beautiful sunny day in mid-summer and Lenore was "really inspired by the whole scene." Lenore spent several months in the winter of 2016 creating
Emma in the Looking Glass
.  It was one of the very first quilts Lenore had done of a person using her fusing technique.  The most difficult part was finding the perfect flesh tone fabrics which in the shadows and water were very purple.  Lenore ended up using her fabric paints and painting the colors and values of fabrics that she needed for them. When Lenore found out she had won, she thought that it was "very exciting to win a prize like this!  I like to have my art quilts in large shows so others can see what can be done with fabric.  If I win a prize that is the icing on the cake!" She is planning to use her prize money toward the purchase of a new car where she can "enjoy it every day!" What does the future hold for Lenore? She has already finished a large piece this past winter that she plans to enter either in 2018 or 2019 at Road to California.  She loves to have a large piece in the works.  For Lenore, the larger the piece the more detail she can add to it which "makes it all the more fun!" We can't wait to see what Lenore has created next!! To learn more about Lenore, please visit her
website.
]]>
Tags: Handi Quilter, Lenore Crawford, Outstanding Art Quilt, Quilt Teacher