Healthy Quilter, Rose Parr, was one of the presenters during Roundabout 2.0 – a round robin event where 20 of Road@Home's instructors gave 20-minute workshops on a variety of topics. Rose's topic was Sew Smart – The Ergonomics of Healthy Quilting.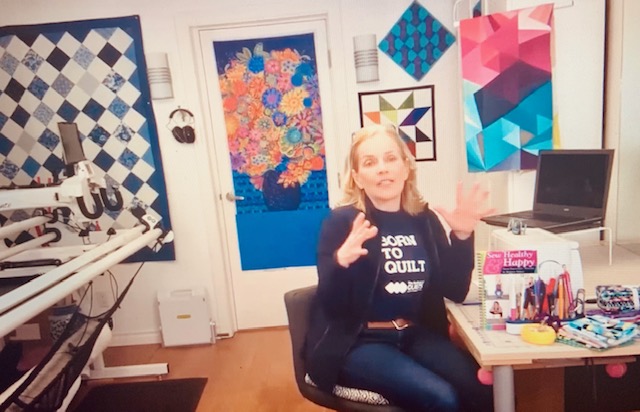 Ergonomics relates to designing elements for efficiency and comfort in the working environment. Rose holds several certifications including ones in Ergonomics, Arthritis Pain Management, and Active Aging. She lives in Canada so being seen virtually during Road@Home was the perfect venue to share her vast knowledge on how to sew smart.
Maintaining Good Circulation is Key
When you disrupt normal blood flow while sewing, you are making it easier for chronic health conditions to take root, shared Rose. The key for quilters to sew smart is to find ways to keep their blood flowing freely. As Rose says, "Quilting shouldn't be a pain in the neck!"
The first thing to consider when you want to sew smart is the chair you are sitting in. The average sewing machine is 3½" from bottom to sewing surface. Since you can't adjust the table it sits on, the best way to avoid a sore neck, shoulders, wrists, and back, is to use a chair where you can adjust the height, has an adjustable back with lumbar support and an adjustable seat base depth. Using a cushion is also helpful.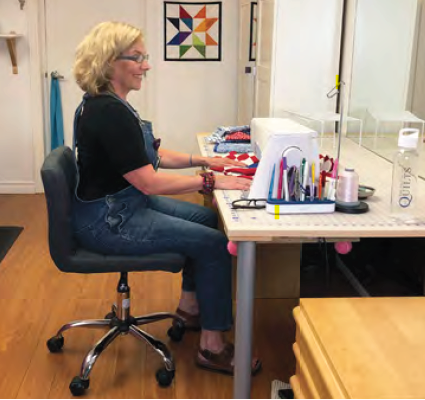 To promote good circulation, there should be a 2″-3″ finger gap from the front of the chair to the back of the knees. If the chair has armrests, they should be positioned just below your elbows to help keep your shoulders relaxed. Rose says that actually, "No armrests are better than the wrong armrests."
More Tips to Sew Smart
Rose shared these other simple tips to maintain a healthy quilting environment:
Keep shoulders down. Rose said that when individuals sew for long periods of time, shoulders tend to roll forward, the head leans, the neck gets bent, and the back is hunched. To keep shoulders relaxed, she recommends for quilters to sit tall, roll their shoulders back by drawing the shoulder blades together and avoid tensing up.
Invest in 99 cent readers. Avoid eye strain by utilizing magnification.
Bring the sewing machine to you – or bring your chair to the machine. Don't reach forward.
Have something in front of your sewing area (a picture or window) that causes you to look up.
Stretch periodically. Get up and walk around. Open your chest. Try switching feet on your pedal.  
When you sew smart, Rose says not only will you be pain-free while sewing, there's a good chance you can be quilting until your 100th birthday!!
To read more sew smart tips from Rose, visit her website.