Claire Wallace won 2nd Place in the category, Could be Grandma, for her entry, African Sunset, during Road@Home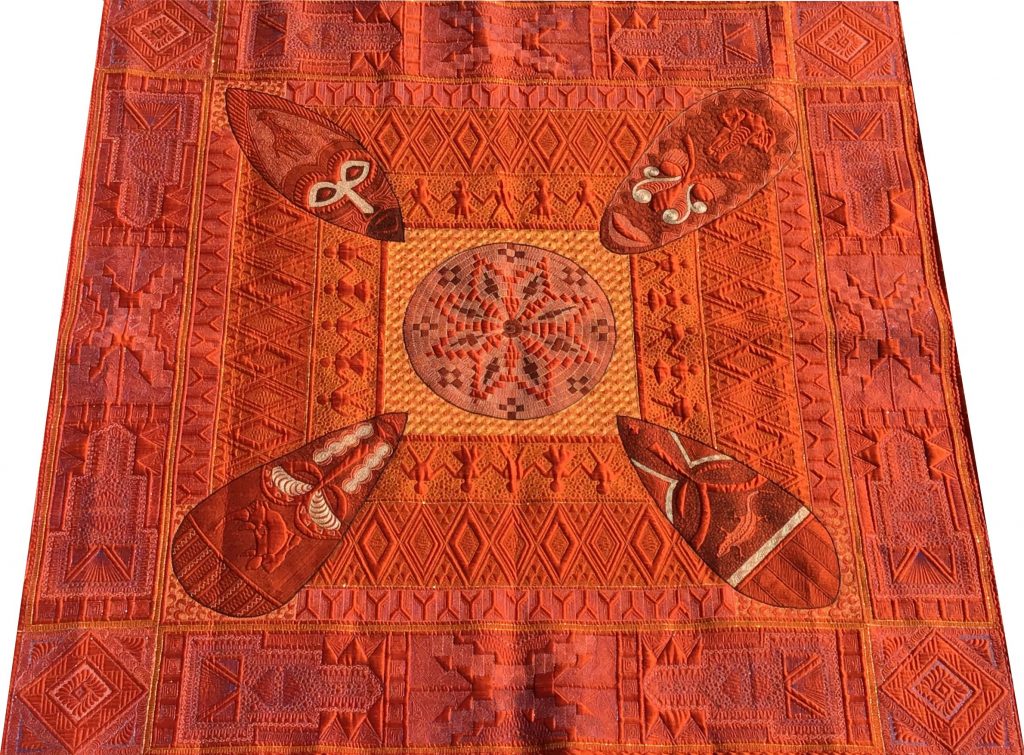 Meet South African Quilter, Claire Wallace
Claire Wallace is the South African Distributor for Handi Quilter in South Africa. She moved to South Africa from England in 1996 and it has been her home ever since. 
Claire has always enjoyed doing crafts but had never tried quilting until about 2004. Her family had moved to a different city and she stopped working fulltime to look after her daughter. Claire and her daughter would visit her husband's Gran and Aunty who were both "keen quilters" and they introduced Claire to quilting. Around 2009, Claire decided to buy a longarm machine and ever since then, her passion for longarm free motion quilting has taken hold.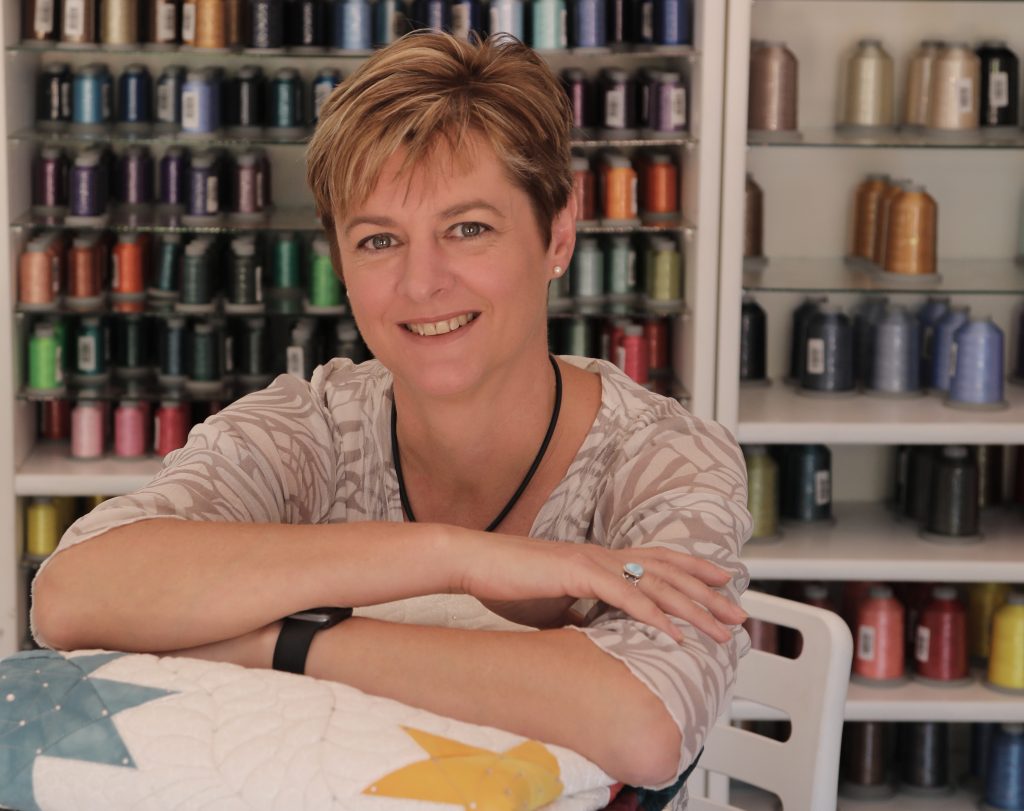 Several of Claire Wallace's quilts have won prizes in the South African National Quilt Festival, as well as at the World Quilt Competition and the Virtual Quilt Show before winning at Road@Home.
Making African Sunset
African Sunset was inspired by the colors of the South African sunsets. The patterns Claire quilted were taken from traditional African painting. The center motif is Claire's take on an African woven basket.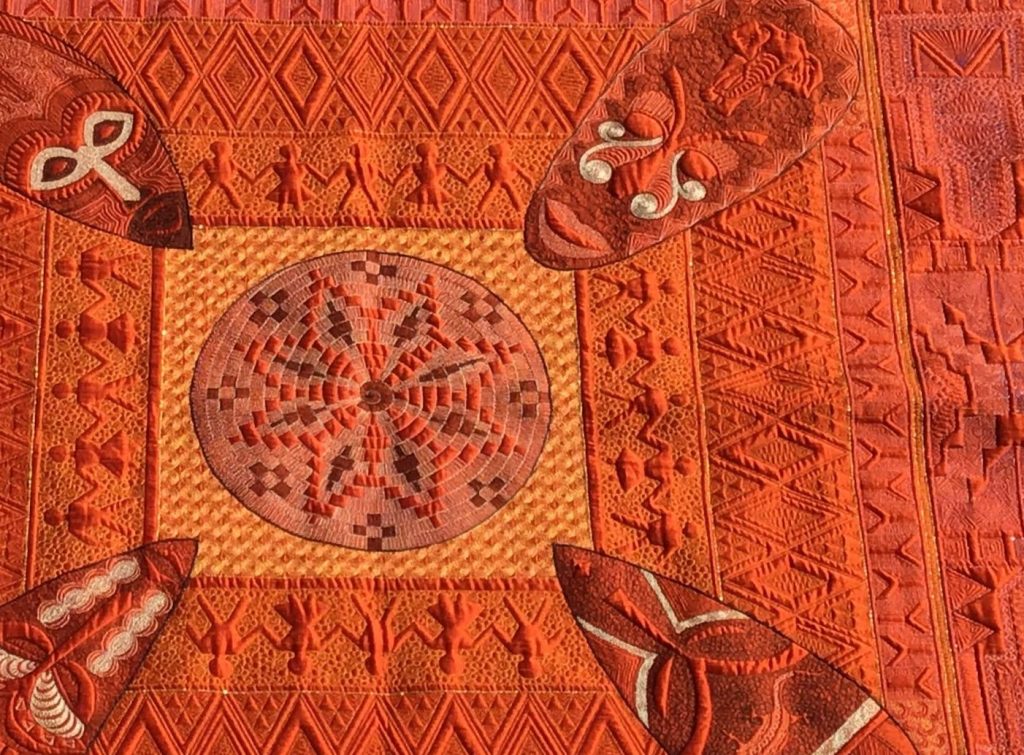 When Claire was asked how long it took to make the quilt, she had a hard time answering. "It was many months in the thinking and planning stage, and I drew out a full size pattern which I then transferred to my fabric. The quilting took about 30 hours but that is just a small part of the total process."
African Sunset is a wholecloth quilt utilizing free motion quilting. Claire used a Handi Quilter Simply Sixteen. She says, "I love this smaller machine for detailed work because it is nice and light."  Double threads were used in some places as well as Glisten, some Razzle Dazzle couching and a piped border.
Entering African Sunset in the Road@Home Contest
With Covid, Claire Wallace discovered some advantages- especially when it came to entering quilt contests. Remarked Claire, "Normally, for me to enter quilts into overseas competition is expensive and there is risk involved in sending quilts from Africa. The advent of virtual, online competitions makes it so much easier for us to enter."
Claire went on to say, "Road2California is a well-known and respected show as I was keen to enter. My quilt was a wholecloth so it seemed obviously that it should go in the "Could be Grandma" category."
She was "amazed and humbled" that she had won. The quilt is currently "living with my Mum in Wales as I had wanted to enter it into Festival of Quilts in 2020 but of course that didn't happen! So it will have to stay with Mum until international travel is allowed again and I can retrieve it!"
What does the Future hold for Claire Wallace?
Claire says she will have her hands full with her work as the South African Distributor for Handi Quilter, looking after as well as quilting for customers. "Time to do my own projects is pretty limited but I am currently working on a new quilt that I started before our lockdown kicked in in March 2020. For a long time I was not inspired to do anything on it but after attending some of the online classes at Road@Home I started to work on it again. I am making good progress and like what I see so far, so hopefully I will be able to get it completed before too long."
To learn more about Claire Wallace, please visit this website.