With the country opening, more and more people are starting to travel again. Dedicated quilters and sewists often take their projects on the road. Follow these proven vacation sewing tips to never miss a stitch.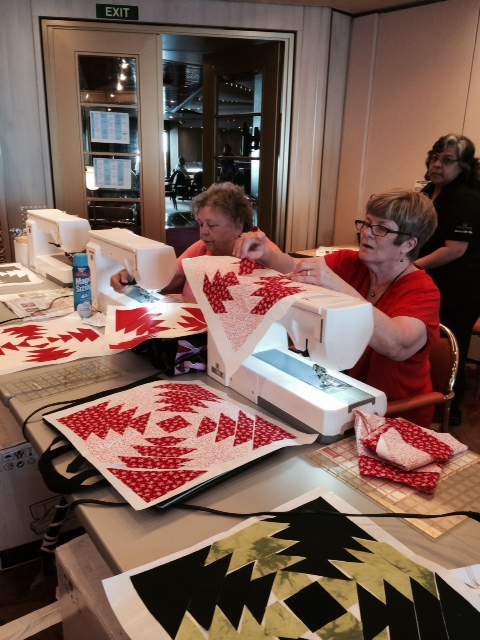 Planning is the Key
Visualizing your project and all the items you will need ahead of time can help you stay organized and not over or under pack.
Road's Stevii Graves shared on a recent episode of It's Sew Road, that her best vacation sewing friends are Zip Lock Bags. The gallon and quart sizes are perfect for keeping books, patterns, and templates all in one place. Cut out pieces of your quilt before you leave home and organize them in sandwich size baggies. And Stevii added, that snack size bags are perfect for storing thread, floss, and emergency snacks.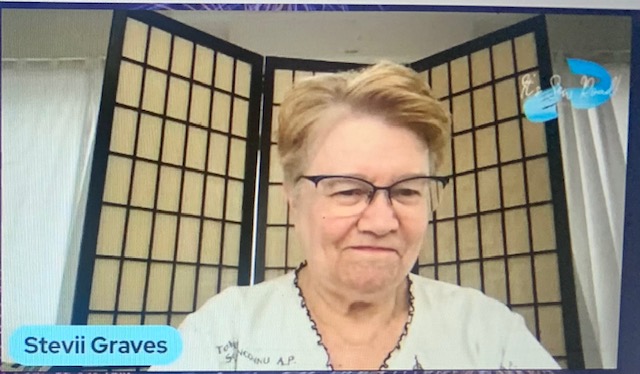 What kind of space will you have for your sewing? Sew Daily suggests creating your own "portable sewing room" on the road by bringing a small foldable cutting/ironing board combination for your vacation sewing. They say to "purchase one or make your own cutting board using a clean, dismantled cardboard box. Connect multiple boards with painter's tape to make a larger board, if needed. Balance a fully opened, foldable cutting board atop two small, portable folding tables. These small folding tables can be packed in a vehicle or even in larger checked luggage if traveling commercially or obtained en route. Test for stability before use. Of course, a decent-sized bed and hotel room can accommodate many sewing needs. Just remember to protect all surfaces first. Iron and ironing boards are often available as well, but test the iron on scrap fabric before use to make sure it's operating properly. Should you need to wash or dry fabric en route, many hotels and coin laundries are able to accommodate."
Another factor to consider are your accommodations. Again, from Sew Daily, "With a little advance planning, many hotel conference rooms, parks, community and recreation centers, libraries, colleges, fraternal lodges, fabric/craft stores and even some bookstores may be available to use as one's temporary sewing room for a few hours, days or even weeks; just check beforehand. If your destination has a craft or fabric store where classes are taught, they may have sewing machines open and available for use. There's a host of unassuming "sewing rooms" waiting to be explored and discovered when traveling, located in accessible and even remote locations."
Tips for Handling Sewing Supplies
During Road@Home in January, Lee Chappell Monroe encouraged those who do hand sewing during their vacation sewing to pre-thread their needles before they leave home. That way you don't have to worry about the danger of threading a needle in a car or on a plane. She also added to keep track of your threaded needles by marking on Post It notes how many strands you have.
So you don't have to worry about blocks getting wrinkled on the road, lay the blocks on top of a square ruler and wrap in plastic wrap. Lee also warned that fabric needs to breathe so if you put fabric in plastic bags, snip a corner of the bag to let fresh air in.
Carrying a lot of rulers while vacation sewing? Poke holes in the rulers and slide a metal ring, some string or ribbon through the holes so the rulers don't get lost.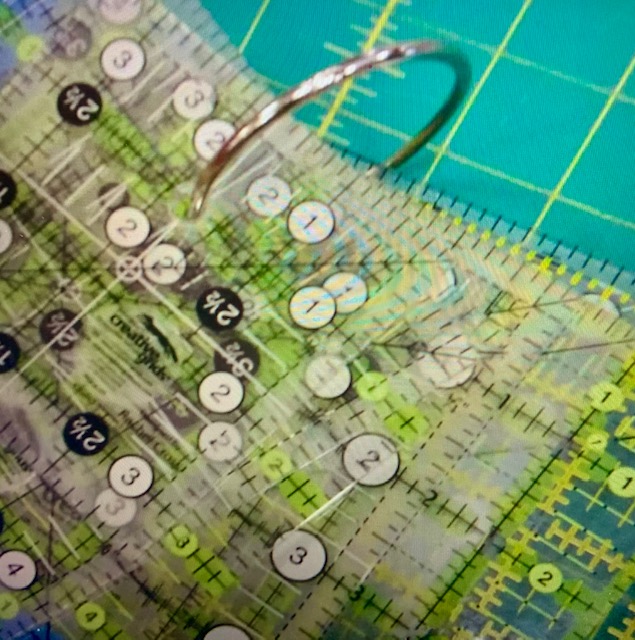 Taking your sewing machine on the road? The smaller and lightweight the machine, the better. Lee suggested to belt in your sewing machine if you're traveling by car. This protects you and your machine against sudden stops or if you get in an accident where your machine could launch and injure someone.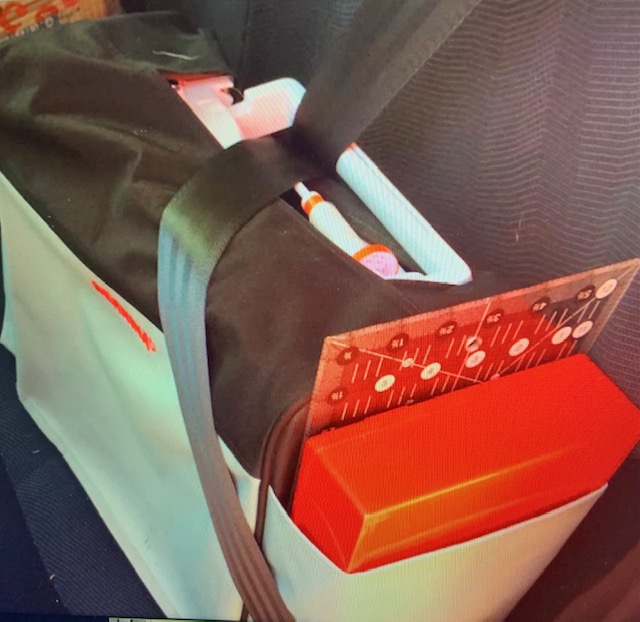 Did you know that if you are flying with your sewing machine for vacation sewing, you can take your machine on the plane as either checked or carry-on baggage? TSA suggests you check with your airline ahead of time to verify allowable dimensions.
Whether going on vacation, to a quilt retreat or even Road to California 2022, these tips can make vacation sewing easy and carefree.