Quilt Contest and Quilt Challenges are open for Registration until October 1st. This guide will walk you step by step on how to register.
To start you need to head over to the website www.road2ca.com we suggest registering on a computer over a phone or tablet. For a mobile device you should still look through the guide and at the end is how to find the pages on a mobile device.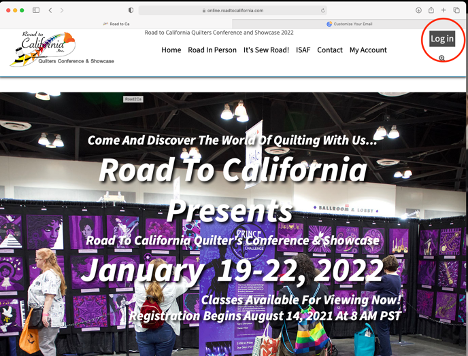 In the photo above on a website you will find the Log In button in the upper right-hand corner. You also want to at this time to make sure you are in the correct conference which it will say Road to California Quilters Conference and Showcase 2022 at the top of the page. If it is not this, please use this link www.road2ca.com.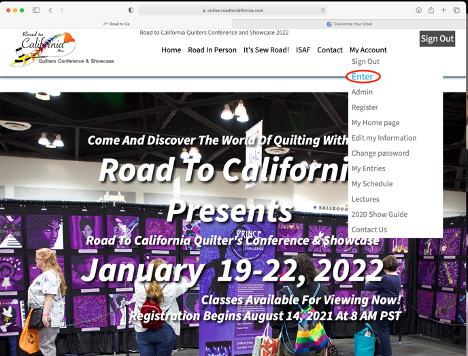 After Logging in when you hover over the My Account Tab it will say below Enter which is what you want to click to enter a quilt entry.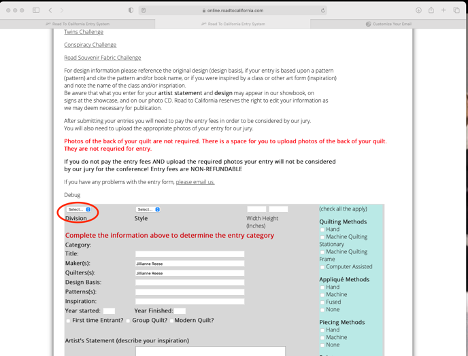 On the entry page you will fill this out with all your quilt information. QUILT CHALLENGES: In the Division section you will want to change it to Exhibit to submit for one of the three challenges.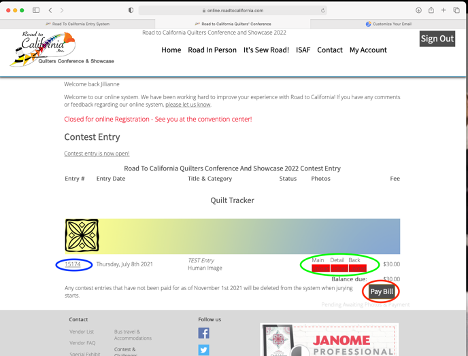 After Submitting it will take you to the Quilt Tracker Page. On this Page there is a couple of important places.
If you click your entry number (the one circled in blue) it will allow you to edit your entry information.
The photo uploads (green circle) you only need to submit the Main and Detail. You will only be asked to submit the Back if we need more information otherwise it does not need to be submitted.
To pay for your quilt you click Pay Bill (red circle) this will take you to the payment page for your entries. Please Note: You should wait to pay until you enter all your quilt entries.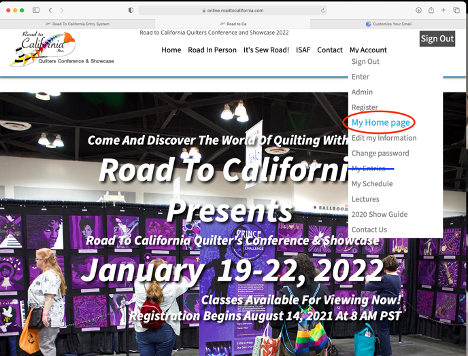 If you need to go back to the Quilt Tracker page you will want to go to My Home Page which is under the My Account Tab. Do Not Click My Entries that page will not work until after Quilt Jurying.
Once your quilt entry on the Quilt Tracker says Entry Received you are all set.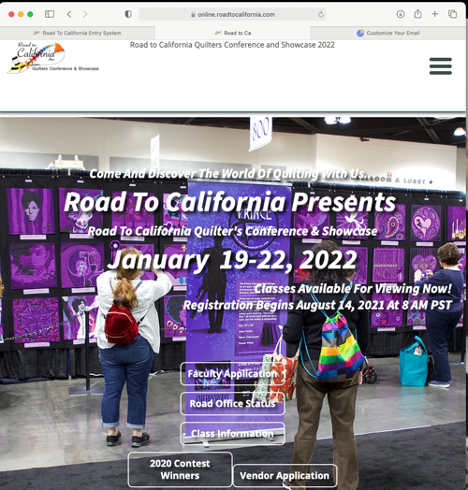 On a mobile phone instead of the drop down menus we have a list menu (three lines in the upper right) you will use this to navigate the pages as mentioned above. (You will also find the Login button in this list.)
The list will have near the bottom (Must be logged in for these options) You will still go to Enter and My Home Page.
Quilt Entries will continue to be accepted until October 1st. Please email us if you have any questions.