We can't believe it's almost time to register for Road to California In Person Classes! This has been a long time in the making! We are so appreciative of our faculty for sticking with us through the pandemic and to our new teachers for joining the team! We are always working on picking classes that offer a wide variety of techniques and styles of quilting.
Registration will be opening on July 2 at 8 am PDT which will be this Saturday!
Take a look at this blog post to find out our tips for registering for classes.
What should I do before Saturday?
It is important whenever planning on registering on opening day to go in with a plan. We have four tips that are a great start to your plan.
Tip #1 Check Your Login
For our returning Roadies you need to make sure you can login into your account and reset your password if needed. If this is your first time registering you will need to make a new account!
If possible please register on a computer using Safari, Google Chrome, Microsoft Edge or Morzilla Firefox. Do Not Use Internet Explorer as it is out of date and our website does not function correctly. If you are registering on a mobile device (phone or tablet) we do suggest switching to a computer for an easier experience.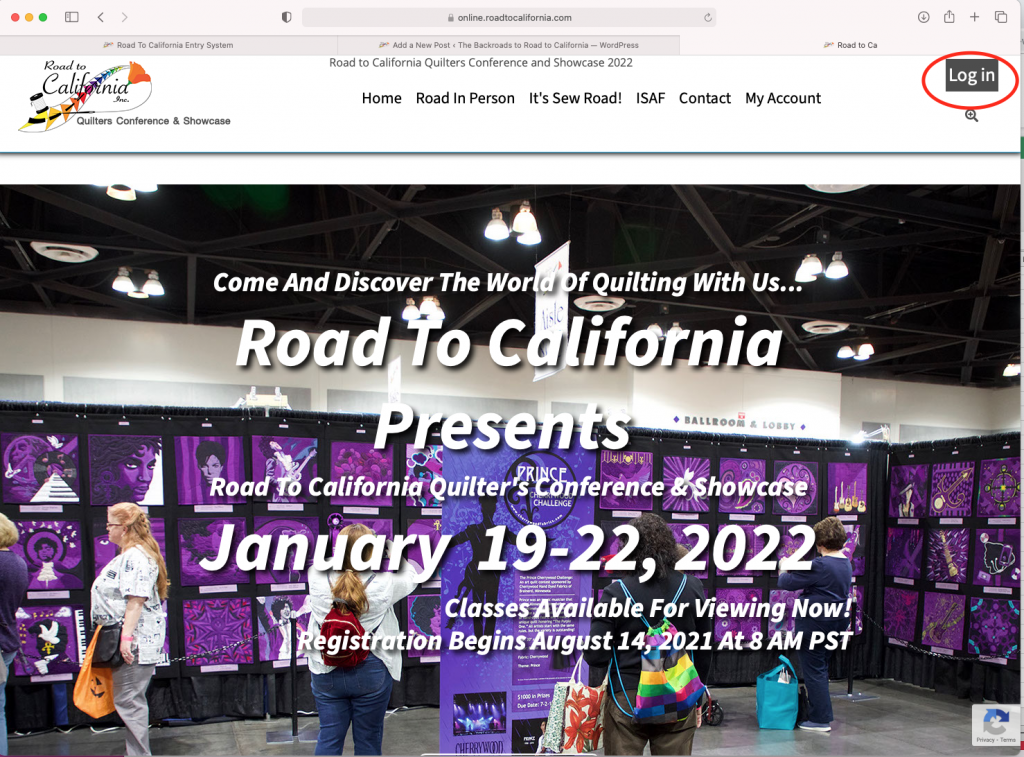 When you first come to the website it will say in the upper right hand corner Log In or Sign Out. If it says Sign Out you are already logged in and are set to sign up! If not you will want to click the Login button. You can also find Login under My Account if you do not see it in the upper right.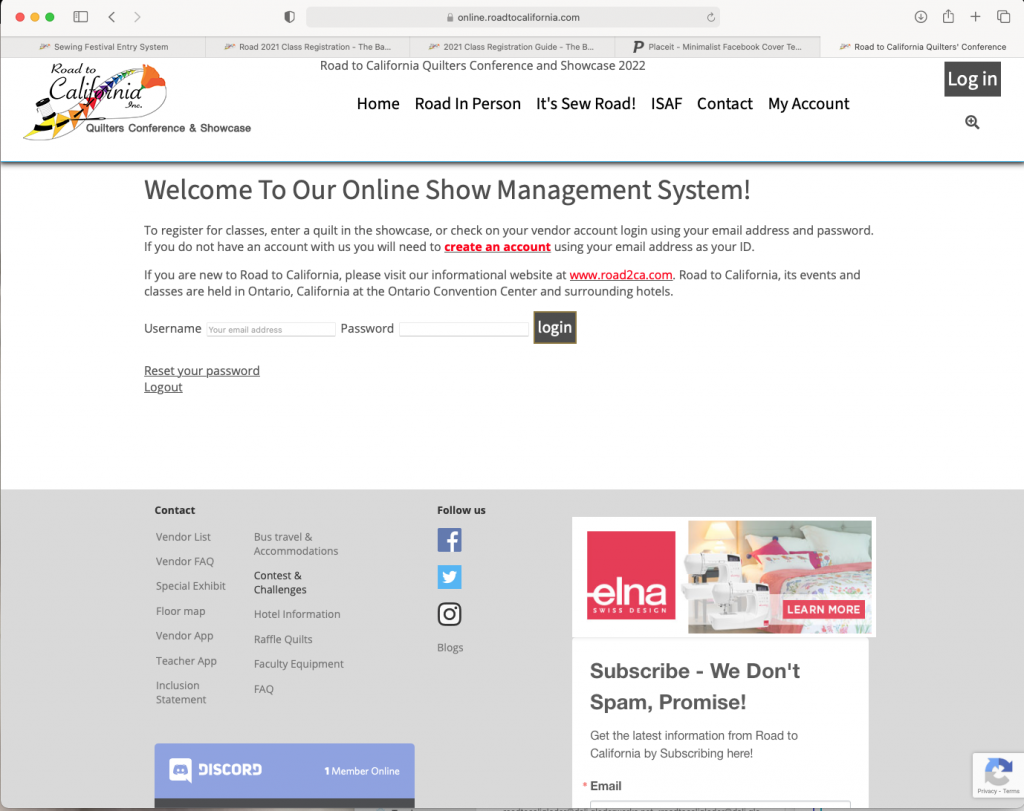 On this page you will see the two places to enter your username and password. Your username will be your email address that is listed on your account. If you do not already have an account make sure to click Create an Account in red so you can make a new account. (If you already have an account with us please do not make a new one.)
If you are not sure what your password is or you enter it in wrong you will be taken to the Reset Your Password Page. It will ask for your email address and email you a reset password link. (This email may end up in your spam/junk box or under promotions for gmail email addresses please check there first.) If you did not receive the email fill out our contact us form so we can help you.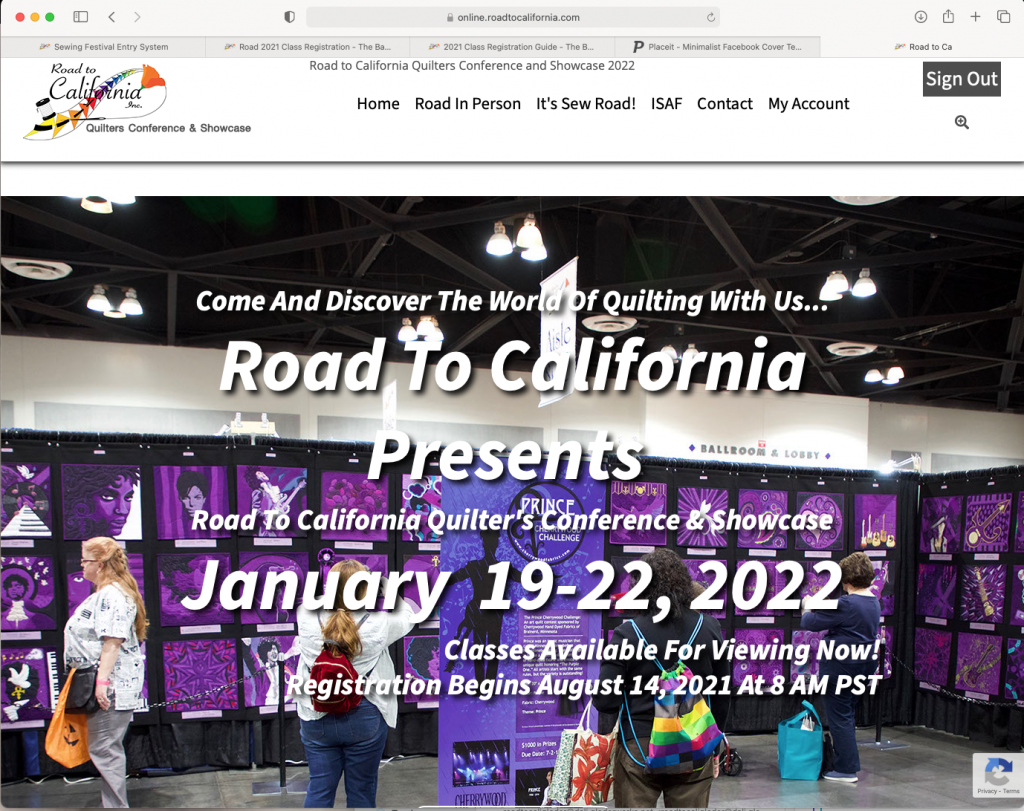 Once logged in, it will return you to the home page with the top right now saying Sign Out. You are all set to register on the website once it opens. Registration can be found under the My Account tab, but until the 14th it will say Registration is closed.
Tip #2 Pick & Prioritize Classes
It is important when you get ready to register to list your classes on how much you want to take the class. Registration is a live process that does have some classes fill quicker than others. Especially classes with teachers like Eleanor Burns and events like Party Time and the Bus Trips. Our team here in the office always advocates to make a detailed list of the classes you want to take and prioritize them. Take a look at one we made as an example.
Tip #3 Make sure you have a stable internet connection
When registering your internet is in communication with our server and you want to make sure your internet is stable when you begin to register. Normally registering from home will work just fine as long as you don't have any known internet issues. On our end we have worked with our developer to make sure there is no bugs or slow downs.
Registering on the Road or using Public wifi should be avoided at all costs as you are trusting that they have a good connection. Sometimes the website might seem slow but it is actually the internet and server trying to communicate and it can take time.
Do not add classes to your cart and then attempt to register for them later. The system is not saving your spot until you process your payment for the class. Trying to save classes in the cart will cause all sorts of not so fun problems, and may result in not getting the classes you want.
Tip #4 Set your Alarm/Notifications
Make sure to add registration to your calendar so you are ready at 8 am PDT. As we mentioned above classes do fill up fast and you want to make sure you are ready in front of your computer to get your class. You can click Register under My Account or on the Class Information page click Register Here.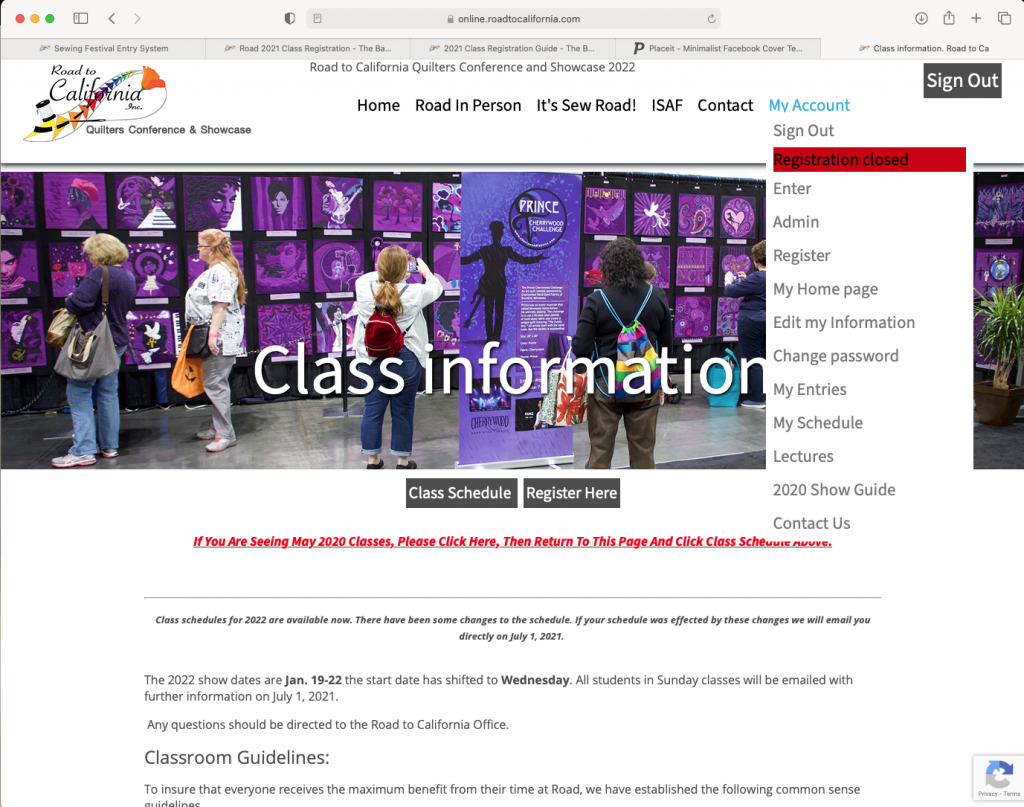 What do I do on Saturday the 2nd?
It's Registration Day! It is time to register for those classes and events you want to take in 2023! We are going to give you the process on how to register for classes. These steps will walk you through registering for classes.
Step #1 Login to Your Account
If you have already practiced logging in you want to double check that in the upper right hand corner it says Sign Out. This means you are in your account and are ready for registration to open. If not go ahead and login to your account.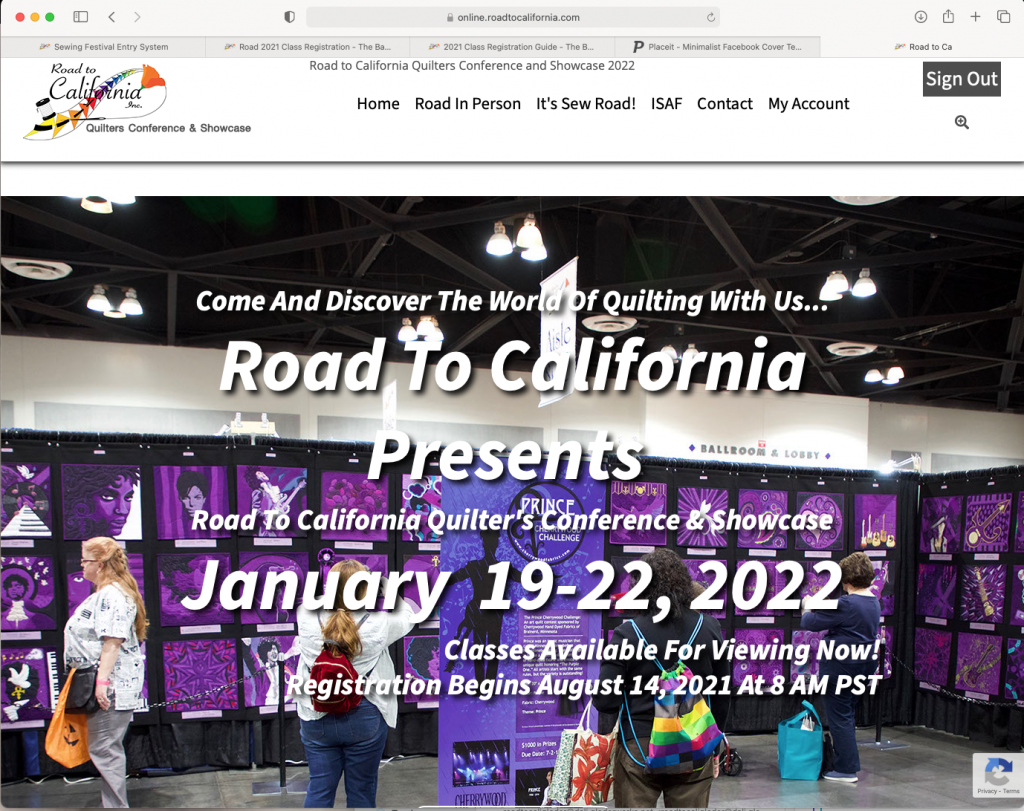 Step #2 Open the Registration Page
When 8 am hits the Registration Closed under My Account will turn into Register and the Register Here on the Class Information page will open the Registration page instead of the homepage.
Step #3 Start to Add Classes to your Schedule
When you get to the registration page you will see an empty schedule on the left and a list of classes on the right. Classes on the list are grouped by day and are listed by start time.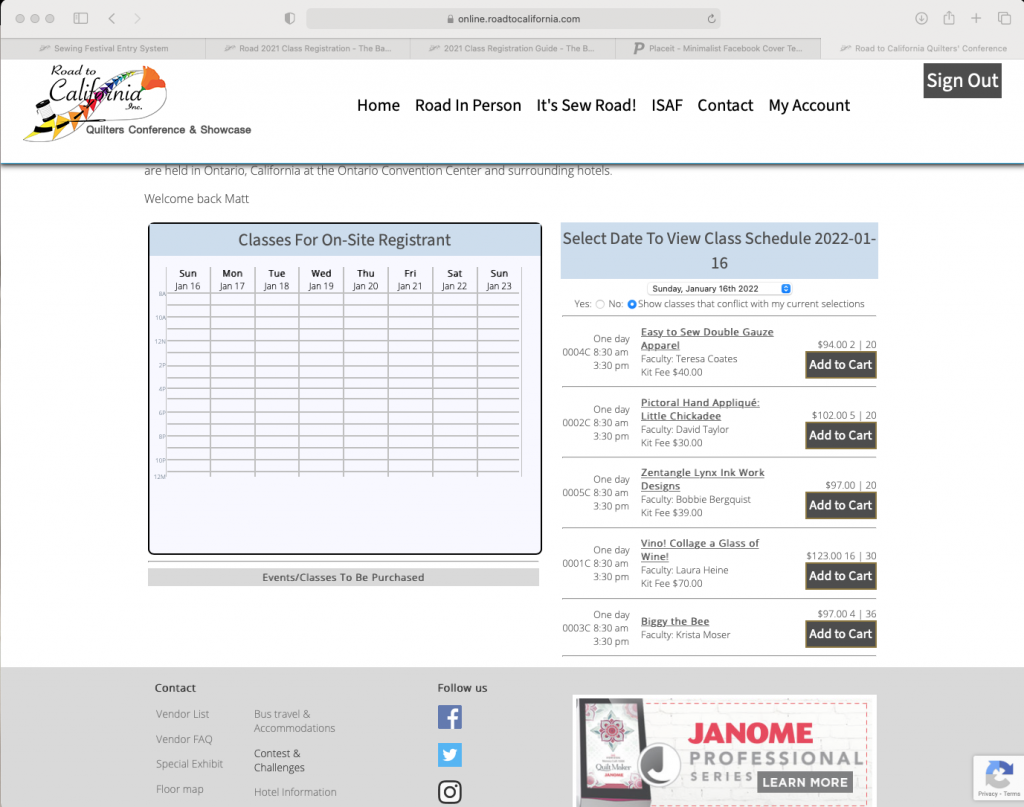 To add a class to your schedule you will want to click Add to Cart if the class is full it will say Add to Waitlist. Once it is in your cart it will add to your schedule and get listed under the Events/Classes to be Purchased. (Any classes that conflict with the class will become hidden.)
As a reminder – the system has not saved your seats for classes until you complete the registration process and pay for the classes. We can't help you if you forget to pay for the class and complete the registration process and your class reaches capacity. We do not over sell our classes.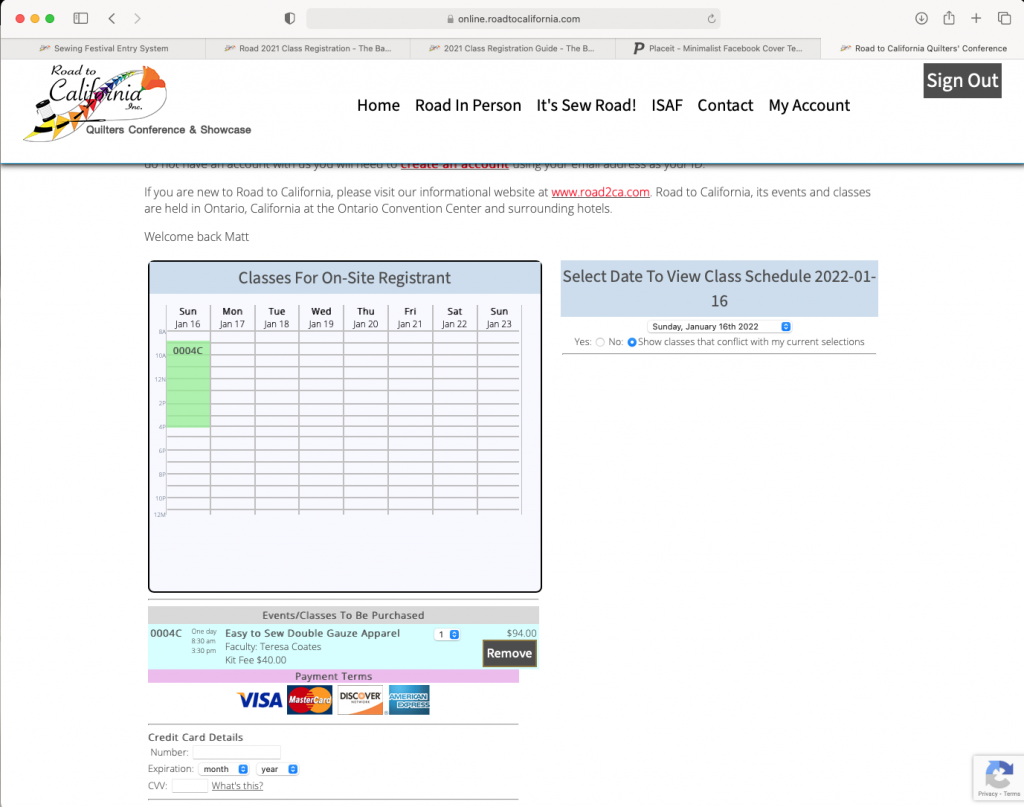 Step #4 Pay and Register
You will need to fill out the payment section on the page and check your address (pulled from your account) and then click Register. There is also listed the cancellation and transfer policy for Road to California 2023.
Only click Register once do not click the back button, do not spam the button, and do not refresh the page. The system tries to charge your card each time you click the register button and it will invalidate your entire registration as it will come across as a duplicate payment. Please be patient and let the system work.
Step #5 Check your Confirmation Email
Once the system has processed your registration you will receive an email showing what you signed up for. Do not skip this step double check your registration immediately after to make sure you did not accidentally sign up for the wrong class. You have 7 days to transfer or get a full refund, make sure to double check the day you register so you don't miss this period.
Your email may have gone to spam/junk, it is immediately sent so please check there first. (Gmail users should also check the Promotions tab as well). If you do not see your email please send us an email at info@roadtocalifornia.com so we can double check your account.
Registration Problems?
If you have any problems registering or logging in make sure to send us an email at info@roadtocalifornia.com so we can help you.
What Classes are you most looking forward to Registering In? Make sure to tell us in the comments!