<![CDATA[
Rose Mary Jameson will be teaching 4018R Laguna Crochet Necklace on Thursday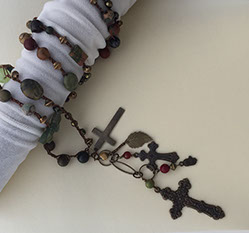 5019R   Bead Embroidered Needle Case on Friday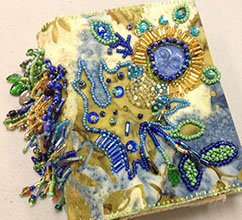 6019R   Beaded Felted Cuff on Saturday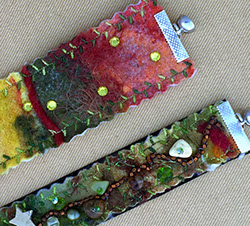 And 7012R   Infinity Button Bracelet on Sunday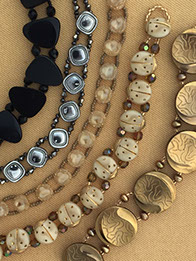 Rose Mary Jameson
is all about reinvention. A graduate of Fashion Institute of Design and Merchandising (FIDM), she began a custom design business, working in Ultrasuede for professional women and then later, designing bridal gowns.
When a local ice skating rink opened, she connected with the first coaches and showed them a few costume design ideas. For more than seventeen years, she designed costumes covered with Swarovski crystals and sequins for competitive skaters and a few pros who traveled the world. When the rink closed and the skaters moved away, Rose Mary replaced the ice with the dance floor and began to have the same relationship with dancers. [caption id="attachment_4357" align="aligncenter" width="398"]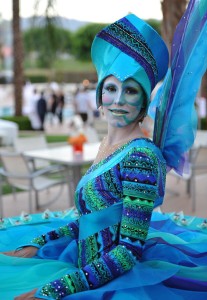 Costume for Cirque 1[/caption] Following the opening of a large quilt and bead store, Monica's Quilt and Bead Creations in Palm Desert, California, Rose Mary approached the owner, armed with her designs and an idea. As a result, Rose Mary has been a teacher, pattern designer and consultant for the store for over 10 years. Her adventures have included best-selling patterns, such as the
Twirly Batik Skirt
she developed in 2009.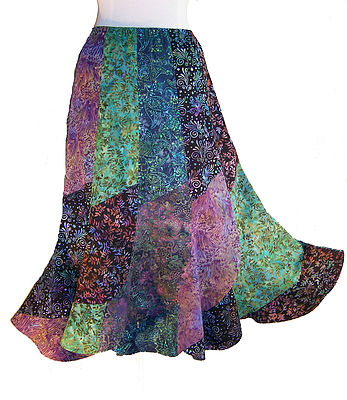 Inspiration for Rose Mary's bead designs come from "everywhere:" birds and flowers, architecture, the beach, and current fashion trends. She writes her ideas down in a journal, along with a quick sketch, notes on color combinations, or ways to wear a piece. [caption id="attachment_4358" align="aligncenter" width="500"]
Rose Mary made this necklace for her daughter's wedding.[/caption] Rose Mary is not a new face to Road to California. She has taught several
Roundabout
events in the past, meeting lots of fun and creative people. "I always love being in a good space where there is creative energy and Road is certainly one of those places." Although most guests come to Road for the quilting, Rose Mary feels that "having a little diversion could prove to be great inspiration." She hopes that by the guests getting their hands into something a little bit unusual, perhaps their brains will start to think in different ways, leading to more excitement with their first love, quilting. Rose Mary knows many quilters who love to bead, paint and write and thinks it is "healthy to know and practice our art with diverse group of skills." Who should attend one of Rose Mary's classes at Road 2017?  "Anyone who might like to learn more about the art of bead-weaving or adding a little bit of bling to their lives or to their quilts. And who doesn't like a little bit of sparkle now and again?" Rose Mary says that quilting skills translate easily into this medium and that she is looking forward to sharing with her students the "many ideas that are swirling around in my head." She enjoys watching her students play with her ideas. "Helping others realize they might already have the skills needed to create something from a little stash of beads is always heartwarming." You can learn more about Rose Mary Jameson on her website,
Sewfast Design
, or on her blog,
Sewfast Beader
. . ]]>