<![CDATA[
Hip Hip Hooray – 2015 marks Road to California's 20th Anniversary.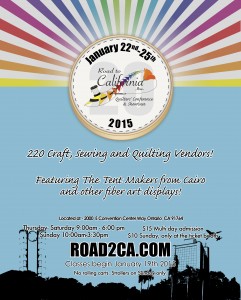 Why did Carolyn Reese decide to purchase Road to California in November, 1990? Because she felt "Southern California deserved a good quilt show."
Prior to 1990, Road to California was a small conference held in October in Anaheim, California. Carolyn produced her first show in October 1991. The first change Carolyn made was to move the location to Ontario, California and the Clarion Hotel. She kept the format the same as a conference only show. There were just nine faculty members and nine classes available each day. Around one thousand guests came to that first show.
In 1993, the show's dates were changed to January. There were no other quilting events going on that time of year and Carolyn thought that California, with its superb winter weather, would be a great draw.
In 1996, Road to California became known as a "quilters' conference and showcase." For the first time, quilt entries were accepted only from quilters in California and Nevada. Three years later, in 1999, the show began accepting quilts for the contest from all over the world.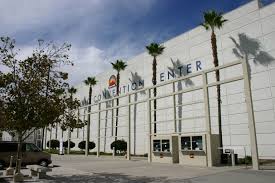 With the continued growth of the show, a new location was needed. So, in 1998, Road to California was moved to its current home at the Ontario Convention Center. Road was the first public show held at the new convention center and now is the center's largest client, taking up not only the entire convention center footage, but additional tent space as well. Last year, over 35,000 people attended the show, taking over 150 classes from an internationally known faculty.
A unique feature of Road to California is that it is a family run event. Carolyn has involved her family in the show right from the start.  Her grandchildren were models for the wearable fashion show at the in first shows. They also took tickets, handed out programs, gave out prizes to the winners and visited with the guests. Seven of Carolyn's nine grandchildren continue to stay involved by managing the office, doing computer work, overseeing the Road Booth, and assisting with financial tasks. Today, grandson Matt Reese, who was three years old when Carolyn started the show, is Road's manager (and a law student graduating next May).
Carolyn's three sons have always played a huge part.  Oldest son Mike works with the financial aspects of the show. David, Carolyn's middle son, created the computer programs and registration protocols that are unique to Road. David also photographs the contest quilts and makes the annual Road CD. Youngest son Darrell oversees the set-up and take-down of the show. And don't forget Carolyn's three daughter-in-laws. They help their spouses in taking pictures, running the Road Booth, and handling the equipment.       
What does Carolyn do during the show? Her role is to mix and mingle with the guests. You will find her buzzing around on her cart, watching the guests "walk around with a smile on their face, enjoying themselves, and forgetting their problems for a day."
Carolyn is really looking forward to some of the special exhibits that will be on view for the 20th anniversary show. Quilts depicting Beatles songs, 150 years of National Parks, and demonstrations of a lost quilting art from the Tentmakers of Cairo.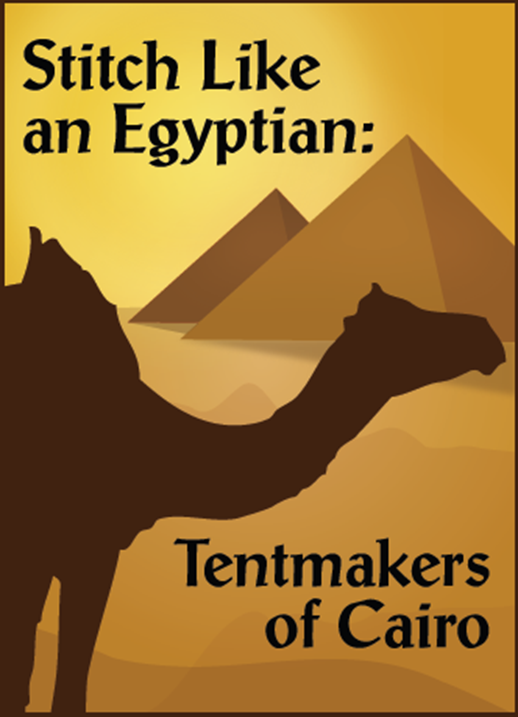 Another thing Carolyn is excited to have at the show is the specially designed Road to California 20th Anniversary fabric commissioned from Alexander Henry Fabrics.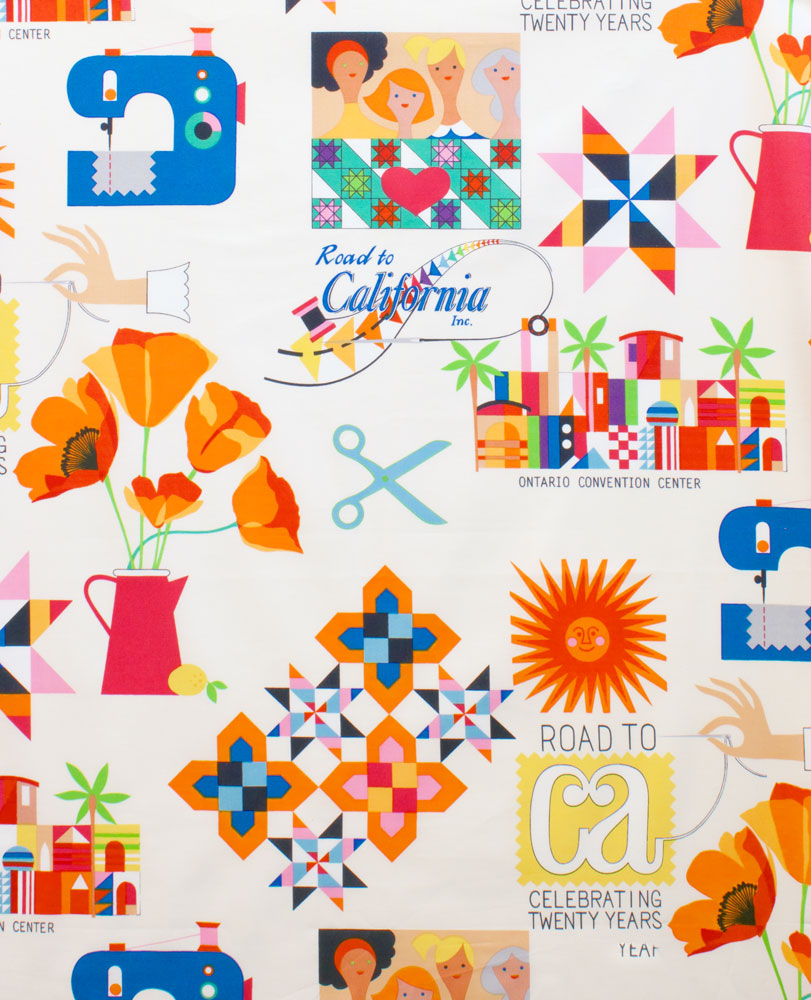 What does Carolyn see for the next 20 years for Road to California? More new ideas and continued growth. She would really like to see this year's latest addition, Marketplace, expand to offer more expert advice for attendees.
Road to California 2015 – 20th Anniversary Show promises to be the best Road yet. Congratulations Carolyn Reese and the entire Road family for 20 years of the best quilt show in the West.
What is your favorite part about Road to California?
]]>