<![CDATA[Road to California, Island Batik, and Operation Homefront came together to honor a military veteran at Road 2014.  The veteran chosen was Ron Baker, a former combat photographer. Mr. Baker spent 12 years in the military (from 1964 until 1976), serving in Germany, Vietnam, Japan, and California. Today, Mr. Baker works as an advocate for other veterans.
The result of taking pictures of the realities of war left Ron with Posttraumatic Stress Disorder. In order to avoid being depressed or anxious from this ailment, Ron has turned to working with Operation Homefront, helping other veterans move on from their war experiences. Because he too has "been there, done that," he understands the veteran's mentality and has the patience to help other vets. Says Ron, "I heal by helping others." What are some of the ways that Ron helps other veterans? He shares opportunities with veterans that help get them back on their feet. Ron has come across two great organizations that support veterans: Chase Bank and Operation Homefront. Chase Bank assists veterans in opening bank accounts, offering their Premier Banking and safe deposit boxes at no charge. Chase will even give $150 to $300 to a veteran to start their account. Mr. Baker has found that no other bank offers veterans what Chase offers them.  Regarding Operation Homefront, "no other non-profit gives so much to assist veterans. If they can't help with a situation, they will direct the veteran to someone who can."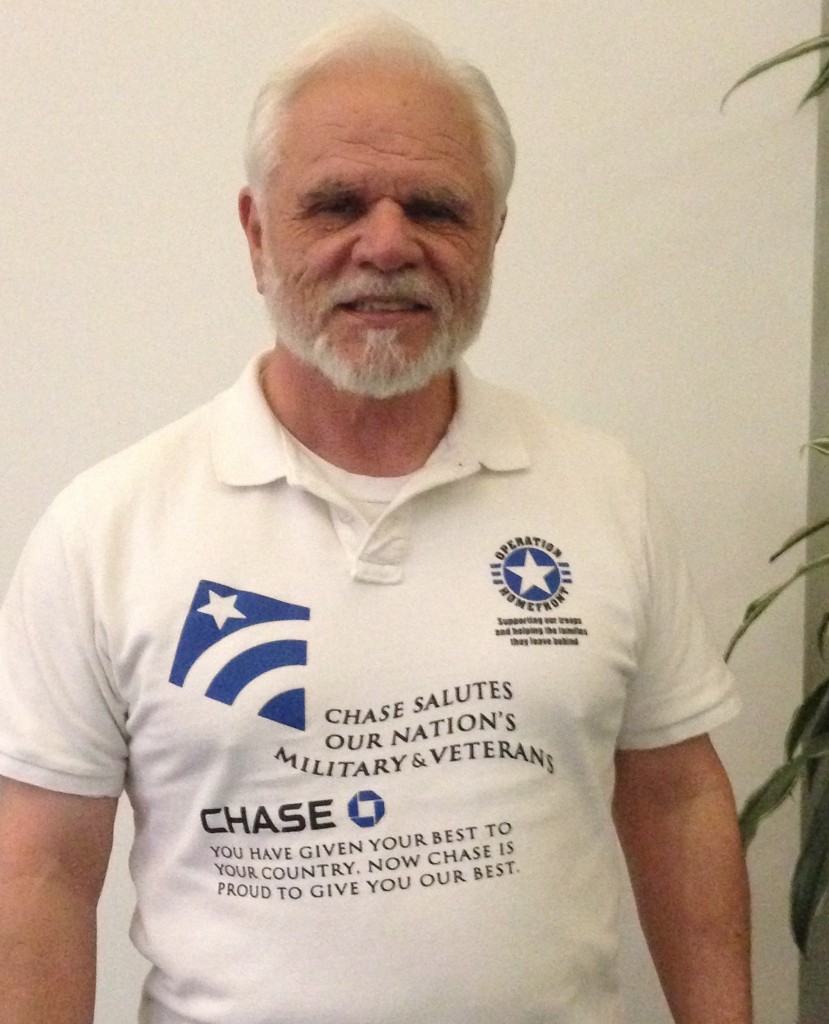 He raises money for veterans. Ron finds ways to donate to veteran causes. He started a recycling program where he collects recyclable items and has veterans separate and take to recycling centers to raise money. In 2013, a company donated a hot tub and proceeds from the sale of the spa were given to veterans. He also contacted The Price is Right television game show and requested that the show include veterans as contestants on Veterans Day. The first person up on stage was a veteran and he ended up winning a car which was later sold and the proceeds went to veteran causes. He is looking forward to raising even more money in 2014. He supports programs for veterans. Coffee for Vets is a program that shares information on what is available for veterans. Aid and Attendance advises veterans how to access programs.
What did it mean to Ron to be honored at Road to California? Years ago, he had a dream where he dreamt that he was being honored and appreciated for his service. The presentation at Road was a fulfillment of that dream. "For 40 years, no one has ever said thank you for my service. I have always lived with shame and guilt. I didn't want anyone to know what I did. The recognition at Road to California (resulted) in a lot of healing inside me. I wish this could happen for all vets." ]]>